One of the most underrated and misunderstood pastimes in America. Traditional High School and College Marching Bands are a staple in music education and sports.
What is Marching Band?
A marching band is a type of musical ensemble that performs music while marching or moving in formation. Marching bands are typically made up of brass and percussion instruments, although some also include woodwinds and other types of instruments.
Marching bands are often associated with high schools, colleges, military units, and other organizations and are known for their high level of discipline, energetic field shows, and precision performances.
Marching bands are typically organized into sections, with each section responsible for playing a specific type of instrument.
These sections may include brass instruments like trumpets, trombones, and tubas, percussion instruments like drums and cymbals, and sometimes woodwind instruments like flutes, clarinets, and saxophones.
Marching bands also often include a color guard, which performs with flags, rifles, sabers, and other props, and sometimes a dance team or other specialized performers.
Marching bands are a staple at well-known events like Macey's thanksgiving parade, college football games, and regional marching band competitions. College marching bands will perform for pre-game and halftime to get the crowd hyped and excited to cheer for their team. High school marching bands often focus on attending regional competitions where they can perform with other schools in the area to show their skills and be judged on their musicianship, marching ability, and overall performance.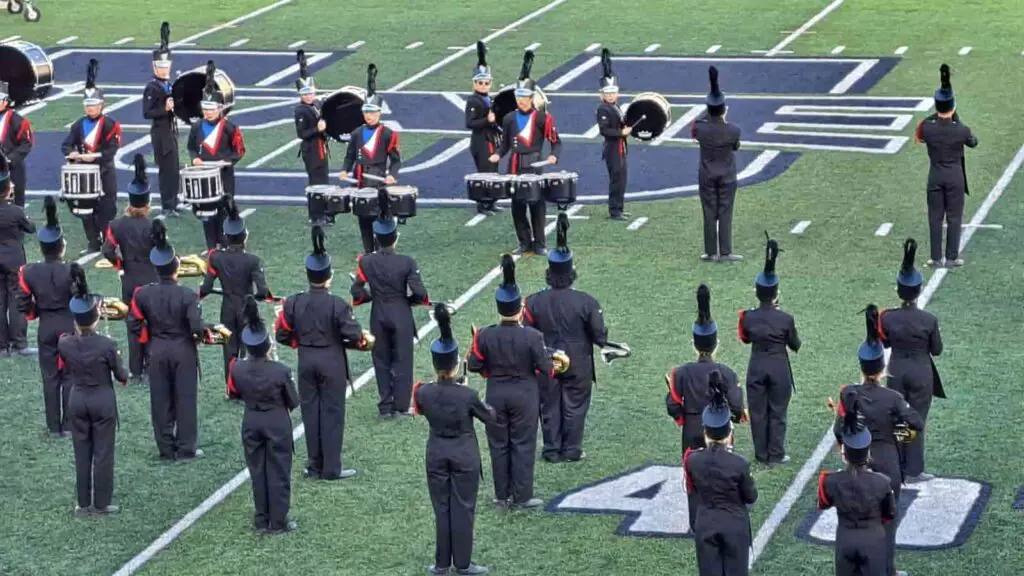 Marching Bands' rich history has its foundation in ancient military bands. Now along with military bands you can find drum and bugle corps, high school marching bands, college or University bands and scramble bands.
Note: This guide links out to many more in depth articles about marching band. You can click any dark blue underlined words to learn more about that particular subject.
Military bands
Bands that started in European and early American culture to help raise soldiers' morale, give directions and guidance on a chaotic battlefield, and serve as a ceremonial function, playing music at important events and ceremonies, such as coronations and triumphal parades.
In ancient civilizations, military bands were typically made up of brass instruments, such as trumpets, horns, and trombones, as well as percussion instruments like drums and cymbals.
Drum and Bugle Corps
A drum and bugle corps is a musical group that generally has all brass and percussion instruments. These groups are known for their highly skilled musicians and precise marching techniques, and they often perform at parades, competitions, and other public events.
Drum and bugle corps are known for their high level of discipline and musicianship, and they typically require a great deal of practice and training to achieve their level of proficiency. Members of a drum and bugle corps spend many hours rehearsing and perfecting their performance, and they often perform demanding and complex musical pieces.
Drum and bugle corps can be found in various settings, including schools, community organizations, and military units. Many drum and bugle corps are associated with a specific organization or institution, and they are known for their pride and sense of community. Drum and bugle corps are popular forms of entertainment and have a dedicated following of fans worldwide.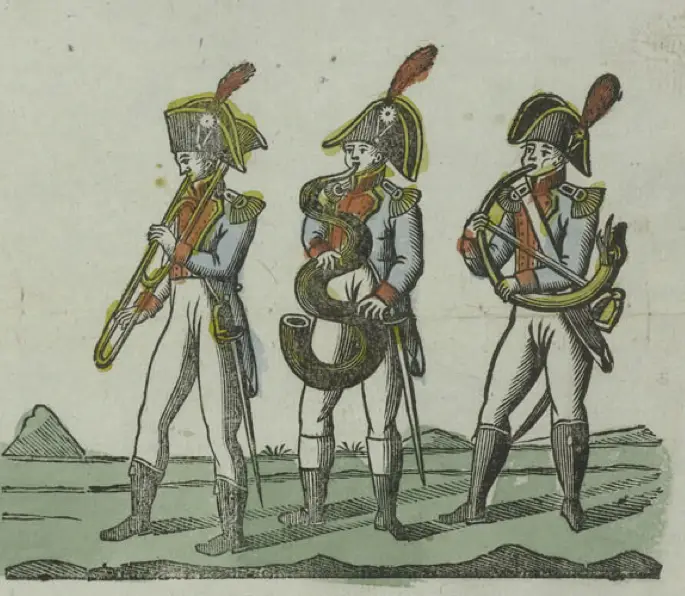 High School Marching Bands
Marching bands have become popular in high school over the last 100 years.
High school marching bands are part of the music department in a high school. Members consist of students that attend that high school and play instruments.
Usually, marching band is a class students sign up for. Most high school marching bands will practice outside of class time as well.
High school marching bands put in countless hours of practice learning how to march and perform a field show.
The students meet in the summertime for a few weeks to learn fundamentals as well as to begin learning their show for the season.
High school marching bands are known to perform at their school's football games, march in parades, and travel for competitions and other events.
The band members wear uniforms and use props and other visual elements to make their performance more exciting and visually appealing.
High school marching bands often compete in local, state, and national competitions, and they can be a source of pride and unity for the school community. Being in the Marching band can also be a great way for students to develop teamwork and leadership skills and to make new friends.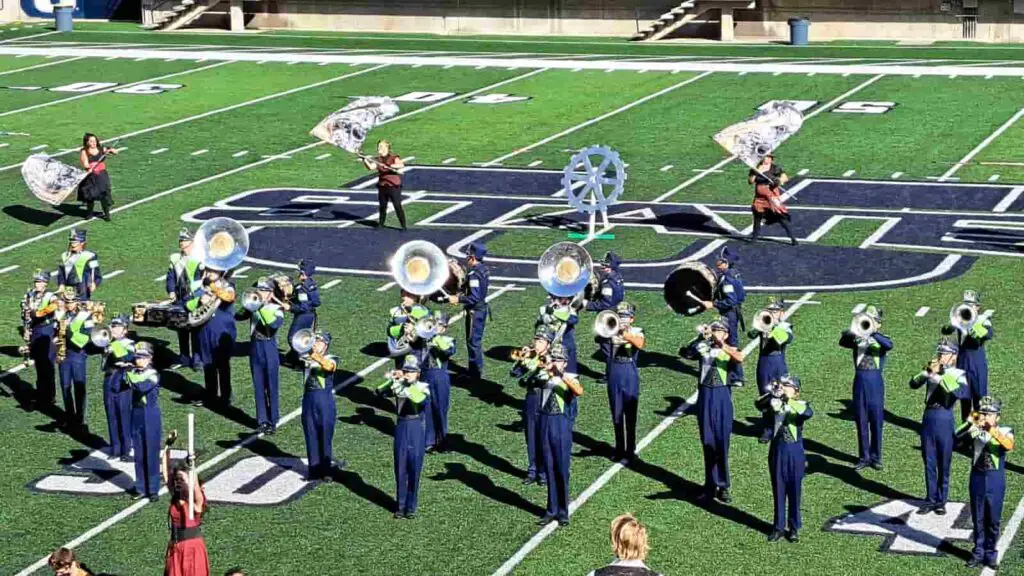 College / University Marching Bands
College marching bands are an extension of high school marching bands. 99% of students in a college marching band were also in a high school marching band or drum or bugle corps before joining the University marching band.
University or College marching bands don't generally compete like high school marching bands do. Their primary purpose is to play pre-game and halftime shows for their school's football teams. They will sometimes march around the stadium parking lot before a game to get the crowd of tailgaters hyped up for the game.
These marching bands will march in the school's homecoming parade and other parades and events in the community throughout the year.
College marching bands are a great source of pride for the university and foster a lot of school spirit! Some of the most exciting moments in college marching band history have been when the band does something surprising and unexpected. Like a college band on this list did a Michael Jackson Moonwalk across the field.
Scramble Bands
Scramble bands are often associated with college and university sports teams, and they are known for their high-energy performances and ability to get the crowd excited. They may perform a variety of music, including traditional brass band music, popular songs, and other types of music.
These bands may also perform at parades, festivals, and other events, and they are known for their festive and entertaining performances. They generally don't march but can be comprised of members from the marching band or other musical groups on campus.
Many instruments may be included in a marching band, depending on the specific band and its musical style. Some of the instruments that are found in a marching band include but are not limited to:
Brass instruments:

Trumpet – Often playing the main melody of the marching band music, the trumpet is a staple for any marching band or bugle corps.

Trombone – A brass instrument that uses a slide instead of valves to produce sound. This brass instrument covers the high to midrange tones in a marching band.

Baritone – Similar to a Euphonium but with a lighter and brighter sound.

French Horn (Mellophone) – Similar to a regular french horn, a marching Mellophone has a forward-facing bell in order to project the sound better.

Euphonium or Tuba – These instruments cover the low range of notes in marching band. Euphoniums are easier to carry and project sound, which makes them a more popular choice for marching band over the Tuba.


Woodwind instruments:

Flute / Piccolo – A reedless instrument that makes sound by blowing air across a hole.

Clarinet – A long black instrument held in front of the player. It uses a reed to make a sound.

Saxophone – a horn-like instrument that uses a reed to create sound. There can be several different sizes of Saxes in a marching band.


Percussion instruments:

Snare drum – Generally the highest tones drum in the marching band. The snare drum often gives ff the count to start the band and provides a steady beat to keep the band together.

Tenor drum – These drums have many ranges in sizes and tones and are often called Quad, Quint, Squint, or Concert Toms.

Bass drum – large drums that produce the lowest notes in the drumline. They are tonal drums; each size has a different pitch than the other and will be found in graduating pitch order.


Cymbals – Two thin, circular plates of brass or other metal which are struck against each other to produce a loud, ringing sound.

Timpani (Only in some marching Bands) – also known as a kettledrum, is a large percussion instrument that consists of a copper or brass bowl with a drumhead stretched over the top. Timpani are large and not easily transported. Because of this, they are generally not used in marching bands.


Xylophone / Marimba / Vibraphone – a pitched instrument with wooden bars or keys. A musician will hit the bars with a mallet to produce a note. Xylophones have resonator tubes on the underside of each bar that helps project the sound. A musician wears the xylophone on a harness to play and march.


Keyboard – Electronic keyboards are becoming more and more popular in marching bands today. Because of the wide range of noises and sounds they can make they can be a great asset to help marching bands customize their show.


Color guard – See Auxiliaries in the section below.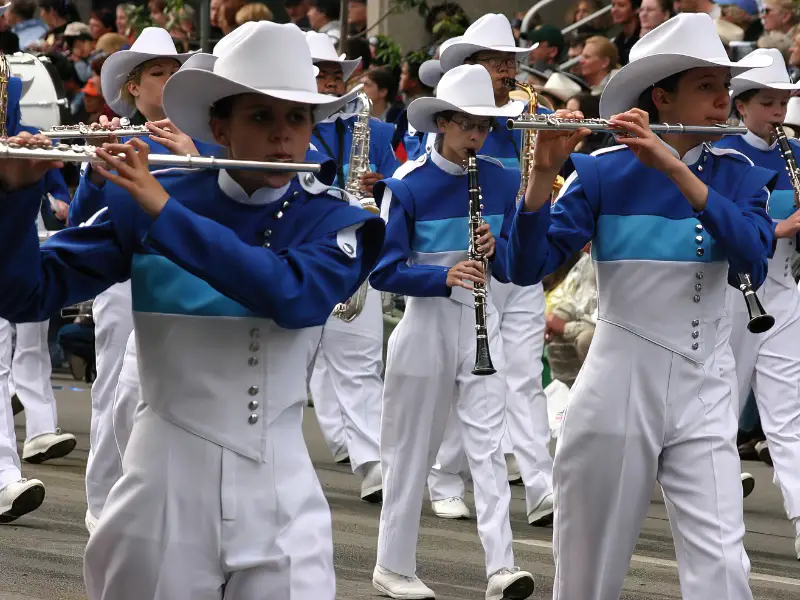 Overall, the instruments included in a marching band will vary depending on the specific band and its musical style. Some marching bands may focus more on brass and percussion, while others may include a wider range of instruments, such as woodwinds and auxiliary percussion.
Auxiliaries in the Marching Band
Color Guard or Flag Corps is an auxiliary of the marching band. These are teams of performers who combine the use of flags, sabers, rifles, and other props or equipment to perform choreographed dances and routines that enhance the visual effect of a Marching Band or Drum Corps.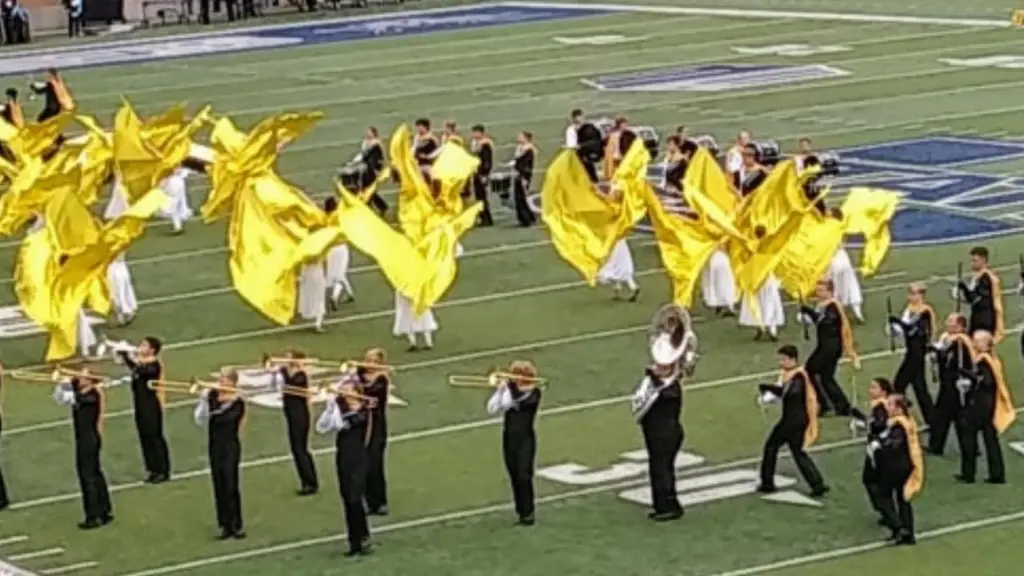 Dancers
Dancers are another auxiliary popular in some marching band groups. Not all marching bands include dancers, but they are gaining more popularity especially in the southern part of the United States.
The Dancing auxiliary is generally an audition group that performs dance line choreography that goes along with the Marching Show theme. This can be a blend of several genres, including jazz, ballet, precision/drill, and high-kick.
In addition to the technical aspects of the Dancers, poise, posture, body carriage, and showmanship are considered to be very important. The candidates selected to be members of the Dancers possess incredible levels of talent, showmanship, and school spirit.
Majorettes
Majorettes are very similar to color guard and are sometimes the term is used interchangeably to mean wither color guard or majorettes.
Historically majorettes are known more for the baton twirling than flag tossing. Majorettes learn fundamental baton elements such as multiple spins, one baton, and two-baton work are standard.
Some Universities like Auburn University have an entire "visual ensemble." They have a Danceline, Flagline, and Majorettes. This combination makes for very visual and exciting performances!
Percussion Line
The percussion line or pit is sometimes referred to as an auxiliary. Generally, this reference only pertains to the instruments that are in the pit or don't march on the field as they are stationary but help to add flavor and pizazz to the marching percussion on the field.
The band director is typically the overall leader of the band, responsible for creating the marching show, in charge of rehearsals, and managing all aspects of the band program.
The drum major (How To Become Drum Major) is often a key leader and right-hand man (or woman) to the director within the marching band. The drum major (What Do Drum Majors Do?) will conduct and lead the band during rehearsals and performances.
In addition to the drum major, there are other student leaders within the band, such as section leaders, who are responsible for leading and organizing their particular section (e.g., brass, woodwinds, percussion, etc.).
There are also leaders within the color guard responsible for choreographing and leading the flag, rifle, and sabre routines.
Other leaders that are often overlooked can be band booster members or parent volunteers.
Leadership in a marching band can involve not only conducting and organizing the band, but also building teamwork and morale and inspiring and motivating band members to achieve their best.
Marching Band Performances
There are several elements to talk about when it comes to marching band performances.
Music
25 Best Marching Band Cover Songs (Viral Potential!)
Shows
Competitions
Marching band competitions are events where marching bands from different schools or organizations over a specific region perform and compete against each other.
High School marching bands typically perform a field show, a choreographed routine that includes music and marching and is often based on a theme the band members or the band director chooses.
The band members wear matching uniforms and often use props and other visual elements to enhance their performance.
Marching band competitions can be held at the local, state, or national level and are a way for marching bands to showcase their skills and compete with other bands.
Marching bands can vary in size and makeup, so competition associations often classify them into different divisions based on factors such as the size of the school they represent or the number of performers in the band.
This system of size titles and classifications ensures that all bands have a fair opportunity to compete against others of a similar size. Here is an example that shows how some marching bands are classified by size:
| | |
| --- | --- |
| Class  | # of Students Enrolled at the High School   |
| A | 600 or fewer students |
| AA | 601-1,250 students |
| AAA | 1,251 – 1,750 students  |
| AAAA | 1,751 and above students |
The classes are called by the following names: A, 2A, 3A, 4A. 
Note: You can learn more about this topic by clicking on the link above.
These competitions often involve a panel of judges who evaluate the bands based on set criteria.
When it comes to marching band competitions, there are typically three main areas that judges focus on: music performance, marching and maneuvering (M&M), and general effect (GE). It's worth noting that not all competitions evaluate bands using the same criteria, but these are the main categories that are typically considered.
After each division or class of marching bands perform, they will usually send representatives (band leadership) like drum majors or section leaders to stand in small groups on the field while they receive their scores.
When scores are announced for each band they get the opportunity to step forward and give their specific band salute while receiving applause.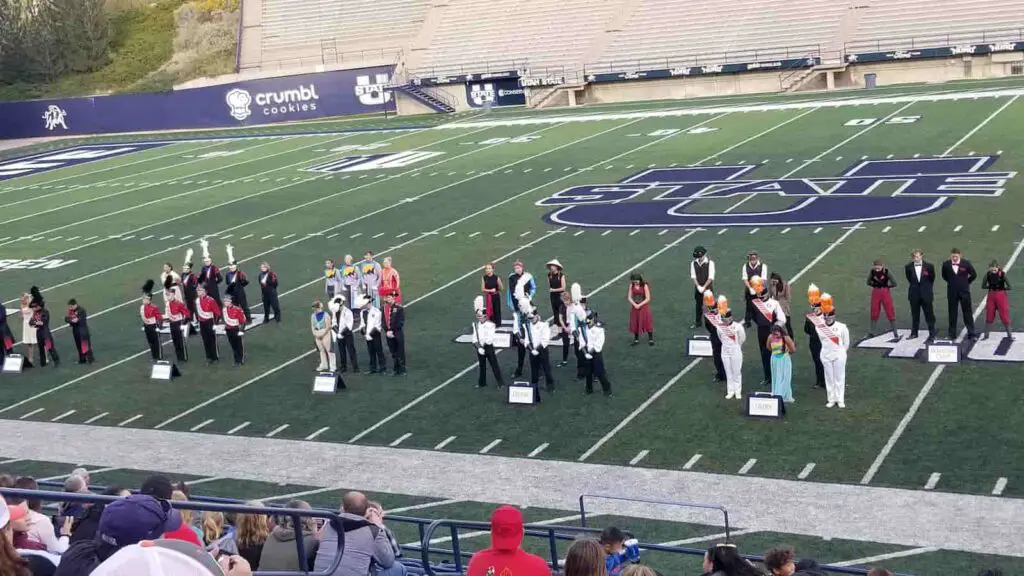 Marching Techniques
How Marching Bands Make Formations (Drill and Choreography)
Marching Band Camp
Marching band camp is a intensive period of training and rehearsals that takes place before the start of the marching band season. It is usually held over the summer and is designed to prepare the band for the upcoming season.
During marching band camp, the band members will learn and rehearse the music and marching drills for their field show, as well as work on other aspects of their performance such as visual performance and teamwork.
Marching band camp can be a physically and mentally demanding experience, as the band members may spend long hours rehearsing and perfecting their performance. However, it is also a time for the band to bond and build teamwork and camaraderie. Marching band camp is an essential part of the marching band experience and is typically a highlight for many band members.
We have a entire series dedicated to marching band camp. Take a look at these articles to learn more about what to expect at band camp.
Band Camp Icebreakers and Team-Building Games
11 Things You Should Know About Band Camp
Typical Band Camp Schedule (What to Expect)
Band Camp Essentials (The Ultimate Packing List for Band Camp!)
20 Marching Band Camp Meal Ideas (Feeding a Hungry Band)
Marching Band Supplies
Why Do Marching Bands Wear Uniforms?
Best Shoes for Marching Band (2022 Read This First!)
Marching Band Resources
Complete Marching Band Glossary, & Terms
21 Band/Orchestra/Choir Fundraiser Ideas that WORK!
Marching Band FAQ's
What is a Band Booster? If You Have a Kid in Band it's You!
Should You Quit Band? Read This First.
We hope this article has been helpful and informative for you in your musical journey. Please let us know if there is anything that we could add or change to make this article a better resource for our readers.
Please e-mail us at: [email protected] to let us know how we are doing!
Disclaimer: This post may contain affiliate links. We only recommend high-quality products that are used and recommended by real musicians. If you use these links to buy something we earn a small commission.