Preparing meals for a marching band is an important step in the planning process. Group 1 marching bands have anywhere from 1 to 39 members; group 5 marching bands can have over 100 members.
The Allen Eagle Escadrille Marching Band from Allen, Texas has over 700 members! That can be a lot of mouths to feed, and when it comes to long rehearsal days at band camp, football games, or band competitions, you may need some help deciding what food to get. 
Top Music Tips is here to help with a list of 20 meal ideas and answers to your questions about feeding a hungry band!
1. Pizza 
Large chain- Pizza Hut, Dominoes, Little Caesars
Local restaurant 
Pizza is an excellent way to feed a lot of people for an affordable price in a reasonable amount of time. You can use pizza as a dinner for band camp, before a football game, or after a parade.
Pizza chains typically offer great deals, and supporting local restaurants can also lead to ongoing, supportive relationships in the community.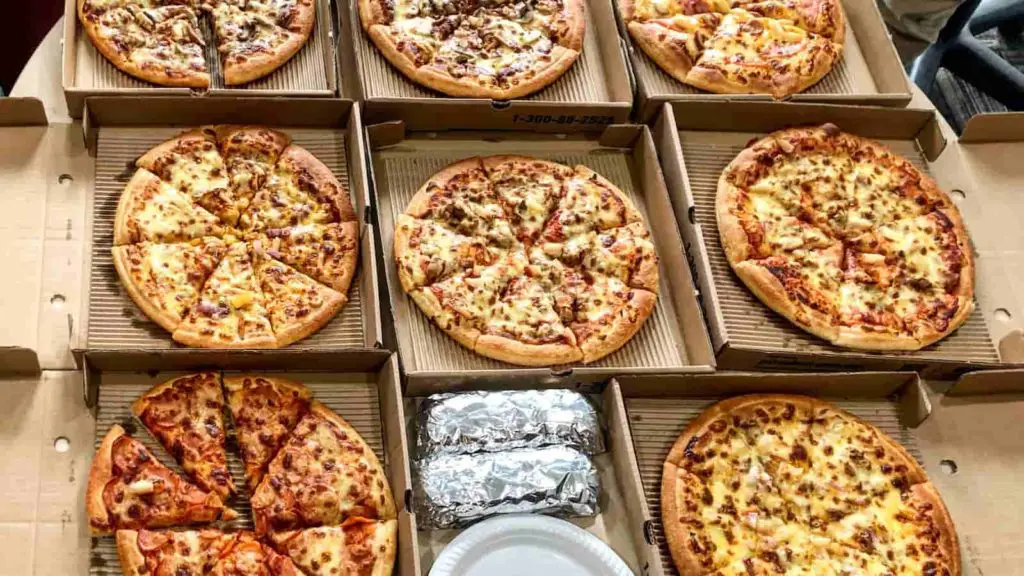 2. Subs 
Subway- catering trays are also available 
Local Restaurant
Subs are another excellent choice and offer a wide range of options for lunch or dinner. Subway is one of the largest national food chains, making them a realistic choice for practically anywhere.
Like the previous choice, you can also decide to support a local restaurant for your choice of subs which can lead to an ongoing relationship between the location and your band program.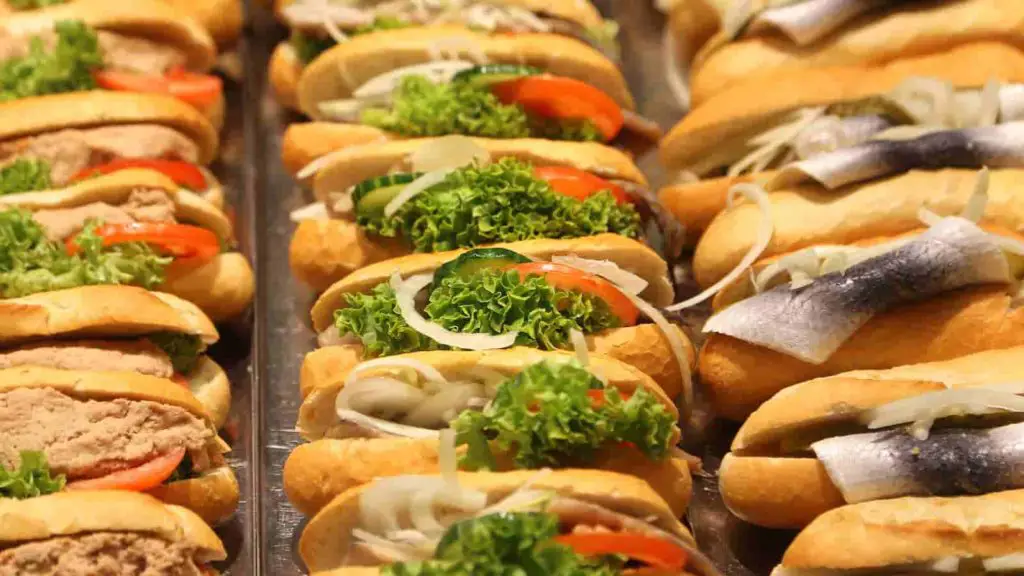 3. Chick-Fil-A-
Catering trays also available
Chick-fil-A is a popular, widely known chain offering a great selection of individual items or catering trays. For a larger lunch or dinner option, you can get chicken sandwiches, wraps, nuggets, or tenders with a selection of sides and beverages.
While maybe not the most nutritious choice since it falls into a fast-food category, it is tasty, better than many others, and would definitely suit the needs of certain situations.
Chick-fil-A also makes a great destination meal if you need to stop somewhere on the way and pick up something to eat (i.e. on the way to or from a band competition).  
4. Panera Bread
breakfast, lunch, and dinner options
Panera is another popular large chain offering selections suitable for a marching band. They offer great catering deals for large programs.
Top Tip: Try to plan in advance so you can poll your students to narrow down choices (i.e. pick one of three options).
If you need to eat at a Panera, you pay first, and get food after rather than needing to wait for a bill after eating. Panera would fit into a lunch or dinner setting very well.
Their sandwiches, soup, salads, and other offerings are delicious, making it understandable why many band programs use the food for a multitude of occasions.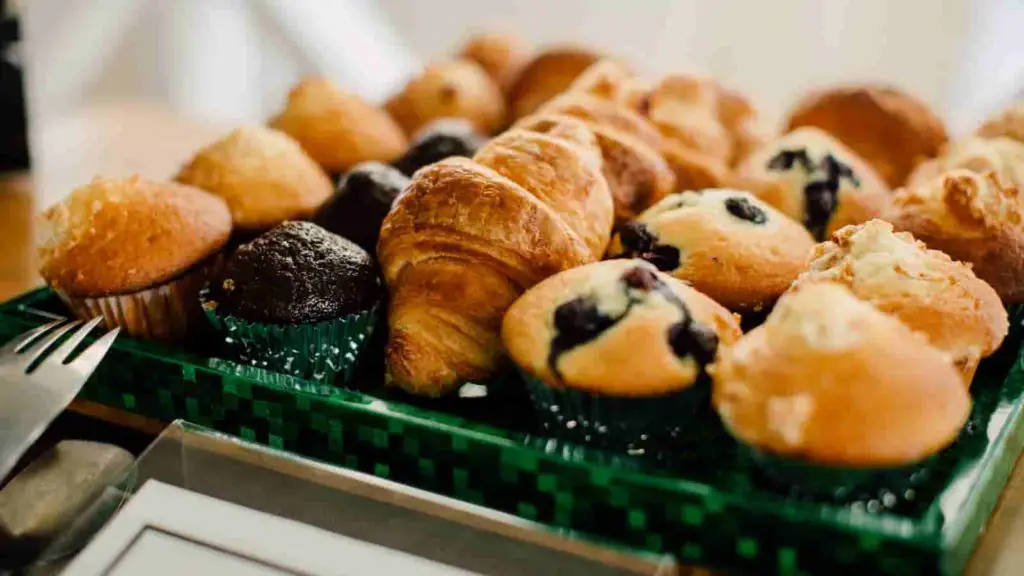 5. Dunkin Donuts
perfect breakfast option for early morning band camp, before going to competitions, etc. 
Dunkin Donuts is a massive chain growing rapidly, making it an accessible option for breakfast and lighter fare options.
While the name includes "donuts", you can also purchase bagels, muffins, croissants, and other items to offer the band something to eat in the morning or as a snack later in the day.
Depending on the age of the band members, coffee may be in order and you can up their Box O' Joe (each box includes 10 cups of coffee).
6. Local bakery
(bagels, donuts, muffins, etc.)  
If you live near a good bakery, you can buy breakfast from a local source helping support a small business in your area.
They will likely have some of the options listed above, but giving you potentially a wider variety. You will also get the band members excited if they know the bakery since they will have something good to eat early in the morning.
Top Tip: Starting the day off in a good mood and after eating something greatly impacts the rest of the day. This can enhance other aspects of the band program too, and you can keep the point in mind as you consider all the options on the list. 
7. Cracker Barrel
Nationwide chain with catering available offering a wide selection of food options.
Despite having 663 locations around the United States, Cracker Barrel is often an underrated chain that gets overshadowed by other more popular options.
They have a huge menu and do offer catering options making it a great choice if you want a homestyle meal with the band for dinner.
You can order ham, turkey, or any of the standard dinner entrees, with vegetables, macaroni and cheese, dumplings, or many other nostalgic favorites. As mentioned above, you could poll the band members to find out the most popular choices to narrow options before setting up the order. 
8. Mission BBQ (regional) or other BBQ restaurants
Many catering options; easy to get bulk amounts of entrees and sides
Another nostalgic, homestyle-type meal is BBQ which can be a fun option for marching band dinners.
Mission BBQ is somewhat regional, having 109 locations along the East Coast but their catering is a great choice if there is one near you.
Depending on where you are and when you schedule, there is a possibility of delivering the order for a specific event which can help with transporting all the food.
If you are not near a Mission BBQ, there are countless other BBQ restaurants available where you can get pulled pork, brisket, chicken, or other main entrees, along with a wide range of sides.
Top Tip: Selecting from a variety of sauces can also make the meal experience with the band more fun, since band members can choose their favorite sauce and debate over dinner.  
9. Spaghetti Dinner
Having a spaghetti dinner can be an efficient way to feed a lot of people. As another suggestion, you can invite parents and other community members to make it a fundraiser. Spaghetti dinner fundraisers have been around for a long time, and for good reason. They bring people together for a meal, all while contributing to a good cause. The band members can help, and if you have band boosters, they can join in to assist. Include salad, garlic bread, and parmesan cheese to fill out the meal. 
10. Pot-luck Dinner
For another classic staple, each band member can contribute something to share. The idea can be more involved when planning, and may not work for all bands or settings, but it is a unique option that may be perfect for you.
Pot-luck dinners also reduce upfront costs since each person is responsible for something different. They can provide a lot of variety keeping the meal interesting. This is another great way for families to join such as a band banquet or other large event. 
Top Tip: Before choosing this option, you will need to check with your administrators to make sure that Potlucks are allowed in your program rules.
11. Band boosters/parent volunteers cook dinner
In a similar realm as the above, some band programs have very involved band boosters. Many bands have their band boosters cook dinner for select events.
I'm a band booster in my daughter's marching band. For a fundraiser, we cooked a massive amount of pancakes for an event called Breakfast with Santa.
Depending on the size of the band and number of volunteers this can be a great option and once again gets more people involved in the process which is a huge benefit of the band program as a whole.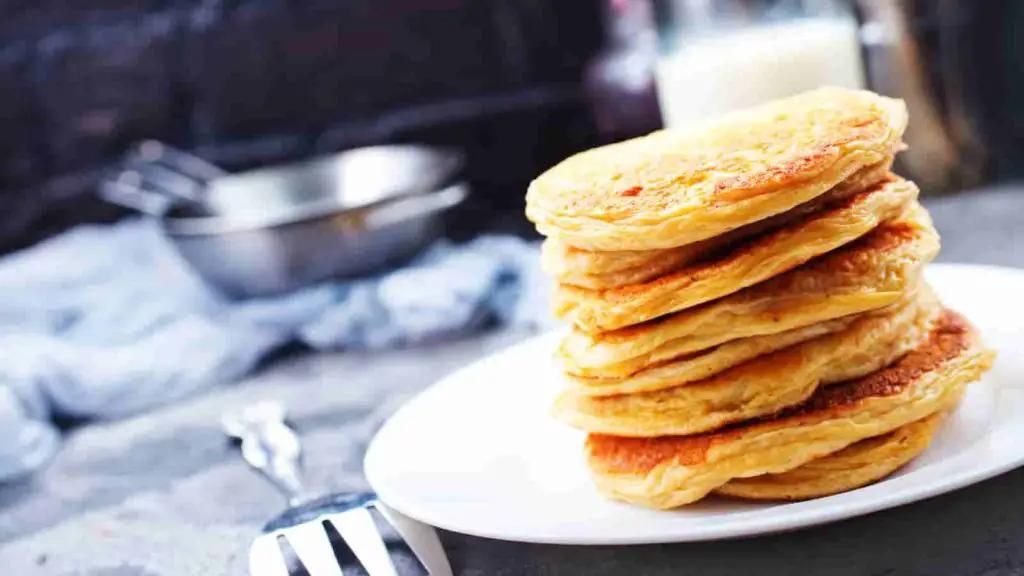 12. Local Deli
Similar to some of the above options, you can support a local business in your community and order food from a local deli. If you call in advance, many locations may offer unique specials to support the program.
Once again, this can lead to establishing a trusting relationship between the provider and the band program!
13. Grocery Store/Supermarket catering trays
Grocery stores and supermarkets are excellent sources to purchase food for a multitude of events. Giant, Safeway, Wegmans, Acme, Kroger, and Weis Markets are all reliable with catering trays ready to pick up. Once again, you can also go to your local grocery store if one is in your area to support a smaller business. 
14. Bagged Lunches
For an easy and inexpensive lunch option, have students pack on their own in advance. You will obviously need to communicate this ahead of time. 
15. Fruit
Make sure you have quick, healthy snacks accessible throughout the day such as apples, bananas, pears, or oranges. Have coolers to store the fruit in depending on the kind of fruit and venue. 
Our local high school marching band has the band boosters sign up on signup genius to provide fruit each day for the students during band camp.
16. Vegetables
Just like fruit, veggies can be a perfect marching band snack. Celery sticks, carrot sticks, broccoli, cucumbers, and cauliflower can be perfect throughout the day and you can include a dip such as ranch depending on the time and setting. You can also buy a vegetable catering tray from a supermarket mentioned earlier on the list.
Top Tip: Providing veggies as an option during break time at band camp can ensure that kids can get a chance to refuel in a healthy way. Students will be more likely to eat them if they are the only option and they have been working really hard on practicing their show.
17. Granola Bars or Nutrigrain Bars
These are fast and substantial and do not require refrigeration. Granola bars and Nutri-Grain bars are easy to transport and bring on the band bus if needed. As with other options similar to this, remember to have trash bags readily available to collect wrappers afterward. 
Top Tip: You can get a 66-count variety pack on Amazon for a decent price.
18. Individually wrapped trail mix packs (nuts, raisins, etc.)
Individually wrapped packs are easier than large containers since everyone can carry their own without needing to go to a common area, especially in a large group.
These are another fast, convenient option but also need to be thrown away afterward so keep trash bags nearby. Have band members help clean up after snacks so you do not leave trash lying around. 
19. Snack bags
Snack bags such as chips, popcorn, and goldfish can be great snacks as long as they do not fully replace other choices altogether. While maybe not as nutritious as the earlier options, they are still fast and convenient depending on your needs. These options can also be a supplement to lunches. 
20. Crackers
Crackers are a final snack option. Ritz, Lance, Keebler, and other brands have a wide range of crackers making a perfect snack throughout the day. Try to have different options for band members to choose from (i.e. peanut butter, cream cheese and chive, etc.) These are also inexpensive 
Top Tip: Be sure to buy in bulk as that will likely save you a lot of money. You can get them in bulk at your big box stores such as Sams Club, Costco, or also Amazon has bulk options available.
Drinks for Marching Band
Another consideration is drinks. Water is always the best option for your athletes! Having water bottles, readily available will make sure your band members don't get dehydrated.
Buying a massive amount of water bottles for your band can get expensive so another option is to provide water coolers and ask your band members to bring their own water bottles with their names on them that can easily be refilled.
Gatorade is the next best option to water. Avoid soda or overly sugary drinks close to rehearsal or performances since students will be playing instruments. This can be very bad for the instrument and difficult to clean afterward. This also goes for sugary snacks, candy, and other options in this category. 
Other FAQ's about Feeding a Marching Band:
What do you feed a marching band?
What you feed the marching band members has to do with when they are eating, where they are eating, and the surrounding context. The best ideas for what to feed a band are fast, and efficient, but will also give band members energy for the upcoming activity. 
Keep in mind the amount of food needed; it would not be wise to have a large buffet before going onto the field for a full-length competitive marching band show.
Once all of the performances are finished at the end of the season, a buffet can be a fun way to treat the band after all their hard work, but it would not be a good idea on a regular basis.
On the other hand, it would not be the best option to simply hand out granola bars around lunchtime if students have been rehearsing all morning and are about to perform in the afternoon. You really have to consider the context, setting, and time frame.
What should I feed my band?
Many marching bands incorporate full days of band camp. You will likely need breakfast options, lunch options, and possibly even dinner options. Even if students do not eat all three meals at band camp, you will need to communicate food plans so band members know what to expect. 
What should you not eat before band camp?
Band camp typically involves long hours outdoors with an extensive amount of physical activity. Avoid junk food such as a lot of sweets with high added sugar or lots of saturated fat.
You do need to have salt in your diet to help your body absorb necessary nutrients, but having too much can make you dehydrated which can be dangerous. Keep the food choices balanced and make sure band members have lots of water breaks.   
What is there to eat at band camp?
As mentioned above, what you eat at band camp depends on your schedule. If band camp starts in the morning, it is helpful to have simple food available such as fruit and granola bars. Consider having juice and guarantee there is plenty of water. During lunchtimes, it would be helpful to have a few snack options   
What should I eat before marching band practice?
It is important to eat something before going to marching band practice, especially when heading to a morning rehearsal for band camp. Marching band practices can be very rigorous and you need energy when moving around a field while playing an instrument. Have one of the snack options listed above and drink water. Consider the time of day, how long the rehearsal will be, and make sure you plan ahead by eating the previous meal. 
What should I pack for lunch at band camp?
When packing a lunch for band camp, make sure you cover your food groups without packing too many sweets or saturated fats. Consider a sandwich, apple, celery sticks, and a small dessert such as a cookie. Bring a water bottle. Put everything in a cooler with ice packs so it can stay fresh by the time you have to eat it. 
It's also a good idea to label everything you bring with your name on it so it doesn't get confused with your fellow band member's things.
What should I eat before a performance? 
Performances are usually going to be in the evening, but band competitions can be any time of day so the answer to this question can vary. Consider your schedule and your band performance time, then plan accordingly based on the nearest meal time.
Follow one of the other suggestions on this list for inspiration, making sure you have enough food to give you energy for the show without overeating before you have to march on the field with your instrument.
Marching is a physical activity, and there are certain risks involved with eating too much before exercise. Allow for enough time to digest what you eat so you are in top-performing shape when you take the field in competition!
Up Next
We hope you enjoyed this article and learned about meal ideas for how to feed a hungry band! 
Want to know what to pack for Band Camp? Check out this article: Band Camp Essentials: The Ultimate Packing List for Band Camp
We hope this article has been helpful and informative for you in your musical journey. Please let us know if there is anything that we could add or change to make this article a better resource for our readers.
Please e-mail us at: [email protected] to let us know how we are doing!
Disclaimer: This post may contain affiliate links. We only recommend high-quality products that are used and recommended by real musicians. If you use these links to buy something we earn a small commission.