Everyone knows that all Marching Bands have directors. The directors are the educators or teachers that have a degree in music and whose job it is to teach and help the kids learn their role in Marching Band, but what about all the other leaders in the band that keep things running behind the scenes?
I promise you a director can't do it alone. Looking back on all my experience in Marching Band I know it takes a team of leaders to keep your band running as smoothly as possible!
Positions in a Marching Band include Director, Assistant Director, Drum Major(s), Band Captains, Section Leaders, Color Guard Captain, Band Secretary, Equipment Manager, Uniform Manager, Band Members, Color Guard, and Band Boosters.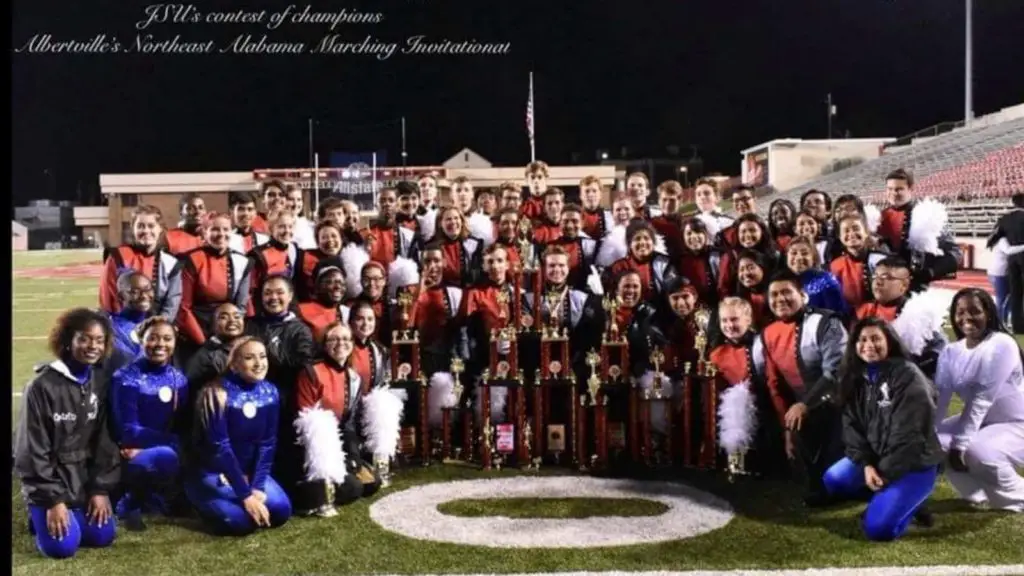 These leaders are often the very students and marchers themselves. From section leaders to drum majors Marching Band is a great place to develop leadership skills that will help you in all aspects of your life going forward.
While every Marching Brand program is run differently the basics of how it is organized are similar. Today we will discuss the different positions of the band as well as the role student leaders play.
Marching Band Director & Assistant Director
Band Directors in middle and high school are hired by the school to develop a music curriculum that is taught during the school day as well as oversee other music programs such as Marching Band, Jazz Band, Pep Band, and Symphonic Band.
Not only do they teach but they deal with the budgeting, coordinate with community and parent helpers, and oversee all leadership positions that students have.
I know for a fact that my band director who taught at my high school for 30 years worked tirelessly to provide the best band program he could for not nearly enough pay.
Drum Major(s)
Second to the director a Drum Major has the most critical and essential role in a Marching Band! This position can be very demanding and time-consuming and depending on the size of the band and level of competitiveness the Drum Major will be living and breathing Marching Band during the Marching Season.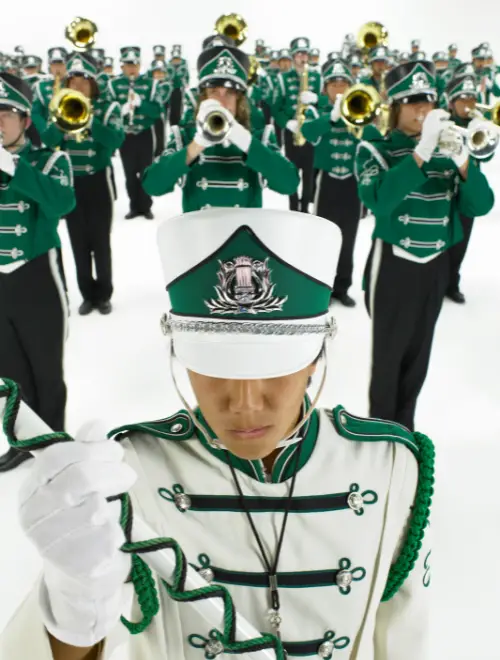 "A drum major is the heartbeat of the marching band, conducting the energy and enthusiasm that pulsates through every member. With their baton in hand and their spirit soaring, they lead the charge, transforming individual musicians into a harmonious force that moves as one."
The Drum Major and Assistant Drum Major (if your band has one) are the highest-ranking student leaders in the band.
They often lead the band in warmups and on the field, they help with music and choreography. They are responsible for a lot. Drum Majors are so amazing in all that they do they deserve their own article, which you can read here.
Top Tip: Learn More about Drum Majors by reading these articles!
Role of A Drum Major
How To Become Drum Major
Section Leaders / Band Captains
Section leaders and Band captains are chosen from their various sections to lead and teach the members of that group. They help the drum major and band director relay messages and work on difficult or troubling parts of the show during sectionals.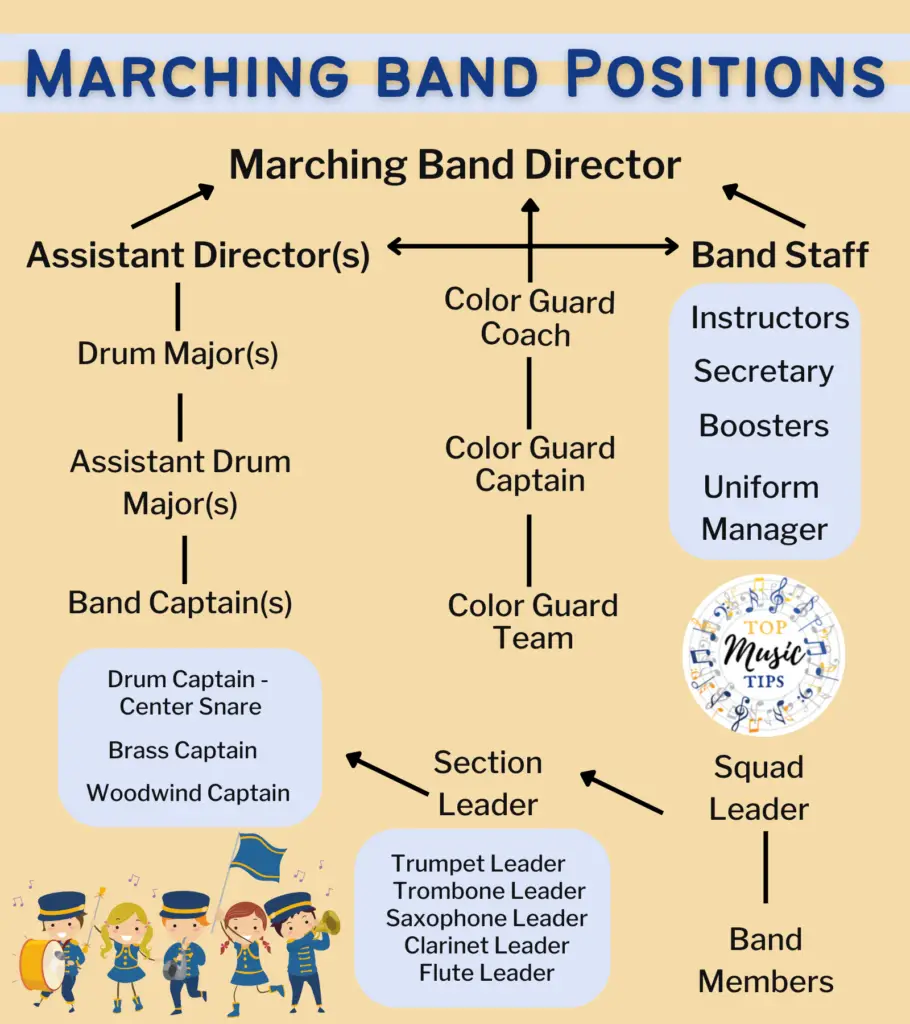 Generally, the section leaders will be chosen from upperclassmen since they have more years of experience in the Marching Band, but if there are not any good candidates from the upperclassman the band director and selection committee may look to the newer members of the band that show promising leadership skills as well as raw talent and promote then to those positions.
Student leaders set the ultimate example for each member of their section to follow.
Band Captains / Student Leaders Responsibilities
Attends every rehearsal, performance, and show.

Shows up to rehearsals early to help set up.

Helps Clean up after rehearsals.

Keeps order in their section during rehearsal.

Makes sure that their section is prepared with music and instruments.

Makes sure that their section is properly dressed in uniform for performances.

Is an example of hard work and attention to detail.

Attend leadership meetings with Drum Major, Band Director, and other Band staff.

Be a good communicator.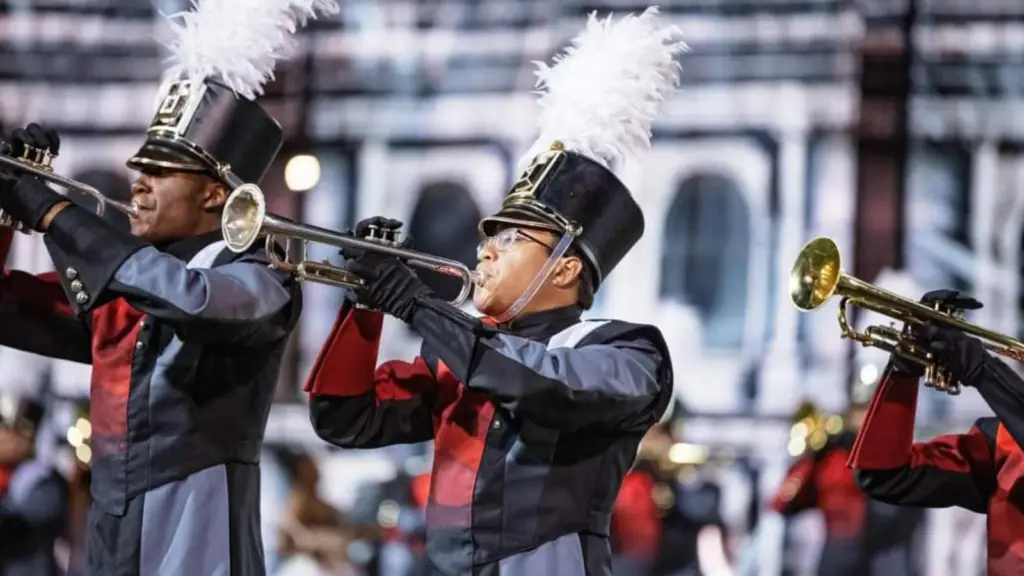 How To Become a Section Leader in Your Band
You need to be a member of the band.

You usually need a few years of experience in your band.

You need to show you are interested by being an outstanding band member.

You need to be a good player. Practice your instrument or flag.

You will most likely need to audition. Find out when auditions are for your band.

You sometimes need to write an essay on why you want to be a leader and what would make you a good leader.

You need to get good grades and keep up with your other responsibilities.

You need to be approachable and someone other students can get along with and confide in.
Drum Captain / Center Snare
This position also could be known as Drumline Leader, Percussion Captain, or Section Leader.
The Drum Captain or leader of the drumline plays the center snare and will tap or count time in order to set the tempo and lead the band in marching and following the drum major. This is the most recognized member of the drumline with exceptional playing skills as well as strong leadership skills.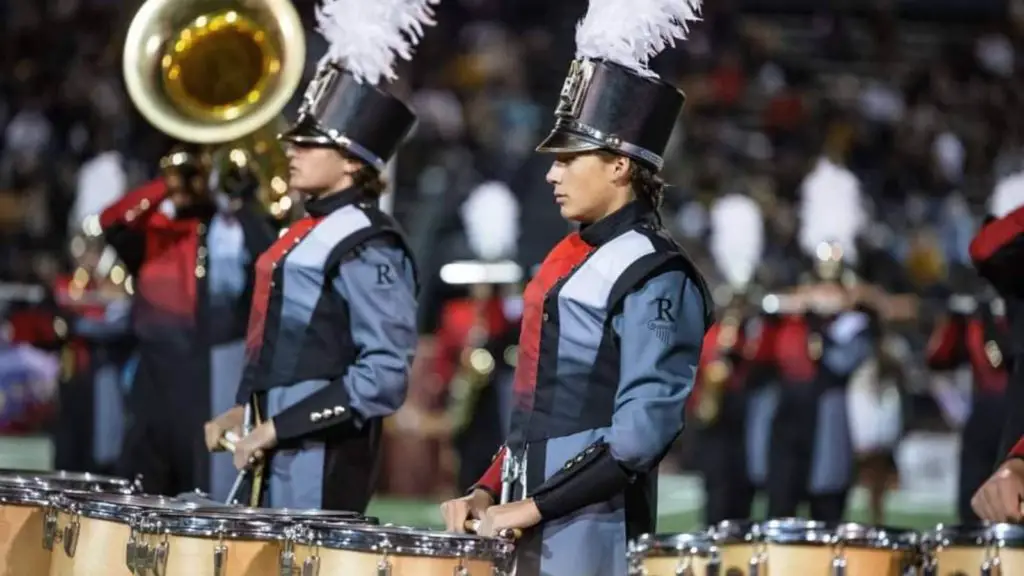 Because the percussion section is such an integral part of the Marching Band. They tend to be in the center of it all whether we want them to or not. The Drum Captain is often one of the most important leaders second to the Drum Major(s).
This position usually plays the snare, but sometimes tenor. Generally, something in the upper battery of the drumline so that they can establish and keep a tempo.
Top Tip: Read our ultimate Marching Snare Drum Guide Here!
Setting tempo for the marching band is important to keep the entire band marching in unison and moving forward. The Drum Major and Drum Captain will need to work together flawlessly in order to be in sync with conducting and moving the band together.
The drum Captain is in charge of running group practice with the percussion section when breaking off into sections to rehearse and run parts. They work to make sure that their section is able to play all their parts and they help answer questions or tutor any member of the percussion section that needs help.
If it is a very large percussion section then the drum captain will help oversee section leaders. The section leaders report to the Drum Captain who can then report to the Drum Major.
Drum Captain / Center Snare Responsibilities
Keep a steady tempo for the whole band.

Be in sync with the Drum Major.

Help other percussion members when they need it.

Be confident as well as humble.

Be a technically sound player. (Know your stuff)

Communicate well with other leaders in the group.

Be an example of staying on task and working hard.

Be a team player and a leader!
Brass Captain
The Brass Captain or brass section leader is in charge of overseeing all members of the brass section. This person oversees any extra rehearsal time that is needed for the brass section. He or She will be a strong player that will lead their section by example. They work closely with the Drum Major and Band Directors to create a positive and effective learning environment.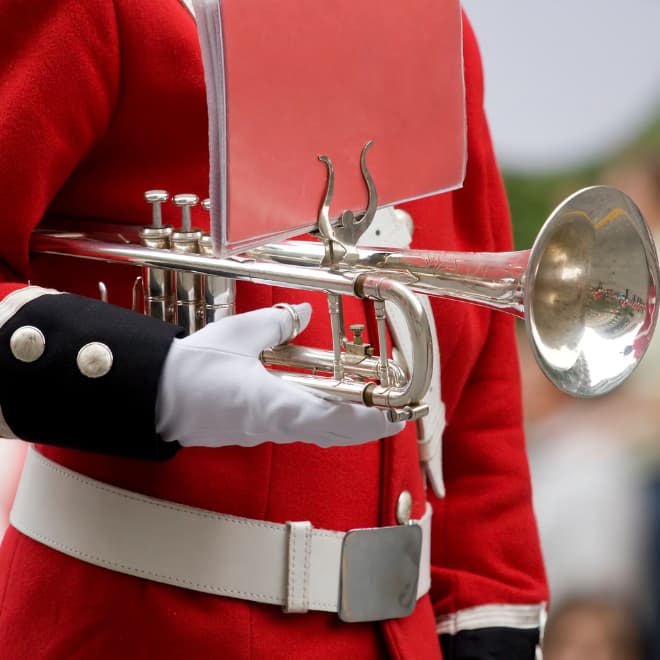 Usually, a brass captain will be an upperclassman with good leadership skills, or the ability to learn good leadership skills. A good band director is always willing to mentor and teach a student with the potential to be a strong confident leader.
Similar to the other section leaders the Brass captain will make sure that all the members of the section know their parts not only in the music but knowing their drill chart and where they need to be on the field when Marching.
Woodwind Captain
The Woodwind Captain or Section Leader oversees all aspects of the woodwind section. Similar to other section leaders in the band they make sure that their members are ready to rehearse with all their equipment and music, they keep the players working together as a team and bring up any concerns to the Drum Major or Band Directors.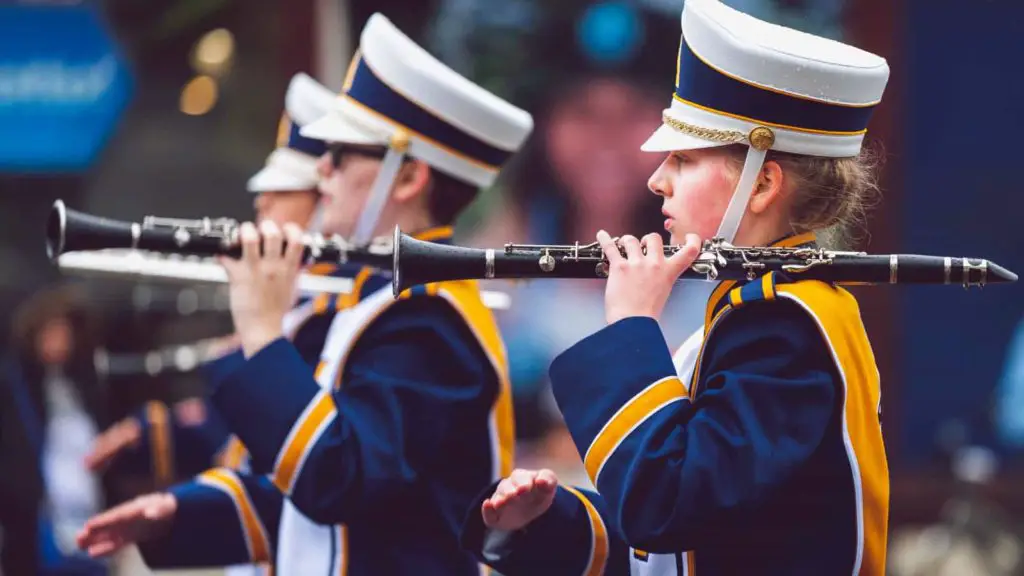 Color Guard Captain
If I'm being honest the Color Guard may just be one of my favorite sections of the band. I never realized until my daughter was a member of the Color Guard just how physical being in the Color Guard really is. It's like playing a sport in its own right!
The Color Guard Captain works closely with the Drum Major and Band Director to choreograph and teach the spinning, dancing, and flag tossing aspects of the show. They lead and inspire the Color Guard section by example. They guide new members in learning and answer questions.
Top Tip: To learn more about Color Guard Check out this article.
What is Color Color Guard? An In-Depth Guide
Band Sections & Members
It is important for every band section to have a leader. In small marching bands, there may only be a section leader and not a section captain. If the marching band is very large (over 60-80 players) that is when it becomes helpful to have a section captain as well as a section leader.
Section leaders' responsibilities are very similar to the section captains. In some bands, the section leader and section captain is the same thing.
In large bands, there can even be more leadership opportunities such as Squad leaders. Squad leaders are generally in charge of 4-5 members of their section and can help the section leaders in making sure everyone knows their parts, as well as helping with the musical or visual aspect of the show.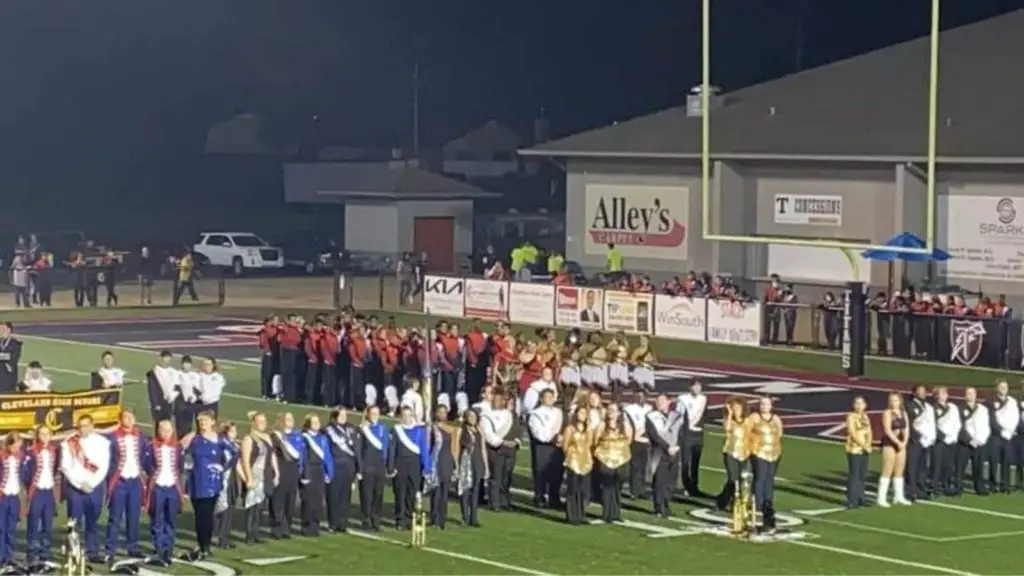 Marching Band Managers
Band Equipment Managers
This can be a paid position but is most often a member of the marching band. This person is in charge of tracking all the band equipment, taking inventory of instruments, making sure all equipment is ready for rehearsal and shows, and letting the band director know if something is missing, or broken.
Basically ANY and ALL equipment that is needed for rehearsal or performances (and there is a lot!) This is the person in charge of making sure it's there, it's ready, and it's working.
Luckily they don't have to move it all themselves because let me tell you that is not possible for one person to do.
All members of the band should help move equipment back and forth. My band in college (as do most bands) has an equipment trailer. The equipment trailer is a large trailer that is hooked onto a truck or SUV with a hitch and towed to the performance destination.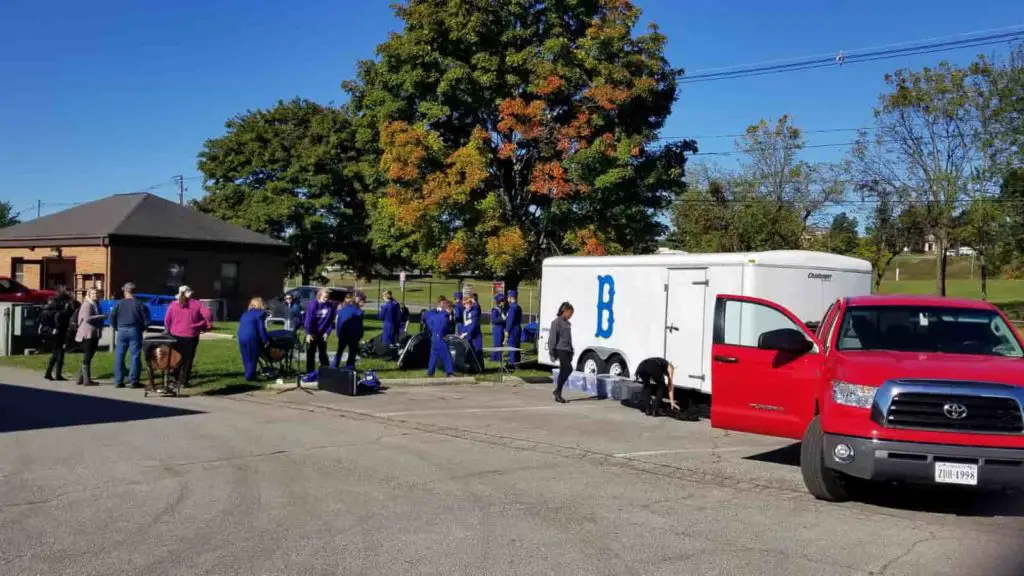 This trailer usually houses the pit equipment, (which is the larger stationary percussion instruments) as well as the podium and other large moving pieces that the band needs.
There are some real-world advantages to being an equipment manager. At a high school level, it helps build your resume for jobs and looks good on your college and scholarship applications. In college, this is often a paid student position. It also can help to beef up your resume for future jobs.
Being an equipment manager shows you are trustworthy, responsible, time conscious, and can handle high-value items with care.
Uniform Managers
This can be the same person as the equipment manager, or someone else. This person is in charge of making sure that all the uniforms are cleaned (usually dry cleaned) fit well, and are wrinkle-free.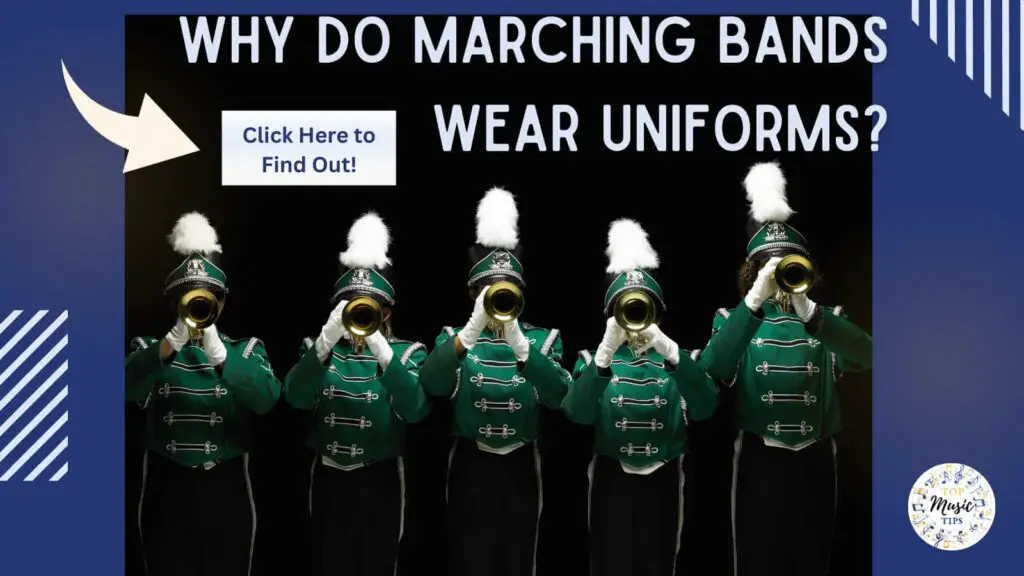 They will need to pay attention to little details from missing buttons to miss-matched socks, to small grass stains. Keeping the Marching Band looking sharp crips and clean is their job!
🎵 Note: Do you know Why Marching Bands Wear Uniforms? Click on the link to see if you are right.
Band Secretaries
Band secretaries are in charge of keeping records as well as minutes of meetings or decisions that the band director or board members have made. They communicate to the players and their family members important dates as well as logistical details. They make travel arrangements for the band.
The band secretary is usually a player, or sometimes a parent or booster member. This is sometimes a paid position in more professional or competitive bands.
The secretary needs to be very organized as well as good at communication. This is an important part of having a band run smoothly.
Band directors usually have so much going on and so many details to think about they often don't have time to write things down or organize them in a helpful way. A good secretary will do this for the director.
Unless there is a designated treasurer, the secretary will also collect and keep track of dues that the band members need to pay for things like uniforms or equipment.
Band Boosters
A Band booster is a non-profit organization generally run by parents or band alumni for the purpose of raising funds to keep the music program running smoothly. These are volunteers that give their time and support to all aspects of the band program. They are often in charge of fundraising.
I am a proud Band Booster parent myself. Most band programs at school can not run smoothly without the help of the band boosters. Parental involvement is very important to the success of band programs across the globe.
To learn all about a band booster and what they do check out this article!
Disclaimer: This post may contain affiliate links. We only recommend high-quality products that are used and recommended by real musicians. If you use these links to buy something we earn a small commission.