A huge part of what makes Marching Band and Color Guard so fun to watch is the diversity of beautiful colors shapes and sizes in the flags and props that they spin and throw! From Golden to rainbow color guard flags have as much variety as the instruments and players in the band.
But how did the color guard get started, why do they use flags, and how can you find the best flags for your guard? Keep reading to find out.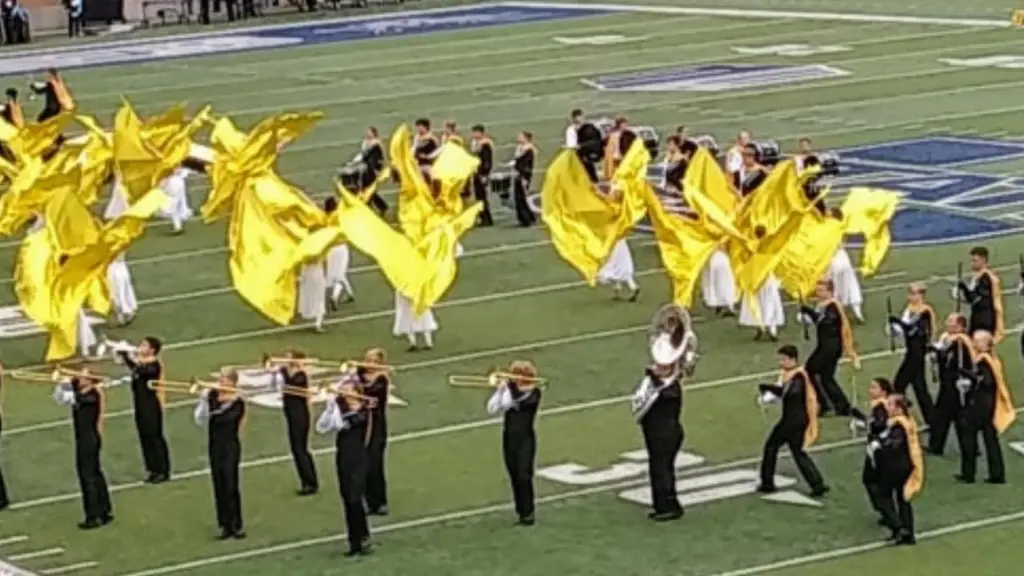 Why are There Flags In Color Guard?
The flag is, perhaps, the most central piece of equipment to the Color Guard.
Color Guard as an idea originated in the military and was a group of soldiers whose job it was to accompany an army and bear the flags with that army's colors. They quite literally guarded the colors. This idea persists in modern marching bands in a more artistic way.
Music, specifically percussion, has been a part of warfare throughout a large part of human history.  Drums and horns have been used to give signals to armies because they can be heard across great distances.  This eventually grew into the practice of having military bands.
Military bands functioned to boost overall morale within the army and provide musical accompaniment to ceremonial events. The Color Guard became naturally grouped with the musicians as noncombatants and early military marching bands formed with color guard as a key aspect.
This more rigid, patriotic style of marching band is still present today in the various branches of the military.
High school and college marching bands (and therefore color guards) grew out of school ROTC programs and were and were in that same military style. There is a lot of history here but suffice it to say that over time school bands began to innovate and move in more creative directions.
As marching shows moved out of the realm of the patriotic, members of the color guard needed to be incorporated into the show theme. Show flags became more colorful and more abstract.  Due to the history of the color guard, though, flag, rifle, and saber are still standard pieces of equipment for school marching bands and independent drum corps. 
How Heavy are Color Guard Flags?
Color guard flags do not have a specific, consistent weight. This is because the weight of the flag is deliberately altered by adding carriage bolts (and occasionally carriage bolt nuts) of various sizes to the flag poles themselves.  The aluminum poles are relatively light despite their size. 
Top Tip: Here is a handy guide for how to add weights to your flag: https://blog.bandshoppe.com/2019/02/25/flag-basics-part-4-pole-weights/
As with most things, there is no "right" way to add weight to a flag.  Typically, though, the weights will either be the same (putting maybe a 2in carriage bolt in each side) or slightly heavier on the top side.  This added weight to the topside helps the flag spin a little more in the air when tossed.
Types of Color Guard Flags
There are generally three types of flags a color guard member is likely to encounter. (1) standard flags, (2) swing flags, (3) and prop flags. Standard flags will be addressed below, so let's take a moment to talk about prop flags and swing flags.  
Prop flags are typically oversized flags that aren't spun with the same level of skill or speed as a standard flag or swing flag.  They will often have some core idea of the show emblazoned on them and are usually saved for the finale. They are also regularly used in school spirit groups as a means of cheering for their team.  
"Swing flag" may seem like a misnomer but original swing flags were on a chain and were actually swung around.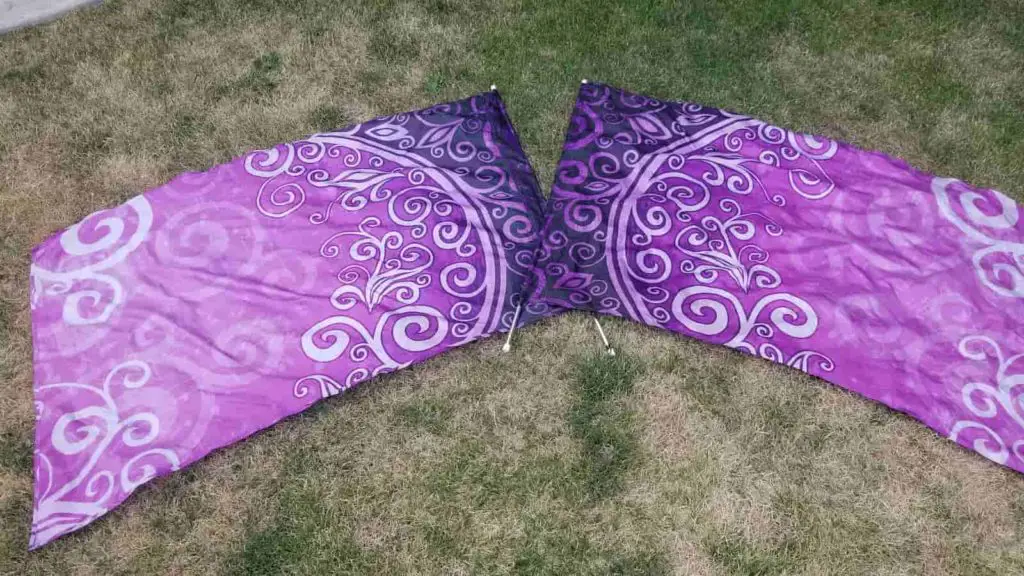 Today in color guard swing flags generally come in pairs and have short poles. Many groups still use this type of flag for dramatic effect. That being said, the larger flag with a shorter haft that is often used in ballad sections of a show is called a swing flag as well.
Often performers will use two swing flags at once, holding one in each hand. Sometimes the swing flags are actually just one flag connected across two poles.
Color Guard Flag With Pole
In terms of standard poles for the basic flag, you tend to either have 6ft poles or 5.5ft poles.  Most high school bands, college bands, and independent drum corps use a 6ft pole and it is viewed as the default piece of equipment.  5.5ft flags are often used for junior groups or to help accommodate color guard members for whom a 6ft pole is unwieldy.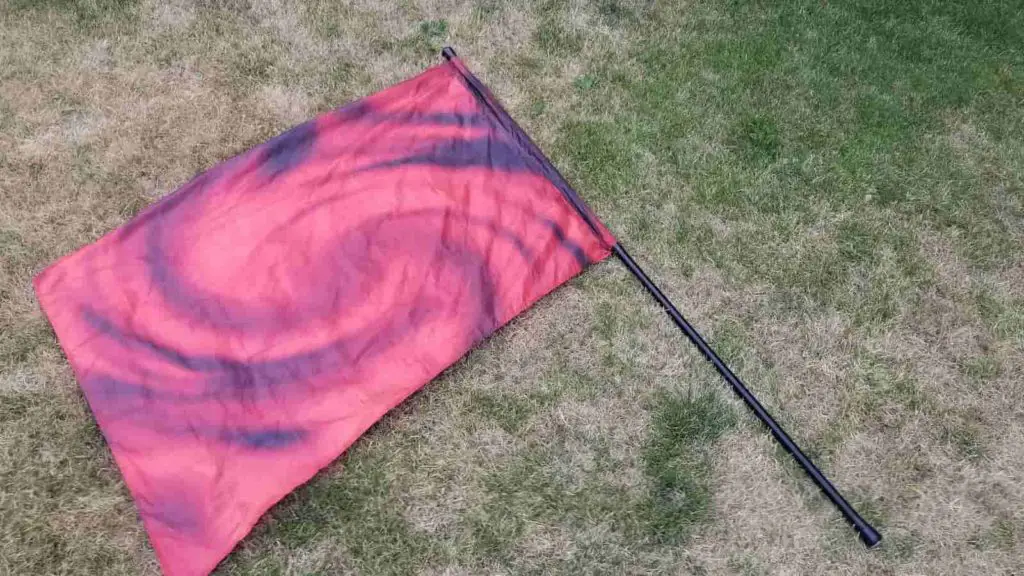 Swing flag poles, on the other hand, don't have a standard length and can be bought in various sizes to accommodate the silk of the swing flag in question.  It's fairly common for marching bands to make their own swing flag poles rather than purchasing them.
What size is a Color Guard Flag?
The basic silk for a 6ft pole is going to be somewhere around 36in x 52in. These silks are rectangular but are also curved slightly in one direction to make them look more natural and fluid as they are spun. Because poles are standardized, most flag manufacturers also keep standard size silk so they can fit on any pole.
With swing flags, however, there is more variety. The shape and length of swing flag silks aren't particularly standardized. They are typically used in slower sections of a show and are not tossed meaning that there is a little more creative room for how they can look, what they can be made of, and how big they can be.
Color Guard Practice Flags
Practice flags are usually a single solid color (often to match a school's colors) that is cheap but durable and can usually be machine washed.  They are, however, for all intents and purposes the same as a performance flag.  They generally feel the same and experience a similar amount of wind resistance when being spun.
This is so that the show flags, which are often more expensive and in certain cases more delicate, can be preserved for the performances.  Practice flags take all the drops and stains so that show flags can look good on a show day.
How to Make a Color Guar Practice Flag
Step 1 Gather your materials
Yard stick
Fabric tape measure
Scissors
Pencil & or chalk
Pins
Sewing machine
Light weight small needle for silk fabric
Matching thread
Find a large open workspace such as a large table or open floor space. Cover your workspace with cardboard to protect the surface from the wood-burning tool.
Top Tip: Use your Leftover butcher paper to create banners and posters for fundraisers for your guard or band.
Step 2 Create a Pattern
Creating a pattern will make it easier to make multiple flags and will help to keep the flags all the same standard measurements.
Choose a sturdy paper to create your pattern. Butcher paper can be used (tape the pieces together if it's not wide enough).
You can tape newspaper together to make a large sheet if you don't have butcher paper but it won't be as strong and could leave newsprint on your silk fabric.
You can use the measurements given here or use an existing flag silk of your desired size to create your pattern.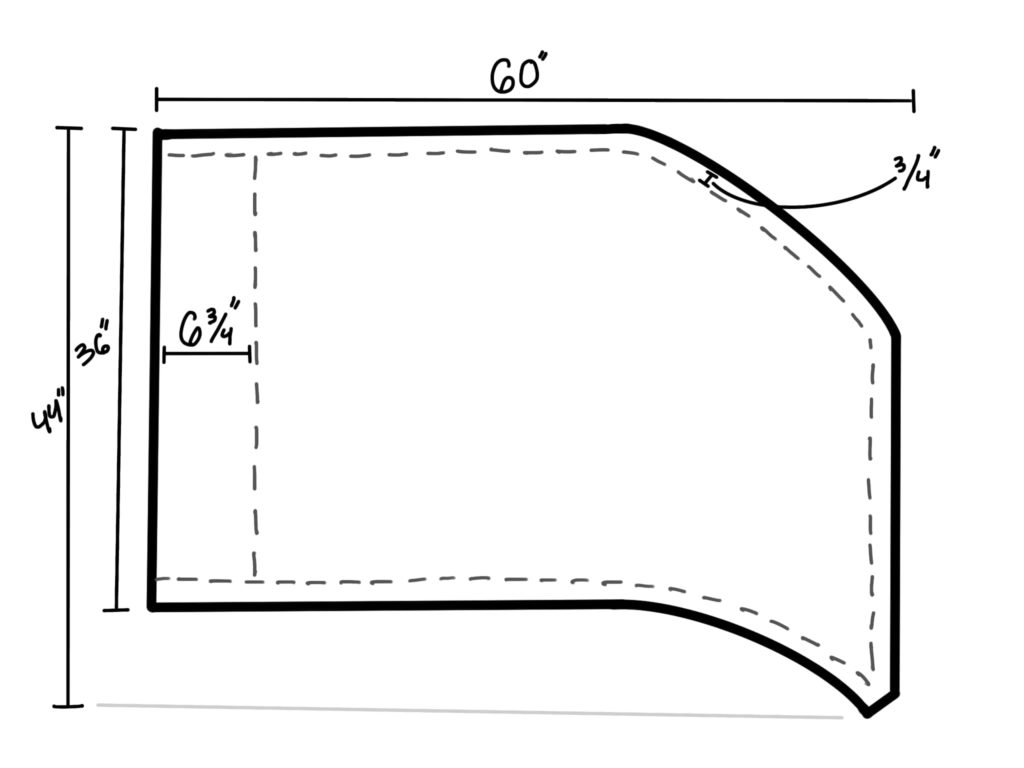 Step 3 Prepare the Material
Roll out your silk. Make sure it's flat and not stretched. Lay your pattern on top of your silk and trace with a pencil or piece of chalk.
Step 4 Cut the Silk
Let your wood-burning tool heat up before using it. Test it on one of your scrap pieces to make sure it is hot enough.
Use your tool to follow the pencil or chalk outline of your flag. It should easily burn through the silk without causing any scorch marks.
While you can use scissors for this part, using the wood-burning tool is recommended because it will seal the fabric edges and prevent fraying.
Step 5 Prepare the edges to be sewn
Fold each of your outside edges over about 1/4 inch twice. You can iron on low heat and/or pin the folds over to help them stay secure for sewing.
Take extra time on the corners to make sure they are secured and neat.
Step 6 Set up your sewing machine
Choose a clear or matching color thread. Use a fine needle to work with the poly china silk.
Step 7 Sew the edges
Sew along the seam of your 3 outside edges (not including the side that will be the pocket). Sewing along the inside of the seam as well as the outside edge will help your flag edges be extra secure.
Step 8 Sew the pocket
Fold the pocket over at the 6 3/4′ mark. Sew two lines at the edge of your seem.
Step 9 Finish the Flag
Cut all the remained threads and iron the finished flag. Be sure to use low heat and now steam.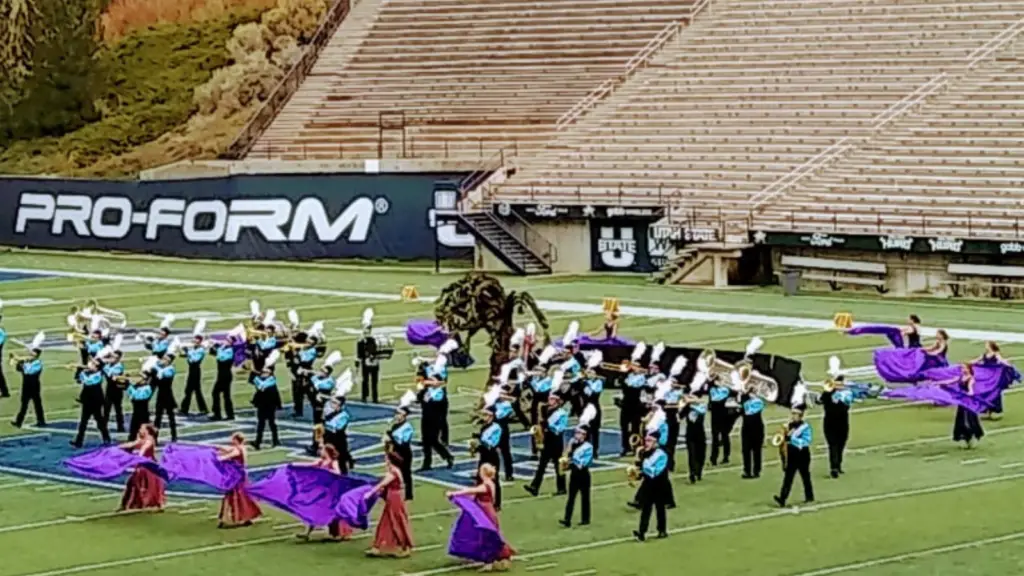 How Much Do Color Guard Flags Cost?
With all the many choices of Color Guard flags knowing all the ins and outs of how to purchase flags for your Color Guard can quickly get confusing, from wondering what size and weight you should get, to what type of fabric and the price we are here to help you make sense of it all.
The various parts of a color guard flag are purchased separately and then assembled by the color guard members.
The cheapest option is going to be a solid color flag and you can expect to pay somewhere around $15 a silk with discounts sometimes given at larger quantities. If you get a stock printed silk or sewn silk you're going to pay around $40. The more you customize the more expensive it gets.
To get a standard 6ft aluminum pole you're going to pay about $15 but a lot of companies charge you more if you are only buying one or two flags. These companies are set up for groups more so than individuals so their policies assume you are going to buy at least 5 of them.  
Bear in mind that you are often purchasing multiple sets of flags and poles so that your members have a practice flag and multiple show flags. It is often more helpful to consider the price at the scale of the group and show.
Say, for instance, you have a color guard of 10 people and you want to buy one practice flag and three show flags (one for each movement of your show).  You'd need to buy 40 poles (essentially 4 per person) and 40 silks.  On poles alone, you are spending about $600 though you might get a discount for buying so many at once.
If you got a solid color practice flag for 10 of them that would be $150 or so.  If you then bought stock printed flags for each movement of your show at $35 each (30 flags total) you would spend about $1050. Total that all together and you're looking at $1800. 
Now, it is worth noting that new poles and new practice silks aren't bought every year. So, let's say you just started your color guard program and spent that $1800 for your first year. The next year you'd already have the poles and practice flags so you'd only have to spend the $1050 for show flags. And it gets cheaper from there.
Now you have an established silk library so you could reuse some of those silks.  Let's say in year 3 of your program you reuse a silk from your first year and only need to buy 2 sets of new show silks. That would only cost you around $700 or so and you now have a pretty good silk library.
Where to Buy Color Guard Flags?
There are several fantastic websites you can use to purchase flags, poles, sabers, and other useful equipment.
Bandshoppe.com
Fjminc.com
Drillcomp.com
If you are a color guard member wanting to buy your own flag to practice with or wanting a one-off flag for some reason Etsy is a great place to look for some uniquely styled flags.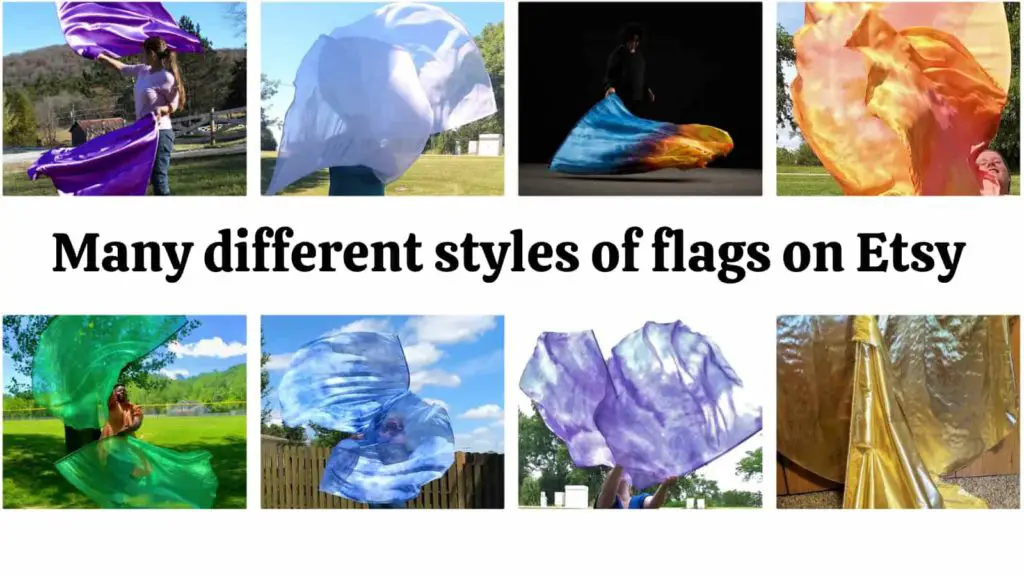 These are just a few websites where equipment can be purchased but there is one more of particular note that is worth mentioning.  
Often flags are printed or sewn to match a specific show concept and then once the show is over that band may not have need of those flags ever again.  Many bands just keep a library of used silks to bring back for later concepts but often that library needs to be cleaned out.
Top Tip: Guardcloset.com is a place where used silks are consigned and it's a great place to find excellent flags for more reasonable prices.
Running a color guard is expensive and printing or sewing new flags every year can be a big drain on a budget.  Reusing flags and buying used flags is a great way to save money.
It's also fairly common for school bands in the same region to borrow resources like flags.  If you have a neighboring school that isn't using a particular set for their show, they may let you use it for a season.
Up Next: Check out these other articles all about Color Guard
Disclaimer: This post may contain affiliate links. We only recommend high-quality products that are used and recommended by real musicians. If you use these links to buy something we earn a small commission.