Getting well-fitting gloves that are comfortable and easy to take care of is an important part of any Color Guard uniform and equipment. As a Color Guard member, your hands are one of the most important and vital tools of your art. They need to be protected and taken care of in order to avoid injuries that could cause you loss of practice time or force you to miss any of your shows.
Not too long ago the only options to protect a Color Guard member's hands were weight lifting gloves. While these did help and were better than bare hands they are made for a completely different purpose and didn't provide the proper protection in the proper place for a flag and rifle spinner.
Thankfully there are some great companies that realized this and came to the rescue by creating and manufacturing gloves specifically designed for the sport of Color Guard. These gloves have padding in the places that they need to have padding and the durability and grip that is needed to last through several seasons of sometimes harsh marching band life.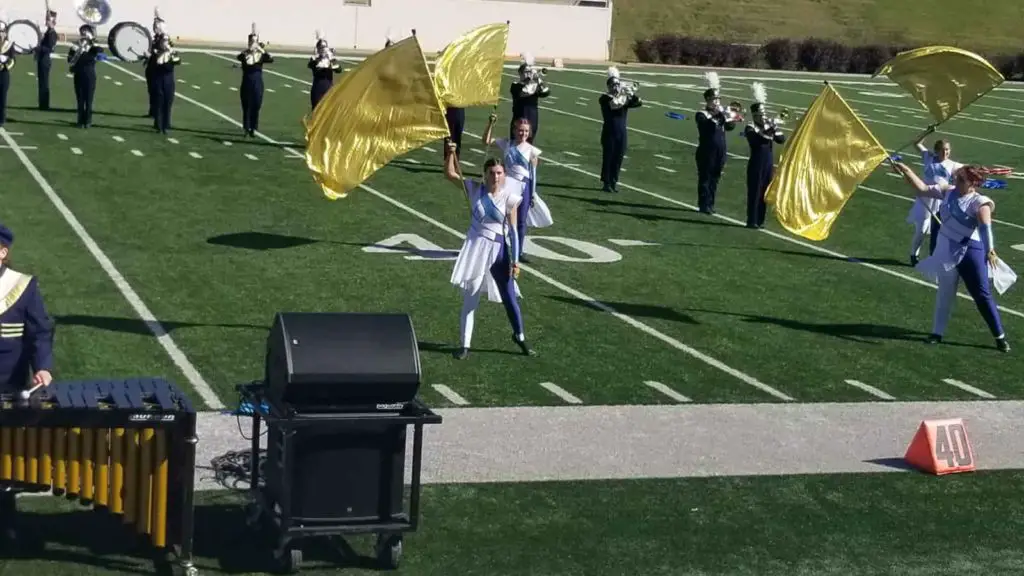 In this article, we will answer all your questions about Color Guard gloves as well as offer you advice and recommendations from Color Guard members on how to clean and care for your gloves.
What are the Best Color Guard Gloves
The most popular gloves for Color Guard groups is the Ever Dri by DCI. These gloves fit well, are easy to clean, and have a good amount of padding and protection for flag spinning as well as rifle and sabre tossing.
The Ever Dri glove was the first-ever machine washable glove. This has been a huge improvement in the design of Color Guard gloves because let's face it…. constant practicing and tossing outside in the hot humid weather and drizzly wet football games will make your gloves STINK!
Many Color Guard members that I spoke with that use these gloves have reported that they are very durable and have lasted them several years before needing to replace them.
One of the most loved features of this brand of gloves is the amount of protection and padding in all the right places. This is very helpful when spinning heavy props such as sabres and rifles. They also have very consistent sizing and ordering them in bulk for your entire team is very easy.
If you have been spinning flags for a while but have never worn gloves before, the Ever Dri gloves can be very difficult to get used to. Because of the thickness of the padding, it can feel as though you don't have as much control or grip of your prop.
Color Guard Gloves Brand Comparison
| | | | | | | |
| --- | --- | --- | --- | --- | --- | --- |
| Brand | Price | Sizing | Protection / Padding | Wrist Closure | Colors | Cleaning |
| Ever-Dri | $15-20 | XS-XL (normal sizing) | Thick padding Great protection. | Elastic with adjustable hook and loop. | Black or Tan | Machine Washable |
| Design by King | $13 | XS-2XL (Sizing runs big) | Padding runs all the way down the thumb. Great protection. | Elastic wrist, Velcro to close | Black, Tan, Mocha | Handwash Recommended |
| McCormick | $13 | XS-XL (normal sizing) | Medium amount of padding, good protection. | Elastic wrist, Velcro to close | Almond, Latte, Chocolate, Truffle, Mocha | Machine Washable |
| Grip Factor | $16 | XS-XL | Very lightweight padding, less protection. | No elastic, 2 buttons | Black, Tan | Hand Wash Recommended |
The price of Color Guard Gloves is going to be pretty standard ranging between $12-$20.
For those of you who have been spinning without gloves and prefer a more lightweight and breathable option then Grip Factor by Style Plus will be the best option for you.
These gloves have mesh on the back that allows for a lot more air circulation. This can be very helpful for hot sweaty climates and that makes wearing thick gloves near unbearable.
Grip Factor gloves are also the only gloves we found that are specifically designed to help your grip your props more easily. There are little rubber-like bumps on the palm that help with grip. While they don't provide a ton of padding and protection, there is some padding on the lower part of the pointer finger and in the middle of the palm.
Another thing to point out is that the Designs by King gloves are the only gloves that have thick padding on the thumb that goes all the way down the wrist. This provides a lot more protection on the wrist. This can be very helpful for anyone that struggles with hitting their wrist a lot while practicing.
Color Guard Glove Colors
Typically Color Guard gloves only come in black or tan, but some companies such as McCormick are making more colors available. They currently have 5 different options which are Almond, Latte, Chocolate, Truffle, Mocha. These are different shades of tan or brown.
Finding other colors like white or pink color guard gloves will prove quite challenging. We were not able to find these specific colors in the traditional fingerless gloves with the correct amount of padding.
If you are looking for white Color Guard gloves then your options will most likely be limited to parade or show style gloves that will have a much different feel to them than traditional Color Guard gloves.
Where to Find Color Guard Gloves
Buying Color Guard gloves online is about your only option. Unfortunately, because they are a specialty item we were not able to find any storefronts that had a stock of different types of gloves to try on and test.
You can order Ever Dri on Amazon for free shipping.
You can order Design by King Gloves Here: Designs By King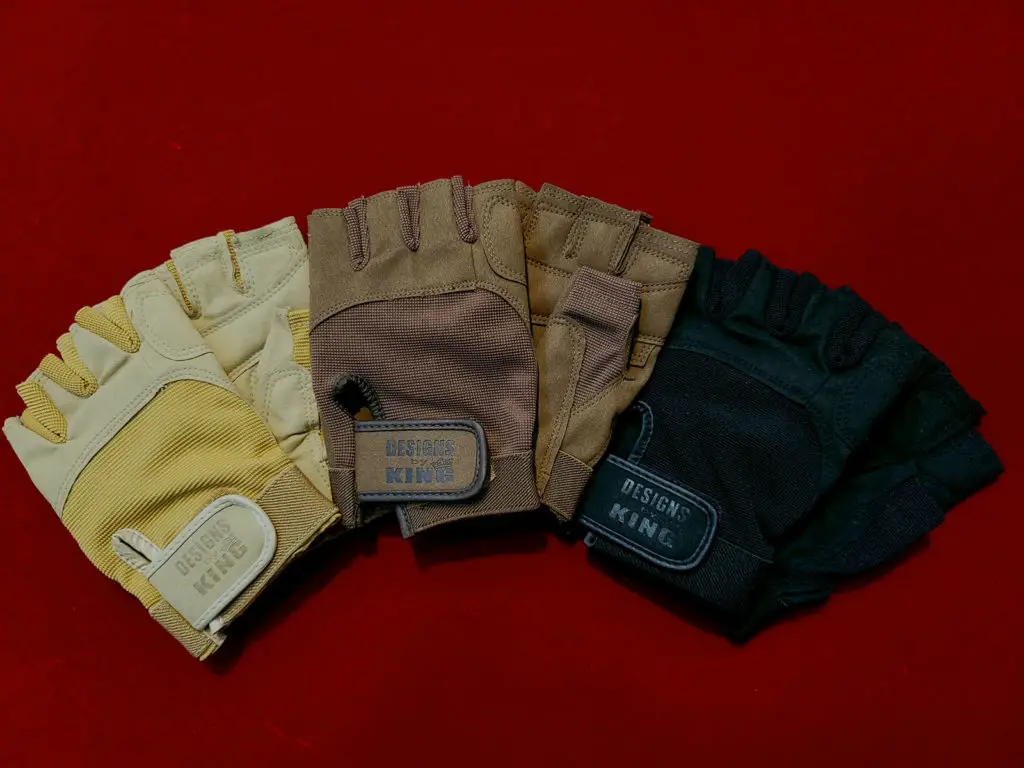 McCormick Gloves can be found here McCormick's Washable Guard Glove
Grip Factor gloves can be ordered from The Band Shoppe
How to Wash and Clean Color Guard Gloves
Always follow the manufacturer's recommendations when cleaning your Color Guard gloves. Most gloves can be hand-washed, but a few brands such as Ever-Dri can be machine washed on delicate. If you machine wash, only use warm or cold water, and don't use bleach or harsh detergents.
Don't ever put your gloves in the dryer. Doing that will be sure to make them shrink or warp them and make them unwearable. Let them air dry on a towel on the counter, or set them outside in indirect sunlight.
Here are some recommendations from other Color Guard members on how they clean their gloves.
Most recommendations involve hand washing your gloves with mild soap.
Steps to hand washing your Color Guard gloves.
Turn your gloves inside out.

Gently scrub your gloves with luke warm water and a gentle soap.

Turn your gloves right side out and gently scrub the outside.

For heavily stained gloves or very smelly gloves you can soak them for a few hours.

You can also soak them in a mixture of 1 parts vinegar to 2 parts water to help deoderize them and get out sweat stains.

Rinse well.

Gently wring out your gloves.

Air dry.
If the thought of washing your favorite pair of gloves is too scary for fear of ruining them or making them feel or fit differently you can try some of these tactics to clean them up a bit and keep them from smelling like dead fish.
Sprinkle with baking soda and let them sit overnight.

Turn them inside out and spray them with deoderizer.

Stuff them with paper, put them in a ziplog bag in the freezer overnight. (The paper helps them hold their shape, the freezer helps to kill the germs).

Have one pair of gloves for practice and one for shows.

Rubbing Alcohol or cheap vodko mixed in a spray bottle with water (1 part alcohol 2 parts water). Turn the gloves inside out, spray them until just damp, then let them dry in the sun.

This product used for washing soccer goal keeper gloves also works well to gentley clean color guard gloves.
After washing your gloves if they feel a little stiff.
Use saddle soap to bring back the leather grip. This can help if they get brittle or you notice any signs of cracking.
Don't Do this when cleaning your gloves
Use bleach

Put them in the dryer

Leave them in direct sun

Use harsh chemicals to clean them
Next Step
Whether you are preparing for Color Guard or Winter Guard getting all your equipment together, finding the perfect uniform, practicing all the techniques, learning new drills, and knowing all the ins and outs of this sport can be challenging. Here are some other guides and articles that can make it easier for you.
What is Color Guard? An In-Depth Guide –
Color Guard Sabres, Your Complete Guide –
All About Winter Guard! Color Guard for the Seasons. –
All About Color Guard Flags (Complete Guide) –
Disclaimer: This post may contain affiliate links. We only recommend high-quality products that are used and recommended by real musicians. If you use these links to buy something we earn a small commission.