The sweet sound of Sax! If you or someone you know plays the Saxophone or you just love the way it sounds you may have found yourself listening for the gorgeous tones in all types of music. Today we are going to learn all about Sax in Rock Music!
There isn't just one definition, one sound, one style that can describe rock. This is because of all the different subgenres and fusion genres that exist in the sphere of rock music.
The bands in this list cover subgenres including "space rock", "punk rock", "experimental rock" and "avant-garde metal".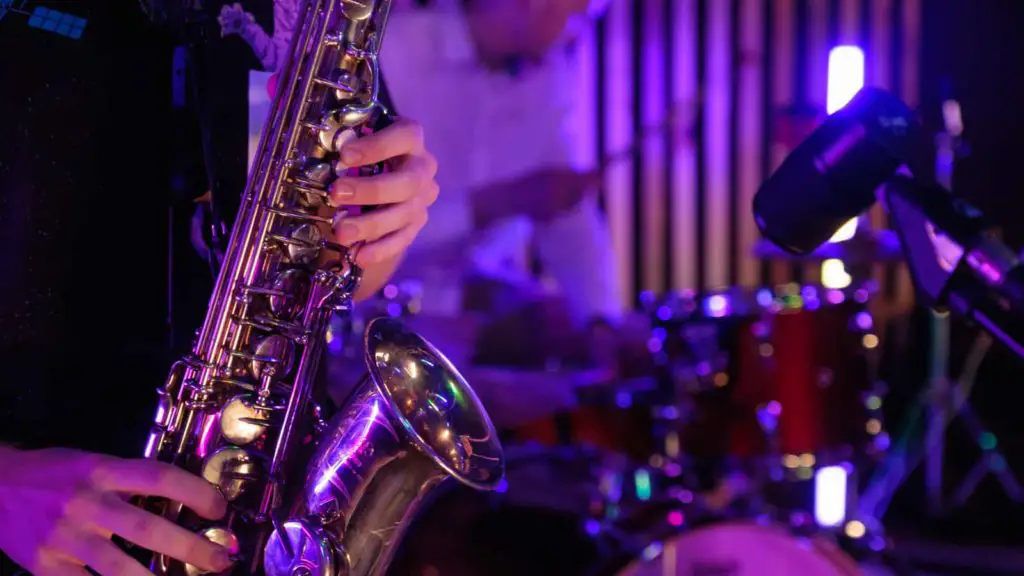 Before starting our list, it's important to understand what a Session Musician is.
Session musicians are hired by a band to perform with them during a recording session, live performances, and on tour. Many session musicians are not official band members and not be at every live show or on every album.
15 Different Rock Bands with Saxophone Players.
The Rolling Stones 
Starting this list is the Rolling Stones or, as they like to say, "The Greatest Rock & Roll Band In the World"! The Rolling Stones were formed in 1962 in London, England. They are still touring today, seven decades later.
The original members of The Rolling Stones were: Mick Jagger, Brian Jones, Keith Richards, Bill Wyman, and Charlie Watts.
The Stones are one of the best-selling bands with over 200 million records sold. Along with several Grammy Awards, The Rolling Stones were inducted into the Rock & Roll Hall of Fame in 1980. Who was their saxophone player?
The go-to saxophone player for The Rolling Stones was Bobby Keys.
Keys was the session musician for The Stones. He went on tour and played with the band from 1970 to 1973 and 1981 to 2014. 
You can hear Bobby Keys on 3 of The Rolling Stone's albums and in most tour videos of the Stones on tour. Unfortunately, Bobby Keys passed away in 2014, but his music is still living. 
Fun Fact: Bobby Keys didn't just play his saxophone for The Rolling Stones; he played for a TON of famous musicians as their session musician. He played with Lynyrd Skynyrd, Buddy Holly, Elvis, Eric Clapton, George Harrison, and Ringo Starr.
That was just a small list of musicians that Bobby Keys worked with during his life. Listen to this solo from 2012 during the song 'Miss You' to hear just a sample of what Keys added to the music.
Pink Floyd
Pink Floyd was formed in 1964 in London, England. The original members of Pink Floyd were Syd Barrett, Bob Klose, Nick Mason, Richard Wright, and Roger Waters. 
The band is considered to be in the subgenre of rock music known as space rock or psychedelic rock. In 2013 it was announced that the band had sold over 250 million records across the entire world! 
Their albums 'The Dark Side of the Moon' and 'The Wall' are two of the best-selling albums of all time. Both albums were inducted into the Grammy Hall of Fame. The musical film inspired by their album "The Wall' won 2 BAFTA Awards. They became members of the Rock & Roll Hall of Fame in 1996.
Pink Floyd's saxophonist was Richard (Dick) Parry. Parry was the session musician for the albums The Dark Side of the Moon,' 'Wish You Were Here', and 'The Division Bell.'
Dick Parry did a lot with the band over the years. He was the session musician for the recordings of  'Money,' 'Us and Them,' 'Shine On You Crazy Diamond,' and 'Wearing the Inside Out.' 
Parry played his saxophone in every live performance between 1973 to 1979. He also joined Pink Floyd again for their 1994 World Tour. While he did play for other bands, the most notable one was the Who. Dick Parry joined the Who's brass section (even though saxophones are woodwinds) during their tour from 1979 to 1980. 
Here is a video of Dick Parry playing 'Shine On You Crazy Diamond' in 2001
The Stooges
The Stooges was a rock band that formed in 1967. The original members were Iggy Pop, Ron Asheton, and Dave Alexander.
Their lead singer, Iggy Pop, is infamous for his on-stage antics. Like smearing peanut butter on his body and stage-diving into the audience randomly.
What is interesting about The Stooges was their sound and shows. Their sound has been described as a "raw and primitive rock style." They became known for their rough sound and over-the-top performances.
People went to shows to see the insane stunt the band would pull that night. The Stooges were inducted into the Rock & Roll Hall of Fame in 2010. 
The band broke up and reformed and broke up again for a few years but finally ended in 1974. In a stunt only The Stooges and Iggy Pop could manage to pull off, they came out of retirement to play after 29 years apart. The Stooges played their first song in 29 years at Coachella Valley Music and Arts Festival in 2003.
The Stooges had a saxophone join them for their second album 'Fun House' in 1970 and toured with him. This rock sax player was Steve MacKay. MacKay first joined the band two days before they went to record their album 'Fun House.' 
 Steve MacKay was a member of The Stooges for five months and then got fired. He joined the Stooges in 2003 for their Coachella show and remained with the band until he died in 2015. Several publications in the 1990s reported that MacKay had died in the 1970s. 
That rumor was false, and he went on to play as a session musician for the Violent Femmes. He joined the Femmes' horn section called the "Horns of Dilemma," and you can hear him playing on their 1968 album "The Blind Leading the Naked." Once The Stooges returned, he joined them for three more albums before passing.
Here is The Stooges playing 'T.V. Eye' and you can hear Steven MacKay playing.
Hall & Oates
The pop-rock duo of Daryl Hall and John Oates are fourth on this list. The world knows them as "Hall & Oates"; but that was never the group's name. On every album, the men are credited with the name they call their band: Daryl Hall and John Oates.
Yet, nobody calls them by their real name.
Both Hall and Oates wrote almost all the songs they performed themselves. While this duo might not come to mind when you think of famous rock bands, they were very successful. Between 1974 and 1991, 29 out of 33 of their singles made it to Billboard's Hot 100. They had several number one hits, including the rock playlist staple, 'Maneater.' 
Like the three previous bands, Daryl Hall and John Oates were inducted into the Rock & Roll Hall of fame in 2014. There is even a star on the Hollywood Walk of Fame. We all know the names Hall & Oates, but you don't hear much about the saxophone player from 'Maneater'. 
The saxophone player for Hall & Oates was Charles (Charlie) DeChant. Often called "Mr. Casual," DeChant started as a session musician for Hall & Oates. He recorded and toured with the band for many years before becoming an official band member in 1982. 
Fun Fact: Charlie wasn't just working with Hall & Oates as a session musician; he played saxophone with other music icons. Like Mick Jagger, Tina Turner, The Temptations, and Billy Joel.
Mr. Casual toured with Hall & Oates throughout the 2010s. He is now a notable producer, soloist, and teaches people how to play the saxophone online.
You can hear Mr. Casual in Hall & Oates' 1982 album 'H2O'. Here is Charlie DeChant in the original music video for 'Maneater'. 
Bruce Springsteen and The E Street Band
Some people don't know that The E Street Band and Bruce Springsteen are two separate groups. The E Street band has been Bruce Springsteen's backing band since 1972. The E Street Band was well known in the session/studio musician world. Each member of the band is a successful musician. 
Bruce Springsteen's saxophone player is very well known. His name was Clarence Clemons. Clarence Clemons, also known by many as "The Big Man," was not only a saxophone player in a rock band but also an actor. 
The Big Man was a music icon for saxophone players and other woodwinds. Springsteen's album 'Born to Run' heavily featured Clarence with solos. As well as solos in the songs 'Thunder Road,' 'Jungleland,' and 'She's the One". He performed solos in many of Springsteen's albums, including 'The River', 'Born in the U.S.A,' and 'Darkness on the Edge of Town'. 
Clemons played with many famous singers like Aretha Franklin, The Grateful Dead, and the Jerry Garcia Band. One of the last musicians The Big Man played sax for was Lady Gaga's song 'Edge of Glory.' 
In 2011 Clarence Clemons passed away. When other bands heard the news of his death they paid tribute to his memory. Some of those bands included: Phish, Pearl Jam, Bon Jovi, and U2. In 2014 the E Street band was inducted into the Rock & Roll Hall of Fame, and Clemons was inducted posthumously with the other members. 
Here is Clarence Clemons playing his saxophone solo in the song 'Born to Run.' 
Bob Seger and the Silver Bullet Band
Bob Seger is one of those rock legends that shows you that you can make it big if you work hard enough and do not give up. Seger was in a few different bands, had a solo career, and did make some hits in the early days. Those hits were primarily popular in the Detroit area where Seger lived. 
In 1974, Bob Segar created his backing band, The Silver Bullet Band. That is when things began to change for Bob as an artist. In 1976, Seger and The Silver Bullets released the album Night Moves', featuring one of the most iconic rock songs, 'Rock and Roll Never Forgets'. 
That same year, Seger released a live recorded album, 'Live Bullet,'  which made saxophone player Alto Reed (yes, that is his name) a heavy hitter in the lineup of rock bands with saxophone players. That song was 'Turn the Page.' 
Alto Reed toured and played with Bob Seger as a member of The  Silver Bullet Band for 42 years. When not working with Bob Seger, Reed performed with many other musicians and bands. Some of those bands were Otis Rush, Little Feat, and Dan Aykroyd. This talented saxophone player passed away in 2020. 
Here is a video of Alto Reed playing 'Turn the Page' in concert.
X-Ray Spex
When you think about rock bands with saxophone players in the band, does your mind jump to punk rock bands? Punk rock bands very loudly told the world they weren't like the other 1970s rock bands on this list up to this point. 
X-Ray Spex formed its punk rock band in London, England, in 1976. This band would split and come together many times. The group was active from 1976-1979, 1991, 1995-1998, and once again in 2008. The Spex described themselves as "deliberate underachievers." 
The band was composed of Poly Styrene, Lora Logic, Rudi Thomson, Paul Deen, BP Hurding, and Jak Airport. They backed up their underachiever claims by only producing one album. That single album 'Germfree Adolescents' is now considered one of the founding albums in punk rock.
X-Ray Spex is included in this list because of their original saxophone player, Lora Logic. Lora is the only female saxophone player on this list. A saxophone in a punk band was unheard of at the time. Having a saxophone became something that made  X-Ray Spex stand out in the punk scene.
Lora can be heard in the band's first single 'Oh Bondage Up Yours!. And again in 'Germfree Adolescents,' but she was not a member of the band any longer when X-Ray Spex made their album. The band used an audio recording of her playing. They also did not give her credit for her sound.
Logic was only a 15-year-old student when she became a member of X-Ray Spex.  Playing the saxophone was just one of her hobbies, and she left the band to get her high school diploma. 
When Logic left, she was replaced by Rudi Thomson until 1995. This is when Logic joined the band again and recorded one final album 'Conscious Consumer'. Here is Lora Logic playing in a video recording of X-Ray Spex's most famous song, "Oh Bondage Up Yours!"
Dire Straits
The band Dire Straits is an excellent example of a rock band with saxophone players. Dire Straits was a rock band that formed in London, England, in 1977. The original members of Dire Straits were Mark and David Knopfler, Jorn Illsley, and Pick Withers.
The band's first single was 'Sultans of Swing,' and it quickly became a top ten hit in the United Kingdom and the United States. Following the success of their single, Dire Straits continued to release hit singles like 'Money for Nothing' and 'Romeo and Juliet'.  Their 1985 album 'Brothers in Arms' became an instant hit almost overnight.
Dire Straits is well known for selling more than 30 million copies of 'Brother in Arms'. They also were the first band to sell over a million CDs. When Dire Straits made their album, CDs had only been around for three years. Nobody knew if CDs would become popular until Dire Straits sold over a million of them.
As Dire Straits went on many tours and in 1985, the band brought saxophone player Chris White to play with them. That same year, White played at Wembley Stadium in London with Dire Straits during their Live Aid benefit concert performance.
Dire Straits broke up for a few years, got back together in 1995, and White was on their last world tour. Chris White was a session musician for the band's final studio album 'On Every Street' in 1991. There was one more album that the band made in which you can hear Chris White playing the saxophone.
That album, 'On the Night', was a live album recorded during concerts. It was the last and final album the band made before breaking up for good. 
Here is a video of Chris White playing'Sultans of Swing' with Mark Knopfler during a tour. 
9.) Nine Inch Nails
Nine Inch Nails is another unique rock band with a saxophone player. Nine Inch Nails (NIN)  was formed in 1988 by Trent Reznor. Reznor had been the only permanent and regular member of the band until 2016. He is also the saxophone player in his rock band.
 Reznor is a multitalented instrumentalist who got his start in music by being in his school's band. In school, Reznor learned to play the tuba and the saxophone. He marched in the school band and played in the school's jazz band. 
When starting his band, he had a hard time finding musicians who could play the music right. He decided to do what the artist Prince once did. He recorded himself playing every instrument in the song. Except for the drums. 
He would sometimes bring in other musicians to record his music and on tours. He collaborated with many other musicians, including How to Destroy Angels, Atticus, The Innocent, and Halsey. He is also an accomplished composer who most recently worked on the Pixar film 'Soul' soundtrack. 
There are several NIN albums and one single that he included the saxophone. The single 'Driver Down' for David Lynch's film 'Lost Highway" (1997), NIN album Bad Witch (2018), and the album 'Ghosts VI; Locusts' (2020)
Here is Reznor's song 'Driver Down' from Lost Highway. You can skip to the 3-minute mark to hear the saxophone.
10.) Morphine
Morphine was an alternative rock band that was formed in Massachusetts in 1989. Its members were Mark Sandman, Dana Colley, Jerome Dupree, and Billy Conway. They produced five successful albums and toured the world for around a decade.
Morphine's sound had more of a traditional rock style and sound. The band mixed jazz and blues together like early rock and roll did. Morphine was a successful band but never was known as a mainstream rock band. 
The band didn't make it big in the United States but was incredibly successful in other countries. Morphine was a high-profile rock band in Australia, France, Belgium, Russia, and Portugal. Unfortunately, the band was active for only ten years. 
While in Italy performing a show in 1999, the lead singer, Mark Sandman, died from a heart attack while on stage. After Sandman died, the band broke up immediately. 
This band is part of this list because they had a saxophone player, co-founder of the band, Dana Colley. Colley is widely known for playing the baritone and tenor saxophones in Morphine. 
In 4th grade, Dana Colley was a member of his school band. He originally played the clarinet but switched to the tenor saxophone in the 7th grade.
Dana Colley primarily played the baritone saxophone in Morphine. He also would sometimes sing backup vocals, switch between the tenor, bass, and soprano saxophone.
Fun Fact: Colley can also play two saxophones at the same time and did so often while in Morphine. You can hear him on every record Morphine produced. 
Here is a video of Morphine on stage playing their songs 'Radar' from their 1995 album Yes and 'The Only One' from the band's first album in 1992 called Good. 
Morphine "Radar" "The only one"
11.) Destroyer
Destroyer is an indie rock band that was formed in 1995 in Vancouver, British Columbia. The leading member of the band has been the singer/songwriter Dan Bejar. Destroyer is a bit like Nine Inch Nails, one member is consistently playing, recording, and touring as the band. Still, other musicians are brought on to collaborate.
If you have not listened to Destroyer, it can be a strange experience. No two albums sound the same. The band is influenced by many different kinds and styles of music. Bejar sings in one of the band's early songs, "Static means punk/tuning is junk." Which was reflected in the confusing sound of his music.
 Over the years, Destroyer has shifted out of that mindset. They have produced several albums since 1995. Their album 'Kaputt,' was nominated for a Canadian music award for "albums of distinction." One musician who helped create an album worthy of recognition for Destroyer was Joseph Shabason. 
Shabason is a saxophone player who played in Destroyer's 2010 album 'Kaputt'. Shabason improvised on his saxophone for a few hours just for the album. Following the success of 'Kaputt,' Joseph Shabason recorded two more albums as a member of the band. 
He has toured with Destroyer several times and is still working as a session musician. Shabason was the session musician for a few noteworthy artists and bands like Dragonette, The Operators, The Fembots, and Allie X.
Here is Joseph Shabason playing with Destroyer for their song and album 'Kaputt".
12.) Sweep the Leg Johnny
Sweep the Leg Johnny was an experimental rock band formed in Chicago in 1996. The name of the band is a reference to the line "sweep the leg Johnny" from the film The Karate Kid.
The band's members were Steve Sostak, Chris Daly, Scott Anna, and Matt Alicea. When Sostak and Daly met in college they formed a small band called Check Engine in 1993.  
When the boys graduated, they moved to Chicago. Where they formed the band Sweep the Leg Johnny, with Mitch and Matt joining in 1996. The band was considered to be an "experimental rock band." Which involved using strange and unnatural rhythms, having odd instruments in the band, and being largely improvised.
One of the odd instruments in this band was the saxophone, played by the founding member  Steve Sostak. When Sostak wasn't singing lead vocals, he was playing the saxophone like a mad man. 
The band produced five albums and six joint singles with other local Chicago bands between 1997 and 2002. Sweep the Leg Johnny had played somewhere around 730 shows together. Many of the members joined other bands when Sweep the Leg Johnny dissolved in 2002. 
Here is a video of Sweep the Leg Johnny playing their song 'Bloodlines' in 2002. 
13.) Yakuza
The next band on this list is Yakuza. Yakuza was formed in Chicago in 1999. The band consists of Bruce Lamont, Matt McClelland, Jim Staffel, and Ivan Cruz. 
Yakuza's first album, 'Amount to Nothing,' that they made in 2000, was produced independently. The band's music was heard by two Chicago journalists who wrote about the band and its album. Making them popular locally.
Yakuza decided to go on a tour and promote their music. They ended that tour with a record contract. The band's use of a saxophone, and heavier-sounding songs, made Yakuza grow in popularity. The saxophone player in this band is Bruce Lamont, their frontman. 
Anyone familiar with Yakuza will point out that this article is about rock bands, not metal bands. That is right. Yakuza has metal roots. Yakuza's music has elements of metal, rock, and jazz-rock. That makes classifying Yakuza's music as metal or rock a challenge.
Metal is a sub-genre of rock. The only actual difference between the two is a dampening pedal. Yakuza's music has elements of jazz, rock, and the use of rhythms from other countries besides America (also called world music or world beat).  
Yakuza is included in this list because they lay at the edge of not quite metal and not quite rock. Listen to some of their music and you will notice they are both metal and rock elements. Both styles are in their music; the saxophone is tipping them more towards the rock side of music. 
Here is a video of Yakuza playing the song 'Be That As It May' from their fifth album, 'Of Seismic Consequence'. 
14.) The Killers
The Killers were formed in Las Vegas in 2001. The Killers members are Brandon Flowers, Dave Keuning, Mark Stoermer, and Ronnie Vannucci. The co-founders of The Killers, Flowers, and Keuning, met and became a musical duo back in 2001. Together they recorded a demo for one of their most famous songs, 'Mr.Brightside'.
The Killers spent much of 2002 and 2003 touring in England and playing singles from an album they were recording. In 2004  that album, 'Hot Fuss', was released and was well-liked. 'Somebody Told Me', 'Mr. Brightside', and 'All These Things That I've Done' were nominated for Grammy Awards.
While recording the album 'Sam's Town' in 2006, the band worked with a session musician for saxophone in the album. That saxophone player's name was Tommy Marth. Marth had performed with the Killers on tour in 2008. During live performances, and can be heard on the albums Sam's Town' and 'Day & Night.' 
Tommy Marth didn't work only with The Killers. Marth worked with the bands The Big Friendly Corporation, Black Camaro, and Halloween Town. Sadly Tommy Marth died by suicide in 2012.
Here is a video of Tommy Marth playing 'Joy Ride' with The Killers in 2009. Skip to the 1:05 minute mark to hear Tommy.
15.) Arcade Fire
The final rock band with a saxophone is Arcade Fire. The band's current members are Win Butler, Régine Chassagne, Richard Reed Parry, Tim Kingsbury, and Jeremy Gara. The group was formed in 2000 but became famous when they released their 2004 album 'Funeral'. Funeral was a hit, and the band was listed as #151 by Rolling Stone's 500 Greatest Albums of All Time. 
Arcade Fire continued touring, making appearances at places like Saturday Night Live, and kept writing. Part of Arcade Fire, who has helped make the band famous, is their saxophone player Colin Stetson. Stetson plays the bass saxophone with Arcade Fire
Colin Stetson doesn't collaborate only with Arcade Fire. He collaborates with the indie-folk band Bon Iver as well. Beyond collaboration with Arcade Fire and Bon Iver, some of the bands Stetson has played with include Sinéad O'Connor, LCD Soundsystem, Lou Reed, and more. 
In Arcade Fire, he has played the saxophone on the 2007 album 'Neon Bible'.  The 2010 album 'The Suburbs'. And the 2013 album Reflektor'. 
Here is a song 'Windowsill" that Arcade Fire and Stetson collaborated on for the album 'Neon Bible' (Colin plays bass sax, so listen to the bass of this song).
Colin Stetson is an incredibly talented saxophone player and is capable of multiphonics, microtones, reed vocalizations, and growling. As well as percussive valve work and circular breathing. Any saxophone or reed-playing musician should check out the video below of Stetson playing solo and hear what he is able to do. It is outstanding!
Conclusion
The saxophone may not look like an instrument that belongs in a rock band, but they have been rocking since the 1940s. This list covered 15 rock bands with saxophone players from 1962 up to 2000. With the many different kinds and styles of rock, it is time for saxophones to become part of rock music again.
Disclaimer: This post may contain affiliate links. We only recommend high-quality products that are used and recommended by real musicians. If you use these links to buy something we earn a small commission.