Are you looking to purchase your first saxophone? Do you already have a saxophone and are ready to upgrade to a new instrument? Top Music Tips is here to help with your Ultimate Saxophone Buyers Guide!  
Saxophones appear in concert bands, jazz bands, marching bands, and other ensembles. Different saxophone models are sometimes better suited for different settings. Cost, versatility, and durability are just a few factors that come into play when deciding which instrument to buy.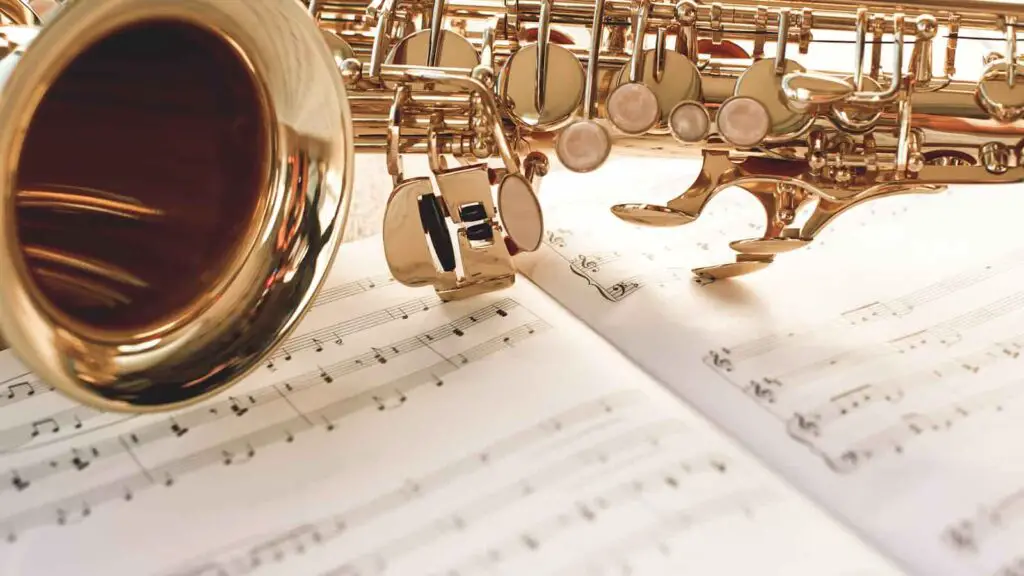 Things to Consider When Buying a Saxophone
Cost
As for cost, this mostly has to do with budget and buying a quality instrument that fits your budget. These days, you will see a wide range of prices from the hundreds, to the thousands, to the sometimes tens of thousands depending on what type of saxophone you need to purchase. 
Durability
One of the more important factors in purchasing a saxophone is durability, which pairs with cost to a degree.
For a new, trustworthy alto saxophone able to withstand potentially rough use by a young beginner, you are looking to spend around $1,000. Payment plans and rent-to-own options are great for many situations. Music suppliers often include free repairs or maintenance along the way as well.
Versatility
Versatility mostly comes into play more if you are purchasing a more advanced instrument. Additionally, you can consider if you are going to play in a more classical setting versus a more jazz or contemporary setting.
Fun Fact: Saxophones can use a variety of metals and subtle variations in construction that can affect things like if an instrument sounds more bright or dark. 
For example, someone playing in a wind ensemble may like the brighter sound of many Yamaha saxophones, whereas someone playing in a jazz combo may like the slightly darker sound of many Selmer saxophones.
The differences can be very subtle, and actually can be adjusted more with a different saxophone mouthpiece. Learn more about mouthpieces here: Saxophone Mouthpieces Your Complete Guide 
Other elements affecting the sound can be the size of the neck, and the size of the bell. If the neck is larger, more air can travel through the saxophone which makes it feel slightly different to play, but allows you to project the volume more, which is more practical for jazz, pop, rock, and other genres needing more volume.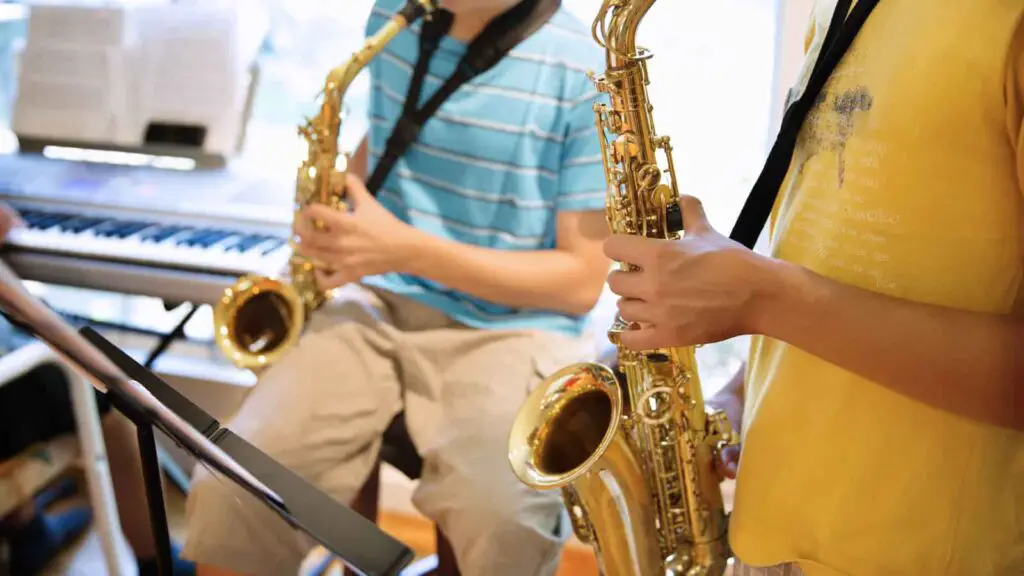 🎵 Note: Cannonball saxophones often come with two necks, one being a "traditional" neck that is slightly more narrow for classical style playing. The other "Fat Neck" is slightly wider and geared more towards other styles. 
The bell size can also play a factor, and some instruments are designed with larger bells for more projection.
For example, Cannonball saxophones have a "Big Bell Stone series" of instruments, as mentioned above come with two neck options for different settings.
These Cannonball instruments feel heavier than other saxophones and might be more difficult for beginners but can help a more advanced player achieve certain performance goals. 
Used Vs New Saxophones
New instruments will be in the best condition, but models might be expensive. Newer instruments that are cheaper are not made with as durable of materials. Buying a used instrument can help you save money, but there is also the risk of purchasing an instrument that has deteriorated in quality. 
New instruments made with high-quality materials are typically going to offer the best result, but may not be affordable for all budgets. There are typically payment plans or rent-to-own options making the financial burden easier. 
You may find new models for a surprisingly low price. We will outline several of these options in this article.
🎵 Note: Keep in mind that instruments that cost less are usually more likely to break and may be expensive to repair if they can be repaired at all. You will most likely put more money into maintenance and repairs than other instruments that cost more upfront. 
If you want to purchase a particular brand or model of saxophone but cannot pay full price, buying a used version might be your best option. Popular websites such as Music & Arts, Woodwind & Brasswind, and Sweetwater often have a wide range of used instruments for sale.
Each site offers reliable brands for discounted prices. These options will typically be more trustworthy than Facebook Marketplace, eBay, Craigslist, and other similar websites selling used items, as the instruments are inspected by musical instrument technicians to ensure quality before shipping.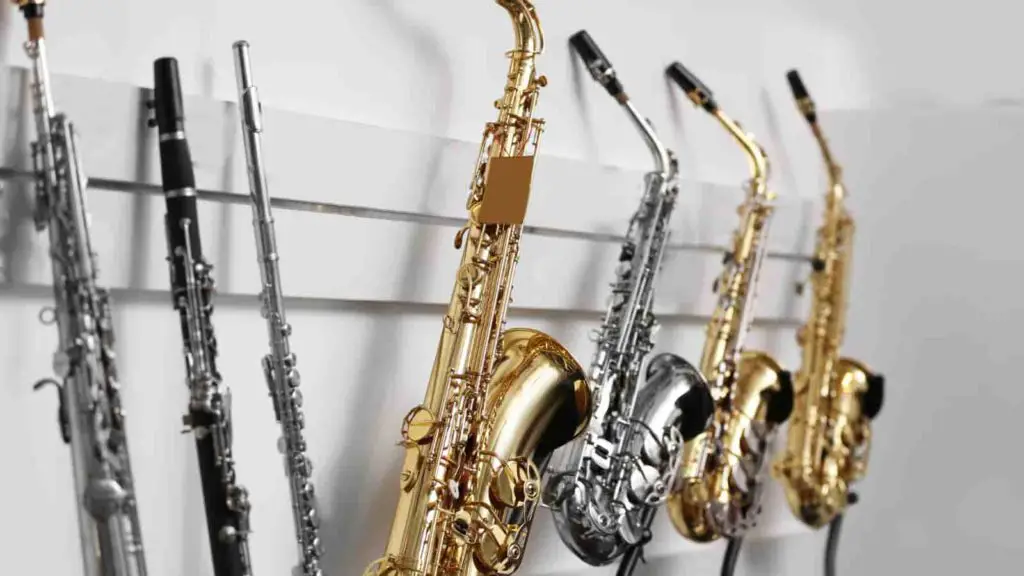 Saxophone Buyers Guide Overview
The following section will outline the best beginner models and upgrade models of alto and tenor saxophones. Additional saxophones such as soprano and baritone saxophones are not included in the following sections. Our top three recommended brands include Selmer, Yamaha, and Jupiter instruments. 
Best Beginner Alto Saxophones
Prelude by Conn-Selmer AS711 Student Model Alto Saxophone
The AS711 offers a great balance between budget and quality. The Conn-Selmer factory has a long-standing reputation in the band world providing high-quality instruments. The manufacturer describes, "The yellow brass body includes ribbed construction and a detachable, reinforced body-to-bow connection for added strength and durability." You can learn more about the Prelude AS711 here. 
Yamaha YAS 280 Student Alto Saxophone
The YAS 280 model has been on the market for several years, and has consistently been a contender for one of the top student model alto saxophones. Yamaha always demonstrates excellence when building musical instruments and their student model saxophones are no exception. You can learn more about the Yamaha YAS 280 here.  
Jupiter JAS700 Student Alto Saxophone
The JAS700 is Jupiter's student model alto sax. Jupiter describes the JAS700 as "a beginner instrument with advanced features." They continue to say the instrument "is built to withstand the rigors of student ownership, and has a rich sound." This Jupiter model is typically priced more than the Prelude and Yamaha above, but can also frequently appear for sale used from reliable instrument suppliers. You can learn more about the JAS700 here. 
Alto Saxophones to Avoid
BetterSax Student Alto Saxophone (tread lightly)
Jay Metcalf of Better Sax collaborated with Conn-Selmer to develop a new student model alto on a budget. The alto saxophone is very new, and many band directors are not willing to immediately jump behind this instrument as it has not stood the test of time.
Other directors are optimistic that it will give possible backup instruments to the band program or offer students a cheaper alternative to typical entry-level student models. You can learn more about the BetterSax Student Alto here. 
Allora AAS-250 (proceed with caution; please read notes)
The Allora brand appears on many saxophone lists and is worth noting, however many band directors note quality concerns as well as maintenance frustrations of the AAS-250 due to the cheaper parts on the instrument. While The AAS-250 does give you an excellent way to try playing the alto saxophone for a lower price, they have been known to break, and many repair technicians do not have the required parts to fix the instruments. 
Some band directors recommend the Allora AAS-250 if you do not have other options, and live near a Music and Arts, as they are a larger music store chain and are able to repair the instruments; keep in mind, however, this usually means leaving the instrument at the shop for a week or two.
The time away throws off regular practice and you may be better off going with a different model on the list if you are able. You can learn more about the AAS-250 here.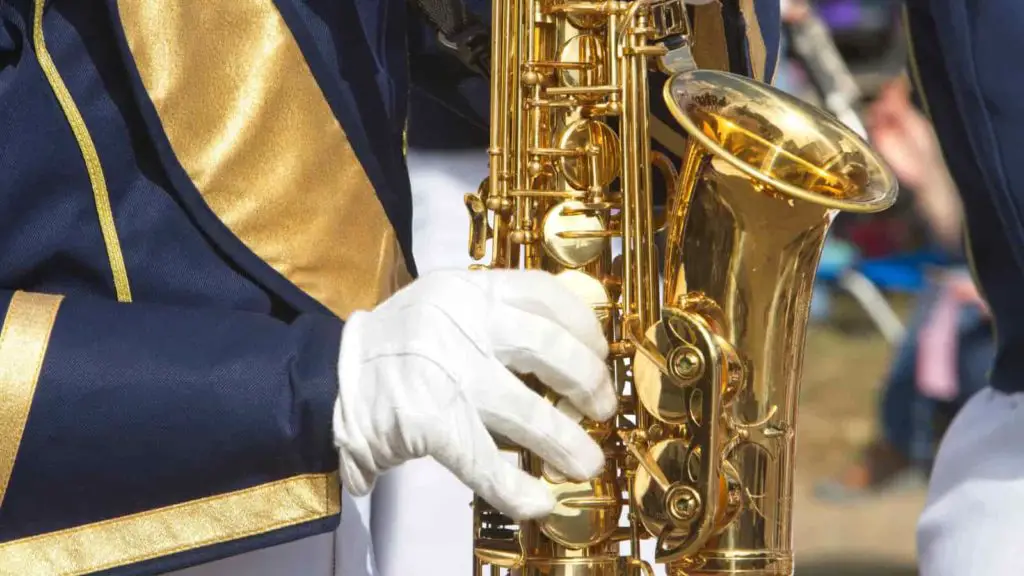 Best Beginner Tenor Saxophones
Prelude by Conn-Selmer TS711 Student Model Tenor Saxophone
The TS711 is the tenor saxophone version of the AS711 from above. Just like the alto version, this is a reliable brand made with high-quality materials. The TS711 is a versatile instrument that will cover different genres and help beginners start off well.  
Yamaha YTS 280 Student Tenor Saxophone
The YTS 280 is the tenor version of the above YAS 280. Once again, Yamaha saxophones are regarded as some of the best in the world, and their 280 model allows entry to a Yamaha instrument for a lower cost than their professional models.
Jupiter JTS700 Student Tenor Saxophone
The JTS700 is the tenor saxophone model of the JAS700 from earlier on the list. Jupiter is a trusted name by band directors and music teachers. This model is one of the entry-level saxophones offered by Jupiter but could be the only tenor saxophone you would need.
Upgrading your instrument
At some point, you may feel the need to upgrade your instrument. Possibly your older instrument is wearing out. Maybe you are going to play in a competitive setting in high school, or study music in college. The following recommendations are suitable upgrades of our previously outlined brands. 
Best Upgrade Alto Saxophones
Selmer AS411 Series Intermediate Alto Saxophone
The AS411 is the intermediate upgrade in Selmer's line, giving the player a richer tone and more comfortable playing. Enhanced features such as the Pisoni Pro pads help keys seal better giving an easier response when playing.
Selmer La Voix II Alto Saxophone   
The La Voix II is another intermediate Selmer model with a lighter body, and adjustments making it easier to play across different registers of the instrument. It also comes with a Selmer USA mouthpiece for a classic French saxophone sound. Yamaha YAS-480 Intermediate Alto Saxophone
The YAS-480 is Yamaha's upgrade with a 62-style neck for a more mature tone quality. The manufacturer also describes, "the redesigned octave key system gives players the flexibility to choose between the included 62-style neck and those designed for the Custom Z and Custom EX Yamaha saxophones." This feature is helpful if you play in both classical and jazz settings, since the different necks are better suited for different settings.  
Best Upgrade Tenor Saxophones
Selmer STS411 Intermediate Tenor Saxophone
The STS411 is the Tenor version of the AS411 and continues to uphold Selmer's reputation for excellent saxophones. It also has the Pisoni Pro Pads with metal resonators.  
Selmer STS280 La Voix II Tenor Saxophone
The STS280 La Voix II is an updated tenor saxophone suited for playing individually or in an ensemble setting due to the traditional bell size.
Yamaha YTS-480 Tenor Saxophone
The YTS-480 is the tenor version of the YAS-480 from above and also has the ability to switch out different Yamaha necks for greater flexibility in switching between genres.
Additional Instruments to Explore
If you are looking for instruments beyond the above price point, there are professional-level models, and you may want to explore other brands as well. In addition to Selmer, Yamaha, and Jupiter, you may also want to look into Yanagisawa (through Conn-Selmer), and the previously mentioned Cannonball. 
Best Professional Saxophone
Many saxophonists regard the Selmer Paris Professional Alto and Tenor Saxophones as the best in the world. You can view the Series III Model 62 Jubilee Edition Alto Saxophone here. You can view the Selmer Paris Reference 54 Professional Tenor Saxophone here.  
"Cheapest Alto Saxophone on Amazon that plays well."
Below is an insightful video by Jay Metcalf of BetterSax who purchases the cheapest saxophone he could find on Amazon, and demonstrates playing the instrument. He does say in the video he had to make several of his own adjustments before the instrument was playable, but once he did, he was positively surprised at the result.
While the alto saxophone made by SLADE does not get our full recommendation, nor is it backed by any band directors, it is interesting to view the page on Amazon to learn more about the instrument. It is also interesting to speculate what materials were used exactly in making the saxophone.
The page says the instrument is made of "copper" with "electrophoretic paint craft coating." The keys are "made from shells" and the pads are made from "imported leather from Italy." You can learn more about the SLADE Alto Saxophone here.    
Top Tip: Check out one of our other articles here to learn more about saxophones!
Saxophone Accessories 
The next sections include information about additional accessories you may need for saxophone such as neck straps, mouthpieces, and reeds. 
Best Neck Straps for Saxophone
Common neck strap brands that work well for marching bands include Rico and Protec. Both offer comfortable support and stability at an affordable price. Neck straps are particularly necessary in marching band due to marching and playing at the same time. 
🎵 Note: Do you know about all the different types of Saxophones used in the Marching band?
Pro Tec makes a wide range of affordable neck straps and all work well. The ones with the clips or snaps compared to open hooks work better since the saxophone angle will change frequently during the marching band field show. 
The saxophone neck strap by Rico is 23.99 and has more padding, making it more comfortable to some. The neck strap is easily adjustable to fit the individual player. Once again, the snap hook is better than the metal hook since it completely closes off, making it more secure for marching bands. 
Do I need a new Saxophone Mouthpiece?
The mouthpiece that comes with your saxophone, or the mouthpiece you already have will work for marching band, but purchasing a new saxophone mouthpiece is the quickest way to upgrade and adjust your tone. 
One of the most common alto saxophone mouthpieces when starting off is the Yamaha 4C. It is great for beginners and will help you develop good habits on the saxophone. 
If you already have a mouthpiece and want to upgrade, The Vandoren AL3 is an excellent choice. This mouthpiece will also sound great inside or carry into college playing. 
The Selmer C* is another popular upgrade that has been used for many years. This mouthpiece will also work well through college; some argue these mouthpieces are more inconsistent, making Vandoren the better choice, but generally, these mouthpieces are still great. 
All of these options will help you project your tone while still allowing you to blend with the rest of the ensemble. 
Top Tip: Want to become an expert in all things Saxophone? Check out our ultimate guide to Saxophone Mouthpieces.
Jazz Mouthpieces
You may see information about jazz mouthpieces for saxophone. These mouthpieces are more open inside, helping more air travel through the mouthpiece and therefore making the tone louder. There is also a wider gap between the mouthpiece and the tip of the reed, giving the sound a brighter, edgier quality. 
While this may seem like a good idea for playing in a marching band, in most situations, it will not be as good of an option since it will make it harder for saxophones to blend with the rest of the group.
This is especially important if there are a lot of saxophones in the band and they need to blend together as a section. If some people are using jazz mouthpieces, and others are not, it will be challenging for the section to play with a unified sound. 
Jazz mouthpieces would work well in jazz bands, or more contemporary styles like rock bands, pop music, hip hop, etc. 
What reeds should I use?
The most popular saxophone reeds are Vandoren Blue Box reeds. If you are new to playing, select a strength 2 or 2.5. The higher the number, the thicker the reed and the more difficult it is to play. Playing a reed under a 2 will result in a buzzy tone with less control over the sound. 
Vandoren makes a wide range of reeds for saxophone. Their most popular reeds for marching band and concert band are their Blue Box reeds. Their V16, Java, and ZZ reeds are used more in jazz settings. You can get sample packs to try a few and see which one works the best for you. 
Another option for reeds is Rico; they are cheaper but still work relatively well. Other brands that advertise significantly cheaper prices are risky as the quality will not be as good; playing will be very frustrating if reeds do not work well.
Disclaimer: This post may contain affiliate links. We only recommend high-quality products that are used and recommended by real musicians. If you use these links to buy something we earn a small commission.