Let's face it fundraising isn't the most exciting or pleasant part of participating in a group like marching band, orchestra, or choir yet it is one of the most necessary aspects of keeping the music program up and running.
A lot of high school and college musicians are very busy practicing and performing their art and working hard in school that they don't have a lot of extra time to have a job.
Music and art programs wouldn't be able to keep running without the support of the community and having successful fundraisers is one of the best ways to get that support.
So without delay here is a list of our very best tried and true fundraising ideas.
Host an Event
Planning and hosting an event is usually one of the more involved and time-consuming fundraising ideas. It does require a lot of preparation and sometimes an army of volunteers. If you have a good support system of band boosters, enthusiastic parents & grandparents to help then it can also be the most fruitful!
This list of events has been hosted and found successful by bands across the country.
1. Paint Your Parking Spot
This fundraiser idea is a great way to get your entire school excited about supporting your music or art programs!
This fundraiser works best if your school has assigned parking for students and teachers who drive to school. If your school doesn't assign designated parking spaces this could be a bonus extra privilege you could give those that want to support the band.
With amazingly colorful spots like these, you would always be able to easily find your parking space.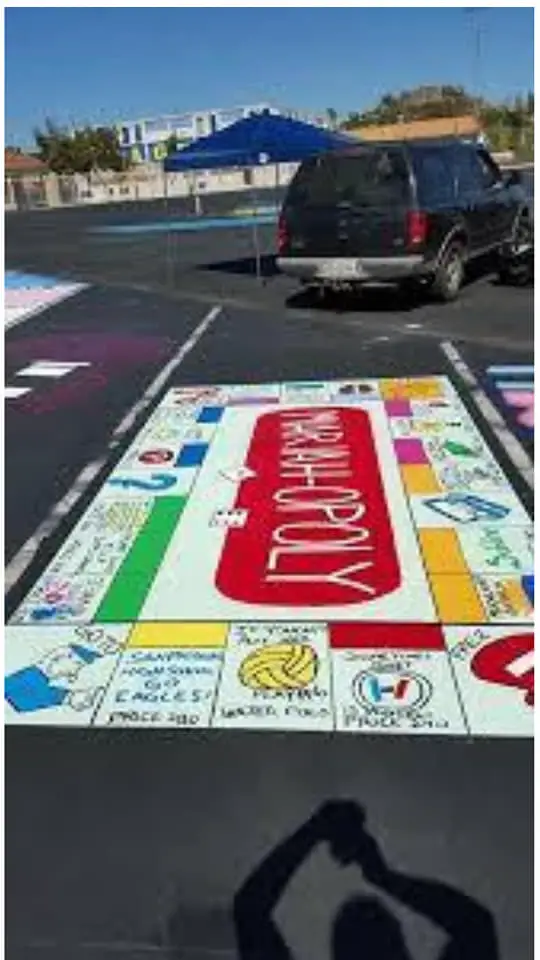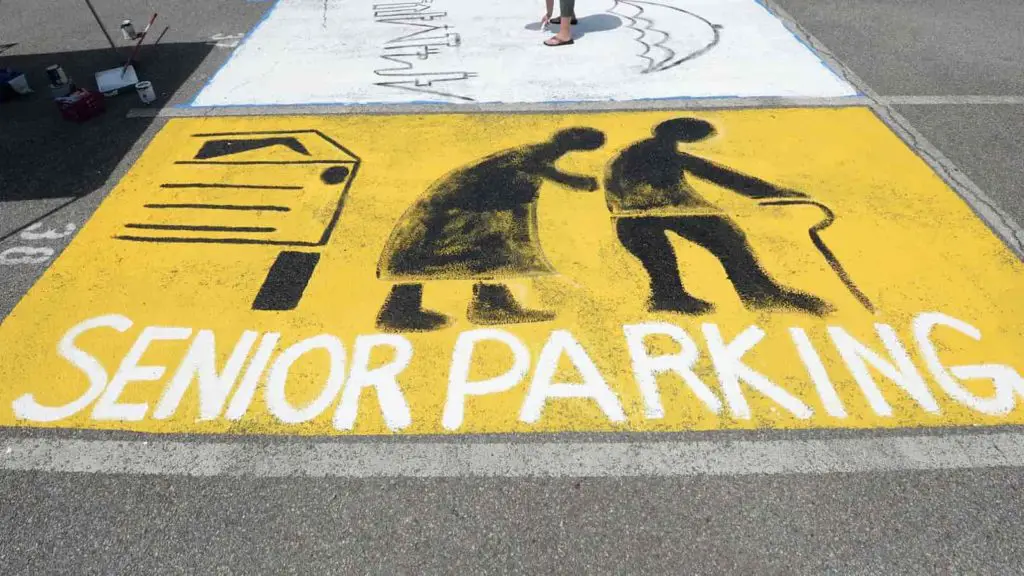 Students and teachers who park in the school parking lot receive a designated spot to park in. This will be their parking spot for the school year. That student can pay a certain amount $10-$60 (depending on what your monetary goal is for this fundraiser) for the privilege to paint their parking spot.
They will need to have a sketch of their design approved by a school administrator or teacher before being allowed to paint their spot. Having an official form for them to fill out and sign saying they will stick to the design or pay the cost to repaint the spot is important.
Top Tip: Make sure you only allow water-based latex paint. No spray paint, no reflective paint, no fluorescent paint.
Those painting their spots will need to bring their own paint and tools to paint it with. It is also a good idea to suggest students set up a canvas shade tent to protect them from the sun and heat while painting.
If you have multiple spots being painted that are next to each other you will need to split the event up into two separate days. One day for the odd spots one day for the even. That way you won't have people running into each other and stepping on the neighbor's wet design.
You will need to check with your school facilities to see if they will allow the remnants of the painting supplies (cans and brushes) to be put in the garbages on school property. Often you will need to have the students take those home with them to dispose of them.
Fall or Spring is the best time to hold this fundraiser. In the fall when students are returning to school, this can get them pumped up for the new school year to begin.
In the spring it can be a way to freshen up the parking lot and get the students re-energized for the final push in the school year.
Because those that participate will be in charge of purchasing the supplies themselves the upfront costs for this fundraiser are 0. That makes potential profit pretty good!
You can expect around $800-$2000 depending on how many parking spots you sell and what you price them at.
You will have to remember though that the teachers and students that participate are probably not going to be able to afford to spend too much on this project so it's best to keep the cost on the lower side.
2. Breakfast with Santa
Having your band host a community breakfast can be a great fundraiser any time of the year, but if you pair it with a special holiday it can be even more exciting!
This idea comes from a Virginia High School. Every year on the first Saturday of December the band and choir members come together to host a community event called Breakfast with Santa.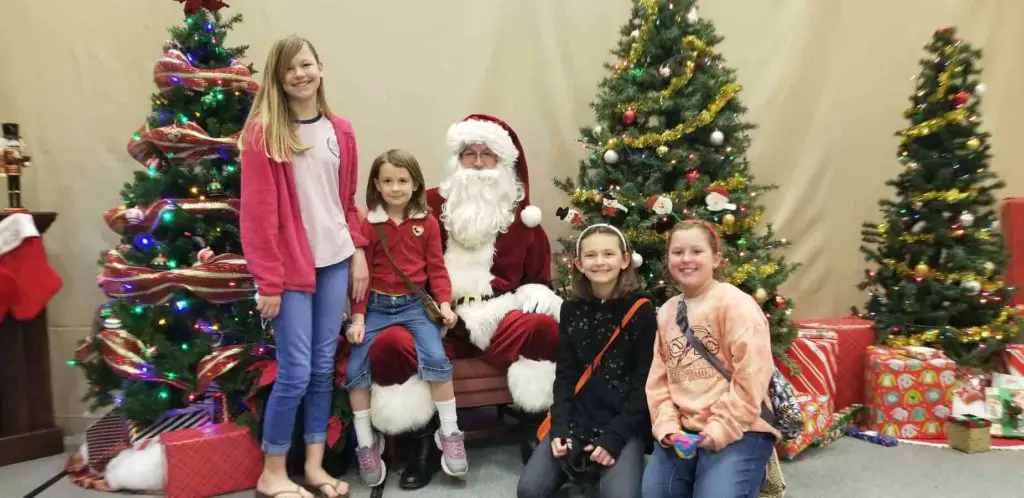 Hold the event at the high school in the school cafeteria. Have a stage area for a volunteer Santa to sit at that is decorated beautifully. You can have additional games crafts and activities set up.
The band and choir kids are all assigned to help prepare for the event as well as host different craft stations and clean up after.
Parent volunteers, booster members, and band members help to cook pancakes, Sausage, and eggs and serve them from the cafeteria.
There is generally a set price per person something like $7-10 for adults and $5-8 for children 6 and under. You can also charge a small fee to take and print pictures of the kids sitting on Santa's lap similar to how malls do it. It's likely that someone in your organization has a hobby in photography.
The first weekend of December is the best time to plan this fundraiser! The theme requires a December date, but if you wait until too far into the month families will be too busy with vacations, work parties, and other family gatherings.
At my daughter's high school this event became traditionally held on the first Saturday of every month. That way the community knew every year what to expect and when to plan on going.
Planning this fundraiser as breakfast and holding it in the morning also made it more likely to gather a larger crowd. Especially those with young children who are generally up in the mornings and nap in the afternoons.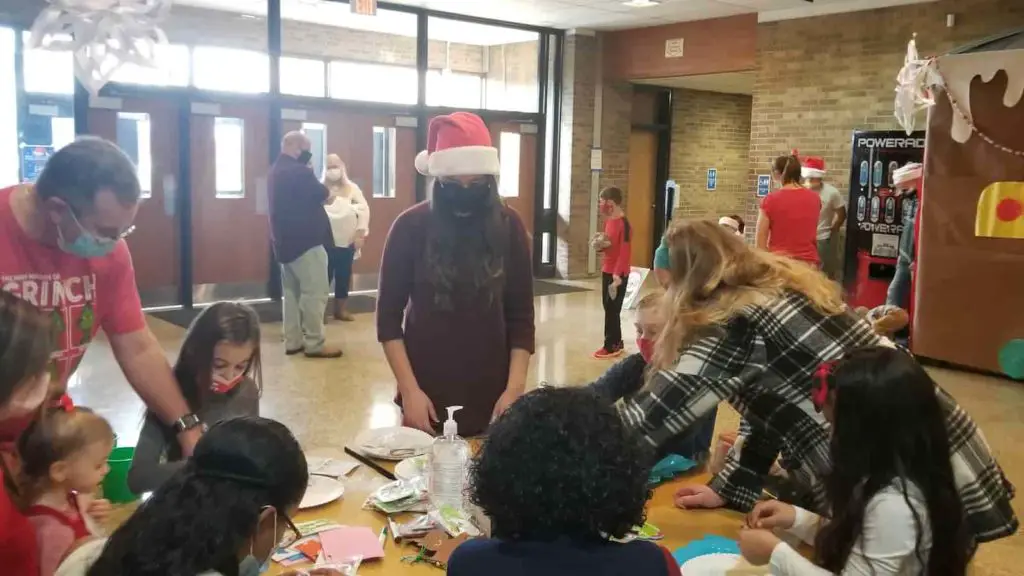 The first year or two this fundraiser is held the prophet margins will be a bit lower since likely your organization will need to invest in things like decorations, Santa Costume, or other items to help get it up and running.
Top Tip: Plan ahead to gather supplies year-round. After Christmas, you can ask your local stores for donations of decorations or buy them at a steep discount. You'll have to plan a place to store them.
If this event is held year over year it has the potential to earn the band thousands of dollars.
3. Family Fun Carnival (Music Themed)
I love fundraising ideas that can get the community involved and excited. This idea is one of my favorites for providing fun for all ages!
This can be an activity that really gets your students excited. It can be a great way to build teamwork and create a bond within your organization especially during some downtime in the summer season before marching band camp or other events begin.
Again it's best to plan ahead. Take a survey of your music students asking them about any special talents they may have to contribute. Some ideas of talents they may have that could fit this event well might be:
🎵 Balloon animals
🎵 Juggling
🎵 Walking on stilts
🎵 Jump roping,
🎵 Magic performance,
🎵 Face painting
🎵 Portrait sketching
🎵 Joke telling
🎵 Hoola hooping
🎵 Other cool tricks,
Make it musical-themed by :
Having a small ensemble playing carnival-type music during the event.
Play games like:
🎵 Musical chairs
🎵 Hot potato
🎵 Karaoke
🎵 Dance competition
You'll want a mixture of performance-type stations as well as games, activities, and crafts.
Top Tip: A fun carnival-type game for this event would be 'guess that instrument'. Introduce the group (usually young kids) playing to a collection of musical instruments such as the ones your students play. You can even add instruments such as the harmonica, triangle etc.

Choose an area where they can hide behind a wall or string up some sheets between trees. The players in the group get to guess what instrument is playing and get a small prize for guessing it correctly.
Summer or Fall Carnivals are usually the most popular times to hold this event. Generally, the weather is good enough at this time of year to plan the event outside. Spring and winter can work too if you plan on holding it indoors.
You will need to be careful on this one not to spend more on supplies and decorations than what you may make from selling tickets. We suggest that you start with a smaller event to gauge interest in your area and then expand on it in consecutive years.
4. Giant Yard Sale
Multi-Family Yard Sales are amazing for bringing in a big crowd, but what brings in an even bigger crowd is getting all the families in your band program to contribute. Not only can you get everyone to donate items to sell you will also have the same families excited to look around and see what treasures they can find to purchase as well.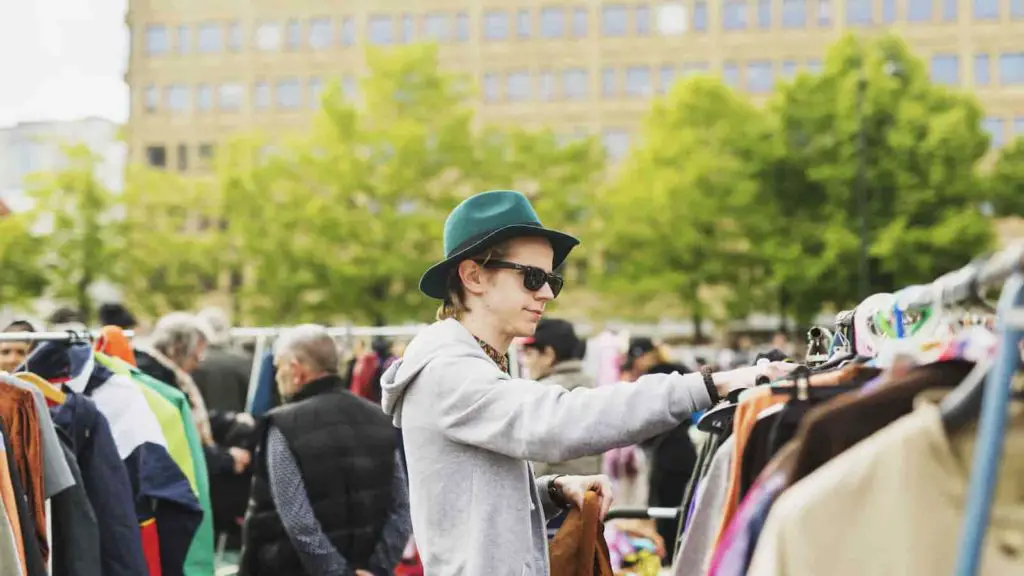 Start collecting items to sell early. If you have any band members that have any extra storage space like a garage or shed you can keep the things there.
Be sure to let your local stores know about your upcoming yard sale. They will often be willing to donate slightly damaged merchandise that they may not want to sell in their store.
Holding the yard sale at the high school or college is usually the best location.
Make sure to have your band members make signs as well as advertise across social media. You may even be able to get some local news organizations involved by advertising for the sale on the radio or in the newspaper.
Spring and early summer is the best time to bring in some big bucks with a huge yard sale.
The gains on this one have the potential to be pretty high. Depending on how many donations and how much traffic you can get. I have seen bands make anywhere from $500-$800 all the way up to $4000-$6000.
5. Dinner / Date Night
A night out for tired parents is always appreciated. Band, choir, or orchestra students can cash in double on this idea. Half of the group can plan a fun romantic dinner at the school while the other half offers babysitting services.
Plan an easy-to-execute but somewhat fancy dinner. Spaghetti is always our favorite. Decorate your school cafeteria or gym with hanging icicle lights and other themed decorations. Have the students dress nicely and use the best waiter and waitressing skills.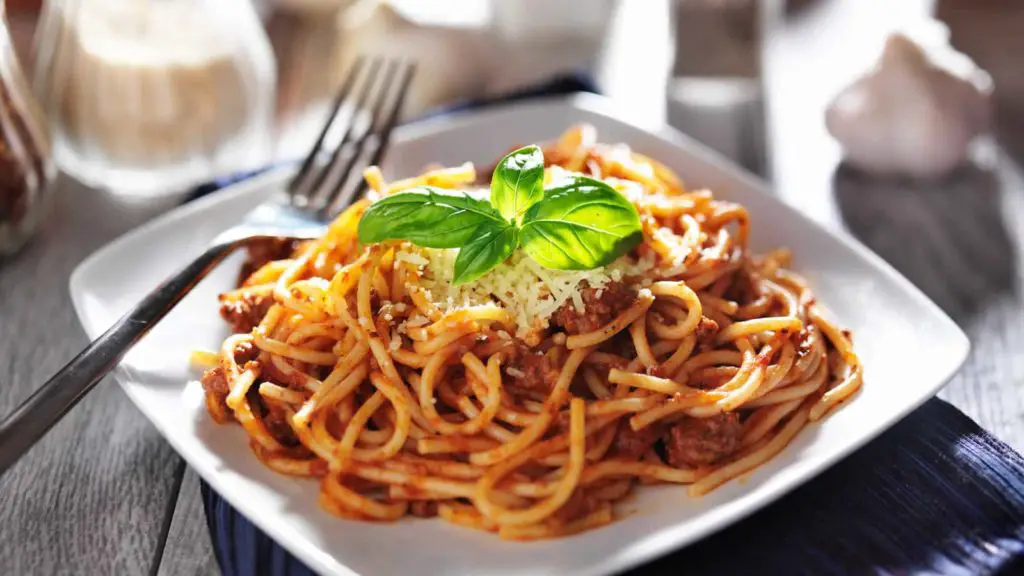 Many people will be generous with tips as well. You will want to decide beforehand if you want the tips to go towards the specific students' accounts, or split up for the whole organization.
This activity also provides another great opportunity for a small music ensemble to provide some background music for the event.
The month of February would be a great time to put on an event like this. A lot of couples from those with young families to grandparents would be happy to have a fun and romantic night out while supporting a great cause.
This is another event that you have to be careful with keeping the cost balanced and below the revenue, you will be bringing in. It's best if you get 'reservations' or sell tickets in advance so you can plan exactly how much food to buy so as to not waste any of the profits.
If you charge $40-$50 per couple and have around 50 couples you could make at least $1500 on just the event, not to include the tips the students would likely get as well as the $ earned for those babysitting.
Top Tip: Check with your local restaurants and food suppliers to see if they are willing to donate supplies or food towards your event.
Perform a Service
Our next category of fundraising ideas is going to be ones that your band, choir, or orchestra members can perform a service for the community in exchange for "donations" towards their organization.
If you have specific individuals in your group that struggles with being able to pay the fees required to be in band or orchestra then you could offer these fundraisers as a way for them to earn those fees.
6. Present Wrapping
A service that I KNOW people appreciate during one of the busiest times of the year is getting their Christmas gift wrapping done. This is a great way for a few students that really need those extra funds to get a few extra $'s into their accounts.
You will need to invest in wrapping paper and tape as well as some time to teach your students how to properly and nicely wrap presents.
There are a lot of videos on YouTube that can help with this.
Set up a gift wrapping station open on Fridays or Saturdays near the front entrance of your school. People can bring their gifts in and have the students wrap them.
You can either have people drop their things off and come back or have them wait. Either way, make sure to have a trusted adult watching the kids at all times to make sure that everything stays on the up and up.
Holding this event throughout the entire month of December can be a great idea. If you need to isolate it to one weekend that would work as well, it just needs to be well advertised.
Generally, gift wrappers will charge between $3-$10 for each gift wrapped depending on the size and shape. With students being the wrappers I would probably stay toward the lower end of that.
With this in mind if it's well advertised I've seen students earn their programs up to $1500-$2000
To increase the profit on this one plan ahead and buy wrapping paper in January after the Christmas holiday when it goes on clearance.
7. Classic Car Wash
It wouldn't be a fundraising list if we didn't include the classic car wash! Not only is this option tried and true it can be a lot of fun for band students which can help strengthen bonds between all the members.
The most important aspect of this fundraiser is to find the prime LOCATION! This may also be the trickiest part of organizing this event. When choosing a location you will want to keep these things in mind.
🎵 Hold it on a busy street or intersection
🎵 Get permission from the property owner
🎵 Make sure you have access to water
🎵 Check laws about water runoff or drainage
Top Tip: Consider selling other items at your carwash as well. Refreshments for waiting patrons could do great. Alternatively, you could also offer those for free to draw in more customers.
For more tips on how to run an amazing car wash fundraiser we found this article that goes into a lot of detail: 10 Car Wash Fundraiser Tips to Maximize Profits [With Resources] (carwashcountry.com)
Summertime is the ideal time of year to hold this fundraiser. Spring and fall will also work.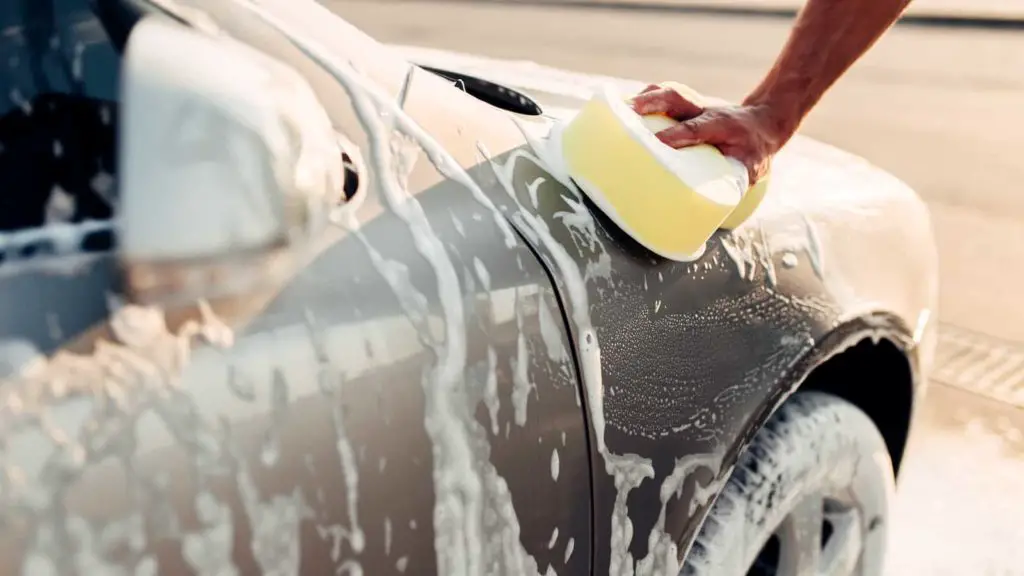 8. Music Grams
Music students have a ton of fun with this fundraising idea! Band and choir students will get to showcase their talents while also making the recipients feel extra special!
Band, choir, or orchestra students will offer to sing/play a special musical message to someone's loved one. This can be done anonymously or not. Including a card and or candy with the message can also add a special touch.
This service can be offered to fellow students on valentines day. Those organizing the event choose a designated time and day and then gather/sell messages for a few weeks leading up to the event.
Those wanting to send messages will pay a few dollars to have the band or choir students deliver a message to that person.
Top Tip: Be sure to gather enough information that you need about the person receiving the message so you can easily find them when it's time.
This can include name, classroom teacher, or address and when they are likely to be home if delivering to someone's home.
Also, make sure to find out if the message should be delivered anonymously or not.
This fundraiser generally works best during a special holiday when people want to send messages to those they love. Valentines Day, Mothers Day, or even Veterans Day are some of the most popular times to hold this fundraiser.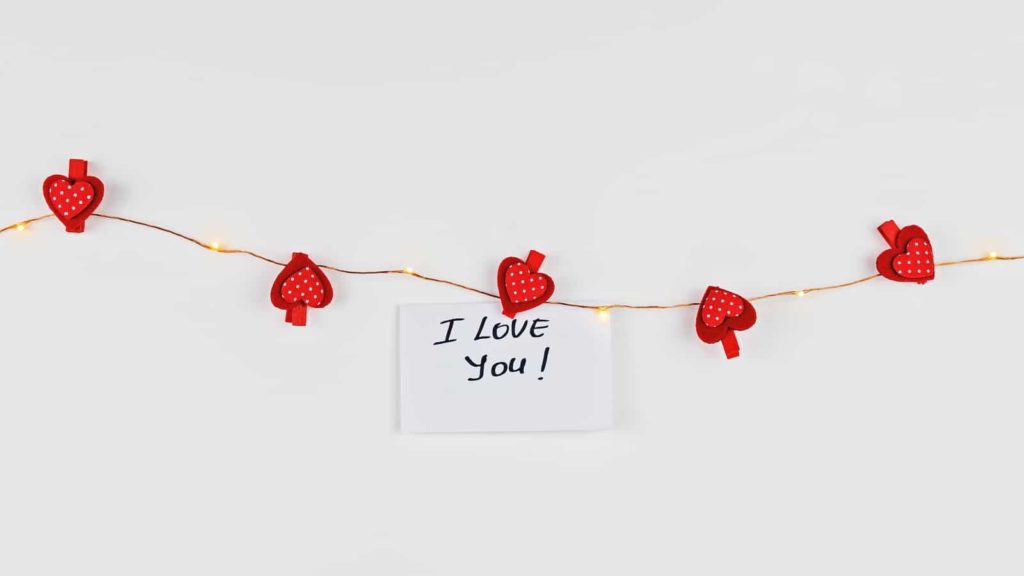 Sell Something
9. Discount Cards
A discount card or discount book is a collection of local businesses that agree to offer the user a certain discount or sometimes small freebies when using the card.
If you have students that are willing to go door to door or ask family and friends discount cards have a pretty decent profit margin.
The first step is to make sure you have enough interest and enough students that are confident to sell that you can make this fundraiser worth it for your organization.
If you use a service like the one linked below you will have to buy these cards upfront so you will want to be sure you don't lose money on the deal.
This website has the information you need to get started. Discount Card Fundraiser! 93% Profit! The ABC Fundraising® Card!
This money-raising technique works year-round but could get a boost in January when people are especially keen to save some money.
Depending on what service you use to acquire the discount cards your profit margin should be between 85-95%. Discount cards generally cost anywhere from $10-$25. If each person in your organization sells on average 5 cards then depending on how many people you have in your organization you could make $3000-$10,000.
10. Gourmet Cookie Dough
One of the most delicious fundraising ideas on this list is selling gourmet cookie dough. Selling any kind of delicious edible items can earn cash for your organization.
Top Tip: Don't feel like you have to stick with the cookie dough. You could also sell things like donuts, chocolates, cupcakes, muffins, pizza, popcorn, or cinnamon rolls. You could also set up a table at your concerts offering baked goods for donations.
How To Do It:
Here are some programs that can help you get started.
Cookie Dough Fundraisers – Earn 55% Profit With No Up-Front Cost
Pizza Fundraiser Ideas (fundraiserhelp.com)
These fundraisers can be held anytime during the year.
The earning potential on these fundraisers depends largely on how much work your students put into contacting people to sell the items. We have seen anywhere from $500 – $10,000.
11. Custom T-Shirts
Making T-shirts for your organization is a great way to create team spirit! It also gives parents and the community a way to support and show pride in your organization.
Create a design that matches the theme for your organization. You can choose a new theme every year and create new shirts every year.
Best 7 T-Shirt Fundraising Sites for Unbelievable Results (doublethedonation.com)
The best time for this is at the beginning of your season whenever that is. For marching bands, it's usually promoted to buy T-shirts during and right after Band Camp.
The profit margin on T-shirts is generally lower than most other fundraisers. Especially if you choose a high-quality supplier. You can expect 10-20% of the sale to go towards your program.
12. Sell Concessions
Selling concessions can be a great money maker if you can work your way into an agreement with local sports and events.
Most high schools will have their sports teams sell concessions during sporting events and games to earn money for their programs, but some sports teams are willing to share the profits if you are willing to share in the workload.
The best way to get started in this type of fundraising is to network and create relationships with those hosting the events.
To earn money band and choir students or their family members will need to sign up to help with different stations or shifts in selling the concessions.
🎵 Cooking/making the concession food
🎵 Promotion of the food in the stands or crowds
🎵 Being the cashier and collecting money
🎵 Set up and clean up
Top Tip: You can make big bucks for thinking outside the box. Don't just think about sporting events, but also any type of community events, fairs, farmers' markets, etc.
This method can be used year-round. Any time there is an event check with the organizers to see if you can participate.
This depends on the type of event as well as what you are selling. Profits range from $500-$5000 or more.
Get Creative
Sometimes the most lucrative ways to earn money come from very unexpected ideas. Your organization is bursting with creative minds you can capitalize on this by exploring all the talents your group has.
13. Talent Brain Storm
Nothing will get your band students more invested and excited about fundraising than to get them to come up with their own ideas! Spend class time or hold an afterschool meeting to brainstorm Fundraising ideas together.
Start your brainstorming session by having them make a list on the whiteboard of all their interests and talents.
You might be surprised at how many amazing undiscovered talents your students have other than just playing their instruments.
Use this list to help guide them on how they can monetize these talents and abilities. You can use 1 or 2 ideas and do it as an entire group, split off into smaller groups, or even help them make a plan on how to fundraise individually.
Some talents or hobbies that could turn into fundraising ideas might be:
🎵 Photography
🎵 Art
🎵 Restoring furniture
🎵 Collecting things
🎵 Dog walking or sitting
🎵 Crafting
🎵 Growing or taking care of plants
🎵 Fishing
🎵 Teaching
This is a great exercise to do at the beginning of the year, but all the ideas can be used all year long.
The range on this one is too broad to classify!
14. Pay for Parking
This Fundraising idea works best for schools that are close to college campuses or big event centers.
It can also be a bit tricky to get started while making sure to do it legally.
My Marching Band student went to a high school near Virginia Tech for a few years. We were able to participate in this fundraiser that pretty much paid for her entire program that year.
Virginia Tech football games are very popular and high trafficked. There are a couple of grade school parking lots within walking distance to the stadium. For each game, 2 parents and 2 student volunteers would set up a tent and some chairs at the entrance and exit to the lots.
Have you ever attended a college football game or a concert and there never seemed to be enough event parking? Well if your school district (or church) is lucky enough to have some parking lots close to where the event is to be held you can block off the parking lot and charge for parking.
Anytime there are events happening near you that you are able to participate in.
When my daughter and I did this fundraiser for her band we collected $1100 for parking of which we were able to keep 100% of the profit for the band. The two students that came to help received 25% of the earnings towards their own band accounts.
Easy Band Fundraiser Ideas
Sometimes putting on big events or performing services just isn't possible during a busy band season. Coming up with easier less time-consuming ideas can be ideal for these times.
It can also be a bit uncomfortable to just ask for donations and money from your friends family and community. However, if you get creative it can be a little more bearable as well as fruitful.
15. Donation Page
Having a website or Facebook page for your organization is pretty much a must for the technological age we live in!
Make sure to always have a website and or social media page well known and available to your students, your band families, and your community.
Not only will having these media outlets help you share important info like performance or competition dates, but you can also post updates, pictures, and videos to help your community feel involved in their progress and connect with your members.
For websites, it can be a great idea to have a donate page or donate button in a prominent area for users to see.
Top Tip: To learn more about how to create a donate button/page for your website you can visit this resource. Add a Donation Button to Your Website and Increase Donations (givingway.com)
For social media accounts, you can also create a donate area on your Facebook or Twitter accounts.
How to Add a Donate Button to Your Posts and Facebook Page (Meta for Business)
How to use Giving Tuesday to promote your cause on Twitter
Be sure to have this page up and running all year long. You can target different times of year to promote it depending on when you need extra funds.
You will get 100% of the proceeds from this one so people who like to contribute, but don't want to hassle with regular fundraising methods can donate with ease.
16. Sponsor My Uniform
Show off your new look and ask for help paying for it all in one!
Asking relatives, friends, and neighbors for straight-up cash donations to help out your band student can be quite intimidating. There's no quicker way to feel like you are begging for a handout by approaching your aunt and asking her to donate $20 toward your uniform or an upcoming trip.
I more unique take on asking for cash donations is to add a visual to the task. Instead of just asking for cash if you can get a good picture of something that you are working towards such as new uniforms, or a trip to Disney Land, you can break down the donations into different parts.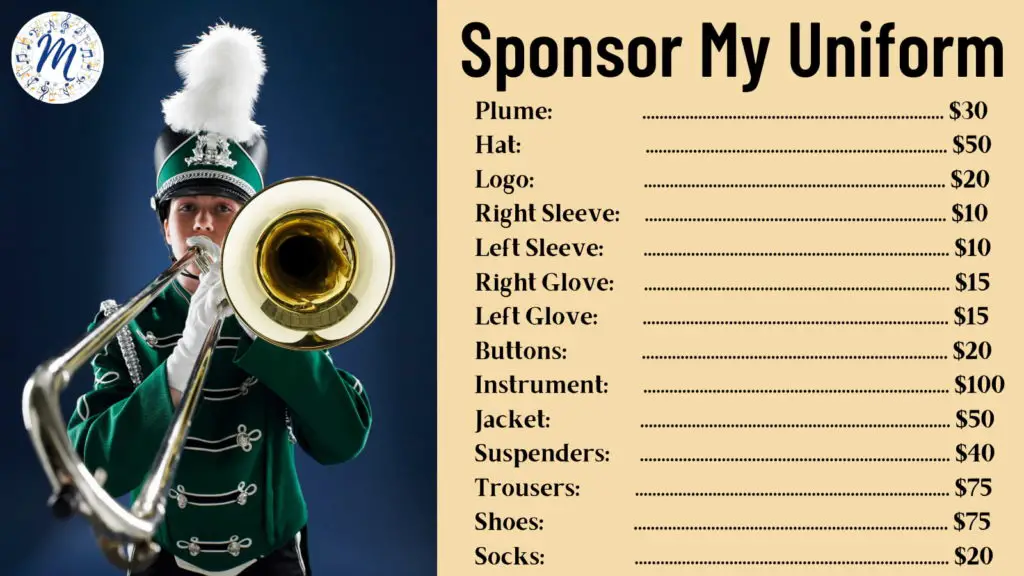 This works any time of year, but when it's time to buy new uniforms or when saving up for a trip this idea can work best.
Share with family and friends and this can be a great way to earn your entire uniform.
Note: Do you know why Marching Bands wear uniforms? See if you are right by reading our in-depth article.
17. Money for Marching / Bucks for Bands / Pennies for Players
A little change can go a long way if there is enough of it. This is a great way to let people help out without requiring a huge commitment.
Place Jars around the school or around town at grocery stores asking for donations of change.
Create a nice-looking flyer about who, and why you are raising money. Making a catchy title like the one above helps draw attention.
Put your flyer either taped up near the jar or better yet tape it on the inside of the jar.
It's best if you can use plastic jars (think old mayonnaise jars etc. You can carefully cut a hole in the top of the jar and then glue the lid on.
This fundraiser works year-round.
This fundraiser will likely not earn a ton, but it is one of the easiest to set up as well as the lowest time commitment.
Community Support
There are a lot of ways to get the community to rally around a musical group to help support them in their efforts.
18. Auction & Silent Auction
This idea can be used in combination with any of the previous events we talked about in this article as well as a stand-alone fundraiser.
Have people donate items such as
🎵 Themed baskets: Date night – Manicure – Games night – Movie night
🎵 Gift Cards: Grocery – Restaurants – Stores – Spas
🎵 Services: Massages – House Cleaning – Car detailing
This is a great fundraiser because your organization can generally earn 100% of the profits. We've seen the earnings on this range from $500-$5000.
19. Shoe Drive Fundraiser
With this fundraiser not will your community help you, but you can help another community as well.
Ask your friends, family, and community members to donate their gently used shoes that no longer fit them or that they don't wear any longer.
These shoes can be given/sold to Funds2Orgs. They will donate $ to your organization based on how many pounds of shoes you collect.
To get started you can call a fundraising coach at 407-930-2979 and they can set you up with what you need.
Make an Impact on Micro-Enterprise in Developing Nations (funds2orgs.com)
This fundraiser can be used year-round.
Depending on how many shoes you collect the sky is the limit. Generally, organizations can earn between $500-$3000.
20. Restaurant Percentage Night
Many local restaurants as well as some chains will donate a small percentage of their profits for a specific day/weekend to your organization.
Find out which restaurants in your community will be willing to participate. It's best to speak to a manager when making arrangements. They will likely have a legal agreement you will need to sign.
When talking with the managers remind them that you will promote to your school and other contacts to have them go eat out at that restaurant which will gain them additional business as well as help you out.
Top Tip: To make the most of this fundraising idea create a community eat-out night once a month during the entire school year and rotate between all the restaurants you can get to participate.
This fundraiser can be used year-round.
We have seen the organizations that have done this earn between $100-$800 per sponsored day.
21. Store Loyalty Programs
A lot of stores that people already shop at are willing to support your organization. All you have to do is sign up and let your band/choir/orchestra members know.
Here are a few of our favorites:
Amazon Smile: Shop through a special charity link and Amazon will donate .05% of your purchase to your organization. Considering how much we all spend on online shopping if everyone in the band participated it could add up!
AmazonSmile — How Does It Work? Amazon Gives to Charity on Your Behalf (businessinsider.com)
Kroger Community Rewards: Register your group with their program then ask your members to sign up for your charity through Kroger's website. When they use their Kroger loyalty card to buy groceries your organization will get a certain percentage donated to them depending on how much they spend.
Kroger Community Rewards – Kroger
Tips to Make Your Fundraiser Successful!
Generally, most communities are happy to help support programs like marching band, choir, orchestra, etc. The most important tip I can give you is to ADVERTISE ADVERTISE ADVERTISE!!!
Your community can't support you unless they know about it.
Flyers sent out via Elementry school communications will target families with young children. This is especially good for events like Breakfast with Santa, as well as the family fun carnival and yard sale.

Take advantage of networking. Parents, teachers, and students' families all have connections that can be helpful when promoting or planning your fundraiser.
We hope this article has been helpful and informative for you in your musical journey. Please let us know if there is anything that we could add or change to make this article a better resource for our readers.
Please e-mail us at: [email protected] to let us know how we are doing!
Disclaimer: This post may contain affiliate links. We only recommend high-quality products that are used and recommended by real musicians. If you use these links to buy something we earn a small commission.