When you think about different kinds of competitive sports, is marching band on that list?
Believe it or not, marching band is a competitive sport, and thousands of bands across the US participate in intense competitions during marching season to see which band is "the best." Marching Band Competitions are so much fun to participate in, and once you compete in your first competition, you will be excited for the next one. 
The way Marching Band Competitions work is relatively straightforward. Your high school marching band will attend a competition and perform your halftime show for several judges located on the field and in the press box. After performing, your band will sit in the stands and watch the rest of the competition until awards are given at the end of the event.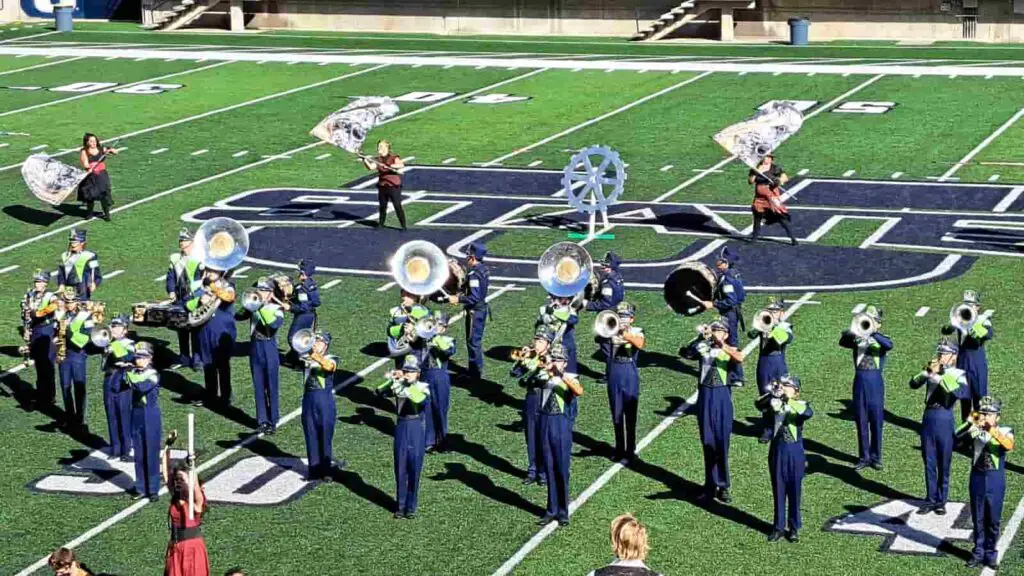 If you or your child are brand new to the marching arts, this article will help you understand why schools participate in Marching Band Competitions. Below we will discuss how bands prepare for competitions, what is a competitive marching band versus an exhibition marching band, the difference between competitions in high school and college, and how Marching Band Competitions are judged. 
How Do You Prepare For A Marching Band Competition? 
Preparing for a Marching Band Competition starts the first day you come to marching band practice. Your band practices after school once or several times a week to perfect your performance.
To compete against other schools' marching bands, you must learn how to march, learn the show music, and combine the show music with marching skills to create a show.
Weekly practice is how you train your musical and muscular memories so when you perform at halftime or in Marching Band Competitions, your body will know where it needs to go, you can practically play the show music in your sleep, and you can focus on maintaining the quality of your marching as an individual and as part of a larger unit. You can also think about the halftime show your band performs at home or away football games each week as a dress rehearsal. 
Note: People think it is all about the game and the athletes at football games. The truth is in our opinion football games are all about halftime performances!
Each week your entire band will enter the field in uniform, fall into attention when commanded, and begin to play and march. It is precisely what your band will do when competing in a Marching Band Competition. The only difference is you are not being judged by marching band professionals or compared to other bands during each Friday night halftime show.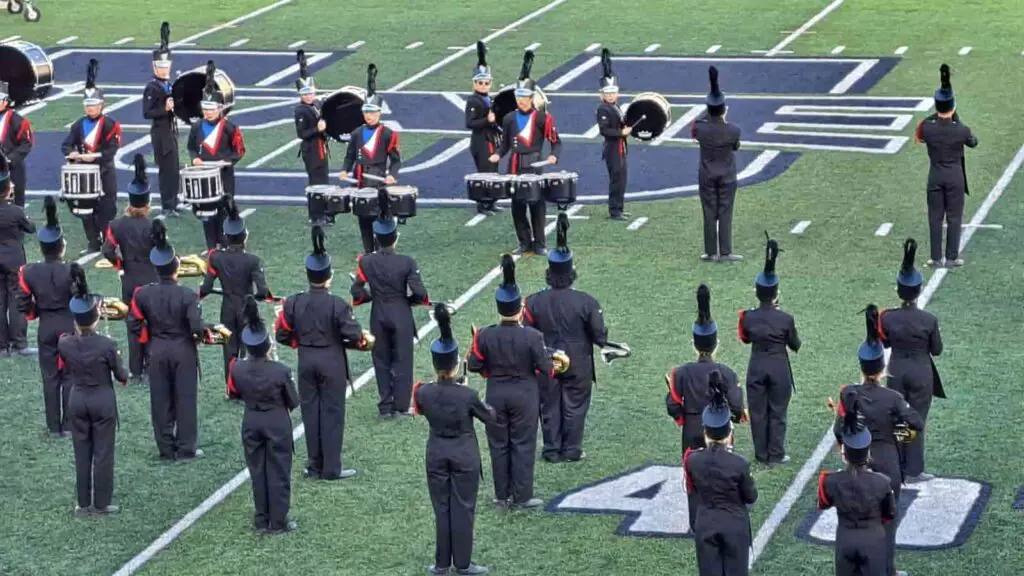 Still, think of halftime shows at football games as a competition; you want to look and sound as best as you can and perform the show with as few mistakes as possible. You are competing against your last performance the week before.
As the marching season continues, your halftime show will begin to look and sound better each week. The goal of competing in a Marching Band Competition is to win, but you also want your band to score higher and higher in each competition it participates in.
What Is The Biggest Marching Band Competition
For most bands, the biggest Marching Band Competition they will attend is the state competition. At these state competitions (often called "States"), your school is competing against every other marching band in your state.
Before States, your band will attend several local competitions on Saturdays and compete against other groups. The state-level competition usually takes place in mid to late November or early December, and it is the competitive end of that year's marching season. 
As discussed in several other articles about marching band, there are many different competition circuits your band may compete in, and the sizes of these different competitions vary immensely. One of the biggest Marching Band Competitions for bands that participate in the Bands of America competition circuit is the Grand National Championships.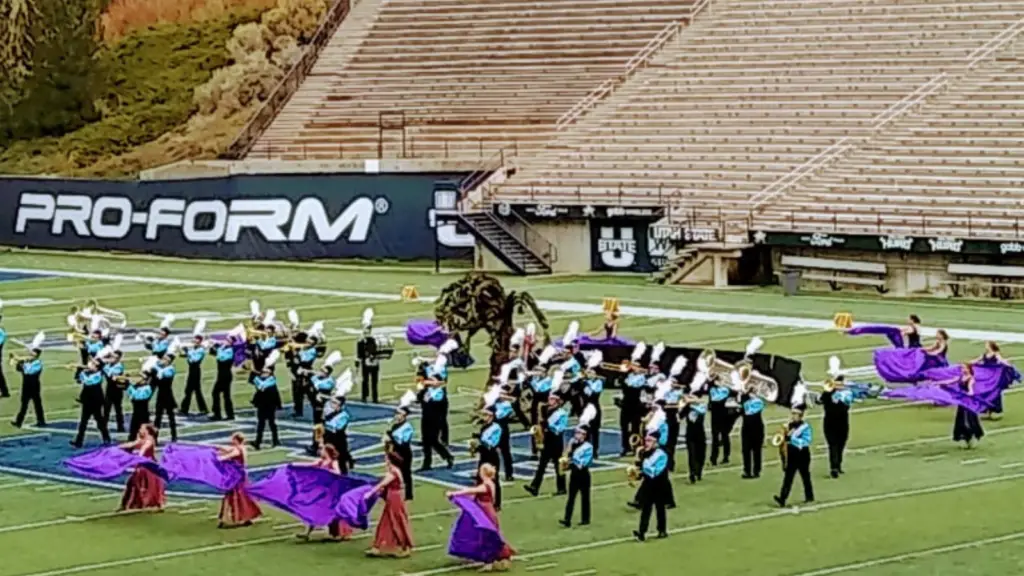 At BOA Grand National Championships, high school marching bands from across the country who have been competing in other BOA-organized competitions will travel to Indianapolis to compete in the Lucas Oil Stadium. The way the BOA Grand National Championships work is that around 100 bands will perform in preliminary rounds on Thursday and Friday during the championship weekend. 
The bands (usually around 36 bands) who scored the highest in their class and division on either Thursday or Friday will advance to the semi-finals, which take place on Saturday in the morning and early afternoon.
The top 12 highest-scoring bands from the semi-final round advance to the finals, which occurs in the evening on Saturday. The top 12 marching bands will compete in Lucas Oil Stadium, and a winner will be determined based on how high their final score is.
Note: In 2022, the BOA Grand National Championships winner was Carmel High School from Indiana, which scored a hefty 97.50 points out of 100.  
What Is The Competitive Marching Band?
A competitive marching band is a band that actively participates in competitions where judges will assign the band points based on how well their performance was. Not all marching bands have to be competitive marching bands, and many are bands that take part in exhibitions instead.
Exhibition performances are identical to a Marching Band Competition, except the bands are not performing to receive points or awards. Exhibition performances are for performing your halftime show in front of audiences without the pressure of being judged. 
Some exhibition performances have "judges," or music professionals who watch and listen to your band as you perform and speak into a small recording device giving feedback on what they see.
Your director will receive the recordings from each judge and can use those to improve the band's performance or know what specific issues the band may have regarding marching/maneuvering and musical performance.
Exhibition bands will march and perform just as well as competitive bands, but the school or director has chosen not to compete for that season. One is not easier than the other, and a competitive marching band is not better than an exhibition marching band.
What Is The Difference Between Competitions in High School and College? 
The most considerable difference between Marching Band Competitions in high school versus college is that, for the most part, college marching bands do not participate in competitions.
The only college marching bands that will attend a competition, usually a "Battle of the Bands," are HBCU show marching bands. Bands like FAMU, Southern University's Human Jukebox, and Bethune Cookman University participate in this form of Marching Band Competition. 
When you join a marching band in college, you won't participate in Marching Band Competitions as you did in high school because there is not enough time.
Note: Most college marching bands perform a new halftime show (3-4 new pieces of music and entirely new drill) every week. After a game and performance on Saturday, the band has one day to rest before returning to practice on Monday to learn and perfect a brand-new show by Friday evening.
Your college band may perform a show a second time at a bowl game, but you typically move on to the next show after you finish your halftime performance for the week. 
How Are Marching Band Competitions Scored? 
Marching Band Competitions have three significant factors that the judges will consider when calculating scores. The Musical Performance, Marching and Maneuvering, and General Effect will be used to determine the competition's winner.
Different Marching Band Competitions look for different things and the number of points each can earn.
Note: Learn more about how Marching Band Competitions are scored here.
Marching Band Competitions Across The US!
Hundreds of marching band competitions occur all over the US during marching season each year. Your state will likely have its own "state competition," but some other notable Marching Band Competitions include: 
Bands of America (BOA)
USBands Competitions
Mid-States Band Association Competitions
University Interscholastic League (Texas)
Pacific Northwest Marching Band Championships
Rainbow Invitational
We hope this article has been helpful and informative for you in your musical journey. Please let us know if there is anything that we could add or change to make this article a better resource for our readers.
Please e-mail us at: [email protected] to let us know how we are doing!
Disclaimer: This post may contain affiliate links. We only recommend high-quality products that are used and recommended by real musicians. If you use these links to buy something we earn a small commission.