During concert band or orchestra class, the band director will stand on a small podium a few inches tall while conducting. This allows the musicians they are leading to see their baton or hands to follow cues and remain on tempo.
While marching on a football field, it becomes more of a challenge to see someone conducting if they are standing at the same level as the musicians. This is why marching band drum majors will stand on a podium while the band is performing. 
Having a sturdy and reliable marching band podium that will not only last for one marching season but will last for years to be used by many different drum majors of the band.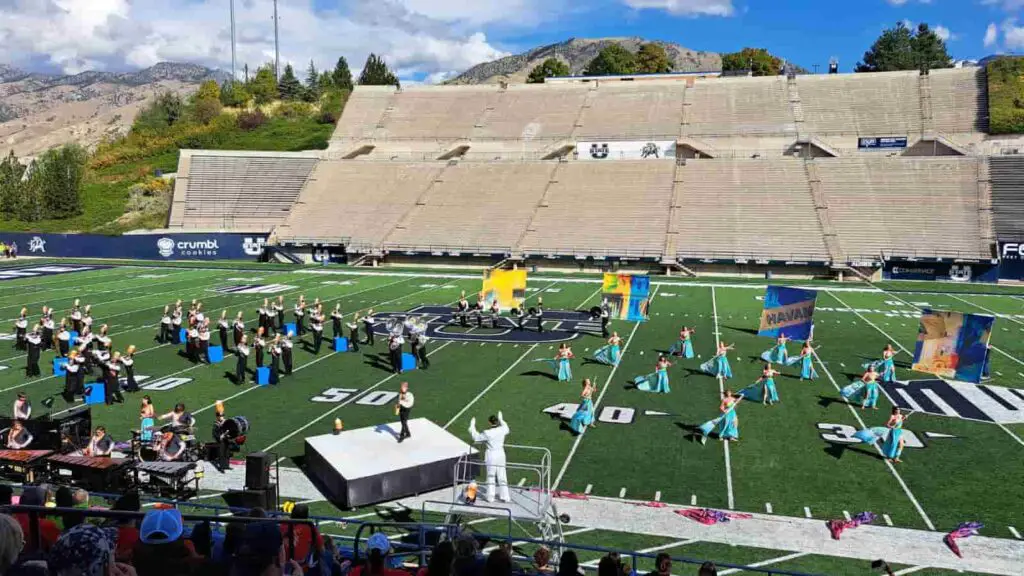 A drum major podium is an investment and can range in price from several hundred to several thousand dollars. So finding the Best Drum Major Podium is a necessity.
This article will examine four different styles, sizes, and prices of the Best Drum Major Podiums you want to buy for your band program.
What To Look For In The Best Drum Major Podium
There are a few essential features that the Best Drum Major Podium must have.
The first feature is durability. You want to feel confident on the podium, not worried about if the podium underneath your feet is going to collapse.
Podiums can be made with a wide variety of materials, including wood, but the most durable Drum Major Podium you can buy is one made out of aluminum. 
The second feature is portability. You will have to take the podium to the field every practice and with you on the bus to any competitions.
The Best Drum Major Podium will fold up and have at least one set of airless wheels. You should be able to tilt the podium back until both wheels are touching the ground and able to roll it where you need to go easily.
Larger Drum Major Podiums might have wheels that lock in place to allow you to conduct on it safely and move the equipment effectively. 
The third feature applies to all Drum Major Podiums 5ft or taller. Due to the height of these podiums, they should have a safety bar on them.
The safety bar does two things, it prevents you from falling off your podium, which can be as tall as 8ft high, and it is a handrail.
When climbing up the ladder or steps to the top of the podium, you need a safety bar to hold on to when you step up onto the podium from the ladder.
The fourth feature is the appropriate size of the podium. It seems logical to buy the tallest Drum Major Platform you can so everyone in the band can see you.
Even a 2ft tall podium allows the band to see the drum major if it is placed in the right location on the sidelines.
Some larger bands may need a backfield conductor, and these podiums can be smaller or be a ladder, depending on your school's budget.
Note: The drum major should be on an elevated surface so they stand taller than the band, but the drum major does not need to climb to the stratosphere in order for the band to see them. 
Best Drum Major Podiums
There are two high-quality podium brands on the market, Jarvis and DSI.
These podiums have been heavily tested and designed for drum majors. If you want the Best Drum Major Podium, it will be either a Jarvis podium or a DSI podium.
Below are four recommendations for the best podium!
Jarvis 42-Inch Marching Band Podium
For an excellent medium-height Drum Major Podium, the Jarvis 42-Inch Podium is a great option.
The Jarvis 42-Inch Podium is one of the very few marching band podiums on the market that list the overall weight of the podium.
The podium stands at 3.5ft tall and has a 28×28 inch (slightly larger than 2ft) platform.
Made with lightweight aluminum,
The platform has been designed to act as a non-skid surface to keep your feet firmly in place.
The podium is nice, and light and only weighs 37 pounds.
Don't worry about transporting or storing this podium. It has a sturdy set of back wheels and is fully collapsible to store in the most crowded of band rooms or equipment fields. 
Note: A unique feature of this Drum Major Podium is that it comes in a wide variety of colors. If standard silver isn't your band's style, you can choose: white, black, red, navy, royal blue, maroon, gold, purple, or yellow.
A standard silver version of this podium will cost around $926.00, and a colored version will cost about $1,231.00 (freighting and shipping costs are totaled at the end based on whichever supplier or retailer you purchase a podium through).
If you feel like a safety rail is necessary for this podium, you can purchase one; however, it is sold separately. The Jarvis 42 Inch Marching Band Podium is sturdy and has a maximum load capacity of 225 pounds. 
Jarvis 42 Inch Marching Band Podium 
DSI 2ft Drum Major Podium
The Best short-height Drum Major Podium is the DSI 2ft Drum Major Podium.
The 2ft height makes this podium perfect for smaller size bands and smaller size budgets.
The platform is a decent size of 24×24 inches and has non-skid material on the platform.
This Drum Major Podium is made with lightweight aluminum, and its strength is reinforced by utilizing welded parts instead of basic rivets.
This podium does not have wheels, but it is light enough that carrying it is manageable. 
The DSI 2ft Drum Major Podium is fully collapsible and is easy to bring along on a bus for an away game or competition.
There are two color options for the Drum Major Podium, silver and black.
The price for the silver version of the DSI 2ft Drum Major Podium is around $399.00, and the black version is slightly more expensive at around $460.00 (freight and shipping fees will be added at the end). This podium may only be 2ft tall, but it has a maximum load capacity of 300 pounds.
DSI 2ft Drum Major Podium 
5ft DSI Space Saver Podium 
A classic 5ft Drum Major Podium is DSI's 5ft Space Saver Podium.
The four-rung ladder leads to a 24×27 inch skid-resistant platform, and because it is 5ft tall, there is a boundary rail.
Like all DSI Drum Major Podiums, this 5ft Space Saver Podium is made with lightweight aluminum with welded pieces to ensure the podium is not going to collapse mid-performance.
For extra security, the base is made from extra-wide stabilizer bars, and the wheels do not come into contact with the ground when the podium is unfolded. 
There is one set of wheels on the Drum Major Podium for transportation, and the space saver design means this podium can fold compactly and not take up a lot of extra space in the band room.
The 5ft DSI Space Saver Podium costs around $982.00 and has a maximum load capacity of 300 pounds.
NOTE: This Drum Major Podium can not be delivered to a residential address. 
5ft DSI Space Saver Podium   
DSI 6ft Command Center Podium
For the ultimate 6ft Drum Major Podium the best you can get is the DSI 6ft Command Center Podium.
This podium is popular with drum corps and large-sized marching bands, and for a good reason. This Drum Major Podium has a 4ft x 6ft non-skid and 100% waterproof platform.
Note: The 6ft Command Center Podium is hefty, weighs 190 pounds, and has one pair of wheels. Because this podium is so large, ordering another pair of wheels to attach to the other side is worth it.
DSI does sell extra sets of wheels just for this purpose, and the wheels have locking capabilities. Pushing this Drum Major Podium when it is fully expanded and with four wheels will be easier to move than if it is folded down. 
When folded, the podium is only 84 inches long by 45 inches wide by 18 inches high. This Drum Major Podium has removable front and rear safety bars to customize the podium to meet your needs.
Two aluminum ladders on both ends provide easier access to the platform. The maximum load capacity of the DSI 6ft Command Center Podium is 550 pounds, and it features the welded pieces as the two other podiums from DSI.
You can buy this podium in silver for around $2,660.00 or in black for $3,119.0. Shipping and freighting costs will be relatively high for this podium because of its size. 
Comparison Chart
Podium
Platform Size
Material
Colors
Price


Jarvis 42 Inch Marching Band Podium


28" x 28'


Aluminum
Silver, White, Black, Red, Navy, Royal Blue, Gold, Purple, Maroon, and Yellow

Silver: $926.00

Color: $1,231.00
DSI 2ft Drum Major Podium
24" x 24"
Aluminum
Silver and Black
Silver: $399.00
Black: $460.00
5ft DSI Space Saver Podium
24" x 27"
Aluminum
Silver
$982.00
DSI 6ft Command Center Podium
 4ft x 6ft

Aluminum
Silver and Black
Silver: $2,660.00
Black: $3,119.00
We hope this article has been helpful and informative for you in your musical journey. Please let us know if there is anything that we could add or change to make this article a better resource for our readers.
Please e-mail us at: [email protected] to let us know how we are doing!
Disclaimer: This post may contain affiliate links. We only recommend high-quality products that are used and recommended by real musicians. If you use these links to buy something we earn a small commission.