It seems that now we are in the twenty-first century there aren't many jobs that we haven't seen done by both men and women, but despite this, some jobs still seem to be dominated by men. Drum Major tends to be one of those. When you see a Marching Band whether at college, high school, or drum corps you will most likely see a male Drum Major does that mean that women can't be Drum Majors?
Absolutely NOT!
There have been many female Drum Majors in the past and there will be many in the future!
What is a Drum Majorette?
A female Drum Major is often called a Drum Majorette. A Drum Majorette is a girl or woman who leads and directs a Marching Band or Drum Corps under the supervision of a conductor. She has the same duties as any male Drum Major might have.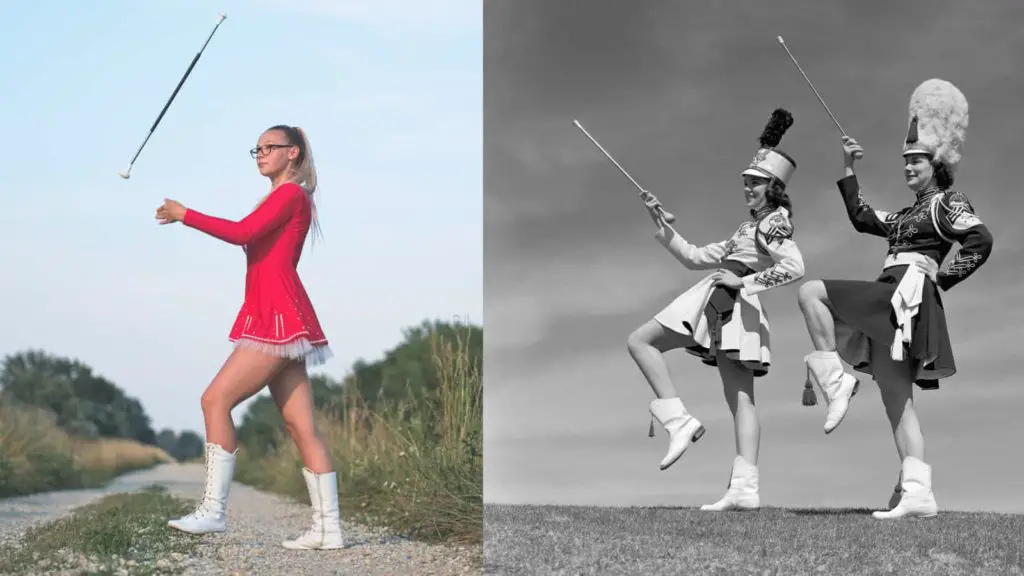 A Majorette is a woman who performs with dance and twirling a baton. Since this is often something that Drum Majors contribute to a Marching Band the name seemed fitting. Most high school and College Marching Bands will refer to the leader of the conducting as Drum Major regardless if they are male or female.
Top Tip: Learn more about what a Drum Major Does or how to become a Drum Major

Role of A Drum Major – Top Music Tips

How To Become Drum Major – Top Music Tips
First Female Drum Major
The first female Drum Major of a university band in the United States was Bernice Henry Rathmell who graduated from Bucknell University in 1939. In the 1940s and '50s, only a few additional universities followed suit with their first female Drum Majors.
Being the first female Drum Major in the US is quite a distinction, Bernice how has since passed away in 2014 lived a pretty amazing life going on to get her private pilot license, she then went on to train other young pilots. You can read more about her life here.
She inspired many young women to work towards being the first female Drum Major at their university. Some of them included in this list are.
First Female Drum Majors Across Major Universities
Eleanor Lee Priest was the first female Collegiate Drum Major at Miami University Ohio Marching Band from 1948 to 1952. She was a percussionist in her High School Orchestra.
What she loved doing most was leading the Marching Band. She was an amazing baton twirler. Her baton of choice was a heavy Ludwig baton. While she was Drum Major at Miami University in Oxford Ohio she won the National Collegiate Twirling Championship forging a path for future female drum majors.
There was a 70-year gap between female Drum Majors at Louisiana's Grambling State University. Their world-famous Tiger Marching Band had their first female Drum Major in 1952. Velma Patricia Patterson served through 1952.
After that, it was only male drum majors until 2021 when Candace Hawthorne's hard work and dedication paid off gaining her the honor of becoming Grambling's second female Drum Major!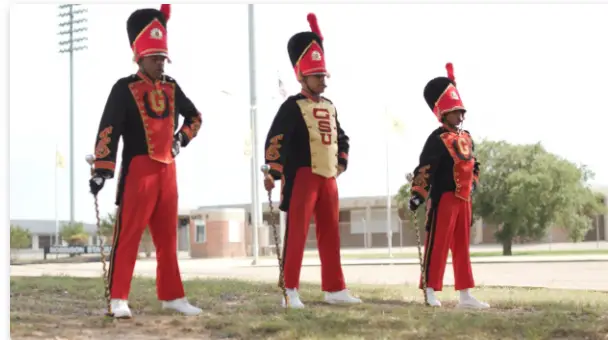 Other Marching Bands have only recently been able to lay claim to having their first female Drum Major. India Anderson received this distinction after 140 years of all-male Drum Majors.
The honor was well earned says her bands director. She even spent extra time working out to make sure that she was strong enough to wield the Trojan Sword that is traditionally carried by the Drum Major.
You can see more of her story in the video below.
Team of Female Drum Majors
Many Marching Band Programs will have more than 1 Drum Major. Often a team of 2-4 Drum Majors works together with 1 at the head to lead a large band. The University of Alabama is likely the first full team of female Drum Majors.
This doesn't mean there was any favoritism played in order to get this distinction, but rather a lot of hard work and dedication across the board for these three women. Janna Mann, Anna Wilkes, and Avery Williams are true pioneers and examples of women's leadership in a mostly male-dominated sport.
Can A Girl Be Drum Major
Yes! Any person whether male or female who has exceptional leadership qualities, musical talent, experience in marching, and playing in a band or Drum Corps, can be a Drum Major.
When I was in Marching Band at Utah State University back in 2004 we had a female Drum Major leading our band. It didn't seem strange to me at all, and quite honestly I didn't think much of it. I thought it was a very normal thing.
Now, being a smarter version of myself, I see that having a female Drum Major is quite rare and a very honorary distinction for those who have had the chance to become one!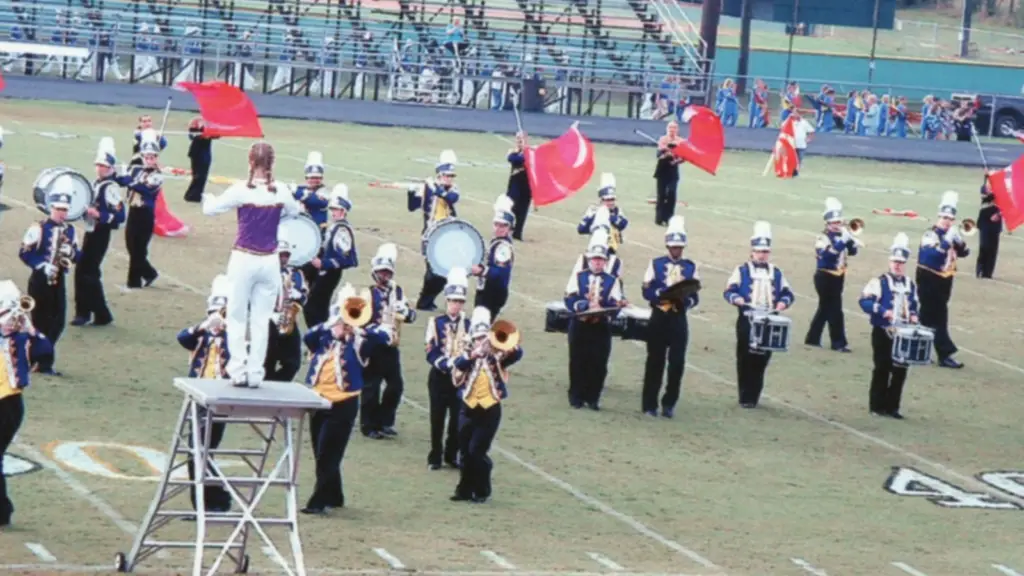 Female Drum Major Uniforms
The biggest difference in having a female Drum Major as opposed to a male is their uniforms. Women Drum Majors have more styles available to them than their male counterparts. They can go with a traditional Drum Major pantsuit with a coat and trousers, or a less traditional more ornamental dress.
Some female Drum Majors will be given the choice and flexibility in choosing their attire while some will be bound by the tradition of the school or program that they belong to.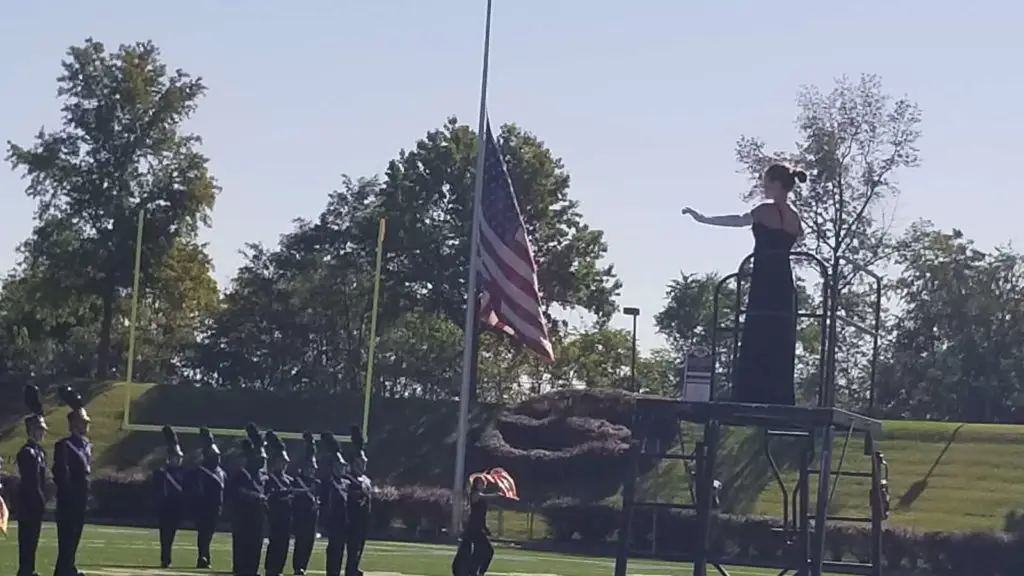 Disclaimer: This post may contain affiliate links. We only recommend high-quality products that are used and recommended by real musicians. If you use these links to buy something we earn a small commission.