Have you ever seen a Marching Band perform and wondered who that very concentrated and serious-looking student that was leading the band was? They are definitely too young to be the band director, yet they seem to be in total control of the entire Marching Band. Well, that my friend is none other than the Drum Major!
The Drum Major is perhaps one of my favorite people to watch in a Marching Band. They exude personality and passion! But what exactly is the purpose of a Drum Major and Why are they so important to a Marching Band?
A Drum Major leads the band in Marching, rehearsals, and performances. Their job is to follow directions given by the band director, be an example to the other students or members of the band, and help the program run smoothly. Generally, the Drum Major is a senior member of the band.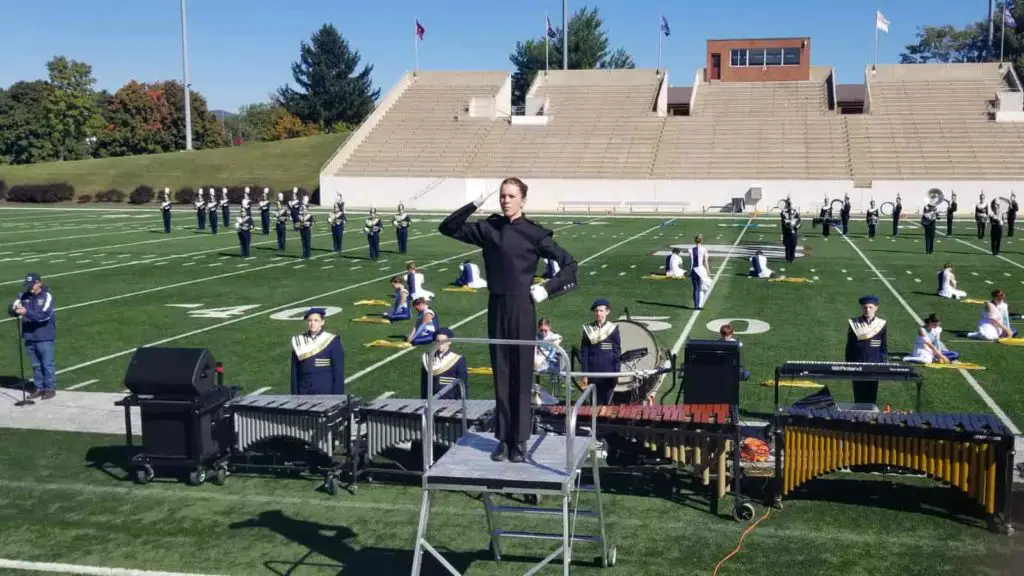 A Drum Major has many responsibilities on and off the field, and it can vary depending on what type of band and what institution the program is at.
🎵 Note: Being a high school Drum Major will be a little different than being a College Drum Major, and quite a bit different than a military Drum Major.
Regardless of which organization you are talking about a Drum Major with strong leadership skills and exceptional marching ability is essential for the success of any Band or Drum Corps.
What is the Role of a Drum Major?
A Drum Major is going to have the most responsibilities out of all the students or members of the band.
A Drum Major is second in command next to the director of the band. They are there to inspire and unify the band. There is a lot of pressure on a Drum Major to be the perfect example of what a dedicated member of the Marching Band will look and act like.
Here is a list of responsibilities and tasks that many Drum Majors may have.
Set the standard for discipline and conduct for members of the band to follow.

Lead the band to the rehearsal area making sure they are ready with all their instruments and supplies.

Assist the director(s) in keeping the band and band room organized and well maintained. Setting up chairs, keeping instruments put away etc.

Take care of any administrative work that the band director asks of you.

Leading the band into proper formation to begin practice or marching.

Help to make sure that practice runs smoothly.

Conduct the band through warm-up exercises.

Run rehearsal when the band director is absent.

Assist and help section leaders (captains) when problems arise.

Help teach other members of the band proper marching techniques.

Help in tracking attendance know when band members are missing.

Help new members learn and acclimate to the demands of band.

Represent the band in award ceremonies or special functions.

Lead the band in performances and parades.

Have a pristine uniform being a standard of what a well-dressed marching band member looks like.

Signal percussion section to roll-off during parades or marching.

Conduct pep tunes in the stands during a football game.

Add to the overall showmanship of the show during performances often by twirling a baton and other skills.
A Drum Major will look and act like the band is their job! During marching band season a Drum Major will dedicate countless hours to helping the band learn and succeed in their performances and competitions. They inspire unity and teamwork.
Top Tip: If you think you have what it takes to be your band's next Drum Major don't leave without reading this article How To Become Drum Major
Qualities that a Director looks for in a Drum Major
They have a good understanding of music and how to lead a full ensemble.

They are skilled as a field conductor.

They have developed a high level of skill with a Drum Major baton or mace.

They have exceptional marching techniques.

Their vocal commands are loud and easily understood.

They are highly responsible and reliable.

They are dedicated to having the band succeed.

They work well with both the band director and the membership of the band.

They know how to teach and assist other members of the band.

They have the ability to inspire the band in performance.

They will be able to accept constructive criticism.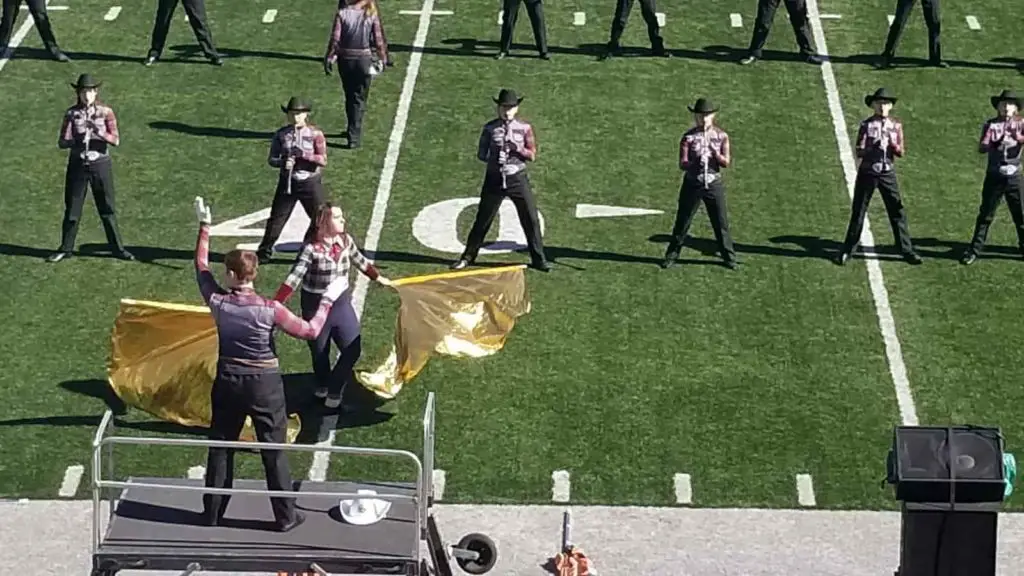 Why Do They Call It Drum Major?
The name of Drum Major has its roots in military service. Drum corps was assigned to regiments in the Civil war to entertain and help soldiers march from point A to B. The commander of the Drum Corps was an officer referred to as Sergeant Major. Today the Sergeant has been dropped and changed to Drum.
Marching band, Color Guard, and Drum Corps have a long history in the military. Playing an important role in helping to protect, motivate and give courage to the soldiers marching into the battlefields.
In battle, the band/drumline could be heard over the defining gunfire. They would help to lead the soldiers in the direction they needed to go, as well as give out orders through the different loud drumming rhythms.
The Drum Captain would receive their order from the Sergeant Major (Drum Major) who received their orders from commanding colonels.
After the war these same positions and names were mostly kept, just adapted to work within the new system of a school setting.
Section leaders or Captains are still used. They report to the Drum Major who reports to the conductor (colonel).
🎵 Note: Do you know about all the different Marching Band Positions & How It's Organized?
Depending on the size of a band or drum corps there can be more than one Drum Major. There will be a head Drum Major, but there can also be assistant Drum Majors.
Assistant Drum Majors help in all the same capacities as a Drum Major, as assigned by the head Drum Major. They may help to write drills, depending on if the band can afford a drill writer. They help with visuals. They also make sure that all members are in their place and marching correctly during practice and drills.
If a member of the band needs help they will go to their section leader, assistant Drum Major, or Drum Major for help.
Showing confidence and precision in your conducting abilities is important for this part of the audition. You Band director wants to be sure that your movements will be clear and easy for the band members to follow.
Drum Majors in Different Organizations
The main responsibilities of being a Drum Major across different organizations will be mostly the same. There will be some difference in the time commitment that is required as well as the level of skill and professionalism needed. Here are a few of the different organizations and what you can expect from each.
High School Drum Major
Each high school runs its music program differently, but generally, to become a Drum Major for your Marching band you will start by going through a training/clinic with other candidates to learn what is expected of you. At the end of the training, you will go through an assessment from which a Drum Major will be chosen.
Just as we discussed above the assessment will likely include some kind of audition, an essay, as well a demonstration of what skills you have learned.
College Drum Major
To become a Drum Major in College you need to have previous Marching Band experience, some colleges require you to be a part of their Marching program for at least 1 year before applying. Having previous Drum Major experience is preferred. You will have to go through an extensive audition process.
Your chances for becoming Drum Major in college are a lot higher if you have already been a Drum Major in Highschool or a Drum Corps.
Competition for becoming a Drum Major in college is a lot higher. This is because the Marching Band is usually larger than most high school groups as well as there are students coming from a large variety of programs that will often have experience being a Drum Major or in leadership in their previous bands.
🎵 Note: Check out Ohio State University's Drum Major in action. Skip to the 2:25 Minute Mark to see the grand entrance!
If your goal is to be a Drum Major in college then be sure to attend a college that has a marching band. Not all colleges have Marching Bands and not all colleges place the same value on the band.
Universities like Ohio State have an amazing Marching Band program while other smaller universities won't have the budget or focus to have a great Marching Band. The smaller universities will have less competition, but it may not be the type of program you are looking for.
The 10 Best College Marching Bands – College Raptor
Differences Between High School Drum Major and College Drum Major
The main responsibilities for being a Drum Major in high school or college will be the same, although being a college Drum Major requires more time and refinement of your skill.
The major difference is often becoming a college Drum Major may be more competitive, but may also come with more benefits.
Many college Drum Majors receive monetary rewards for taking on the role. Scholarships are often given for Drum Majors. Ohio State offers their Drum Major a free ride. Other colleges give stipends (which are payments of a set amount of money each season) for being an elite member of the band.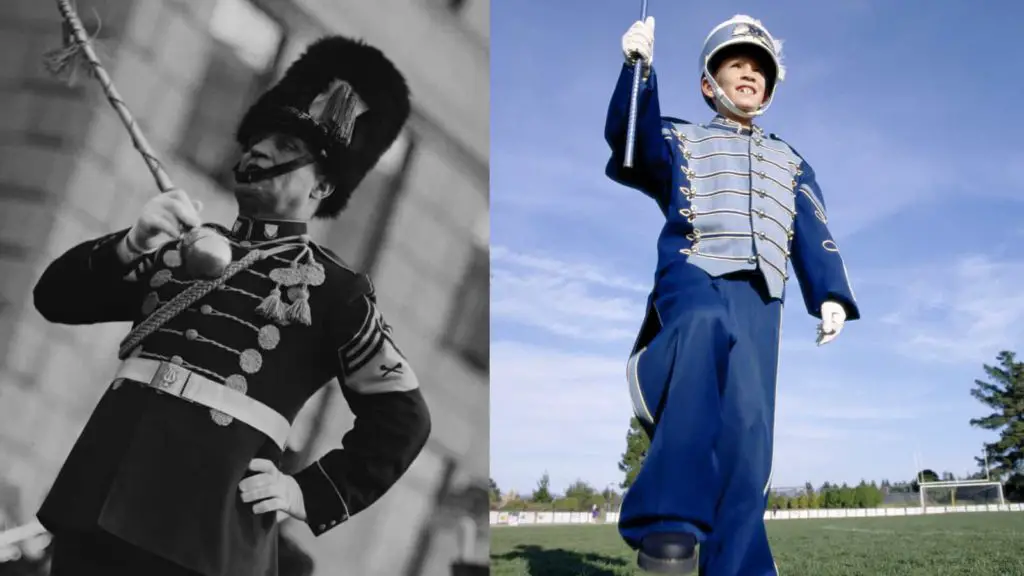 Is It Hard to Be Drum Major?
Being a Drum Major can be very difficult, demanding, and time-consuming. It requires a strong commitment to the band and a lot of dedication. Drum Majors will report that the rewards are well worth the effort.
Being in Marching Band, in general, is demanding physically and mentally. It requires a time commitment of many hours of practice each day, as well as competitions, and performances on the weekends.
During the summer months, there are often week-long camps that run from dawn until dusk.
Being a Drum Major is all that responsibility and more. Any practice or meeting that you have you should be the first to arrive and the last to leave. If you are wanting to be a Drum Major you will have to prioritize that over other things in your life. During Marching Band season you belong to the band.
Top Tip: It could be harder to become a Drum Major if you are female? Read this article to learn more.
Female Drum Majors That Inspire (Marching Band)
With this in mind, a lot of people may ask if being Drum Major is worth it?
Ask any previous Drum Major and 99% of the time their answer will be a resounding yes! Many things in life that require hard work and a strict commitment usually come with a multitude of benefits. This is no different.
Being a Drum Major can be very fulfilling. When your band earns awards and recognition you often get to accept those accolades on behalf of the band. This can leave you feeling very accomplished and full of pride in the band that you have worked hard to make successful.
Many life-long relationships and friendships are developed by being a leader in the band.
Being a Drum Major helps you learn and refine your leadership skills which can open doors to Scholarships as well as job opportunities. You can further use your skills if you want to become a director for a middle, high, or college music program.
Do Drum Majors Play Instruments?
Drum Majors often start out playing an instrument or being in the pit. It is rare but there have been some Drum Majors that started out as a member of the Color Guard. A member of the Color Guard has a higher chance of becoming Drum Major if they also know how to play one or more instruments.
The more musical knowledge a person has the higher their chance of becoming a Drum Major. Directors like it when their Drum Majors play multiple instruments because they then have the ability to help the different sections more with their musical techniques and abilities.
Disclaimer: This post may contain affiliate links. We only recommend high-quality products that are used and recommended by real musicians. If you use these links to buy something we earn a small commission.