The cost of a xylophone can range from as low as $5 for a small toy xylophone to tens of thousands of dollars for custom-made professional models and everything in between. The price of a Xylophone will depend on the kind of Xylophone and the materials used to make it.
The xylophone is a member of the percussion family of musical instruments. The instrument consists of wooden or synthetic wooden bars that are struck with mallets to produce sound. Each bar is tuned to a specific tone, and the number of octaves a Xylophone can play depends on the size of the instrument itself.
Small/Student Xylophones are able to play 2.5 octaves, while some larger Concert Xylophones are capable of playing between 3.5-4 octaves. Custom Xylophones that extend farther than four octaves can be created, but they aren't commonly found in band rooms, concert bands, orchestras, and even marching bands. 
Musical instruments should be considered an investment and will be used for many years.
That being said, instruments, including the Xylophone, are expensive.
There are many types of xylophones
Toy Xylophones for babies and toddlers
Xylophones for students/basic Xylophones
Concert/professional Xylophones,
Field (made to be played with the marching band but are stationary in a pit/front ensemble) Xylophones.
Note: Xylophones have handmade wooden or synthetic plastic pitched bars, and some have brass resonator tubes positioned below the bars to project sound. These resonator tubes may be removable or fixed to the underside of the instrument. 
Unless you are purchasing a student Xylophone to be used at home to practice, you won't be asked to buy your own Xylophone. Music ensembles of all kinds usually provide percussion instruments ranging from snare drums to Xylophones to cowbells.
If you are a student and your band provides Xylophones to the percussion section, you will only be asked to purchase mallets.
If you are interested in buying and owning your personal Xylophone, this article will examine the brands, features, and prices of several kinds of Xylophones. 
Student/Basic Xylophones
Student/Basic Xylophones are instruments that are made for students of any age. These Xylophones can play 2-3 octaves and are relatively lightweight.
Student/Basic Xylophones might come with an X-style stand as well as mallets, but double check the instrument's description and information listed on a website to know if you will need to buy a separate stand and set of mallets.
Here are some excellent options for a Student/Basic Xylophone across various prices, from the lowest to the highest.
This Xylophone has 37 bars that are made of synthetic wood and fiberglass attached to a wooden frame.
It is very durable, and changes in the relative humidity of the environment will not make the synthetic bars swell or shrink, which is something wooden bars experience.
This Xylophone comes with a pair of appropriate mallets, a padded gig bag, and a height-adjusted double-braced 1X-shape stand.
The weight of this instrument with its accessories is 37.48 lbs, making this Xylophone an excellent choice for portability.
As the name indicates, this Xylophone has a range of 3.5 octaves, and its bars are made of Pau Rosa wood from Brazil. What makes this Xylophone unique is that it uses Adams' Integrated Rail System. The Integrated Rail System consists of suspended bars with a resonator-box style rather than resonator tubes.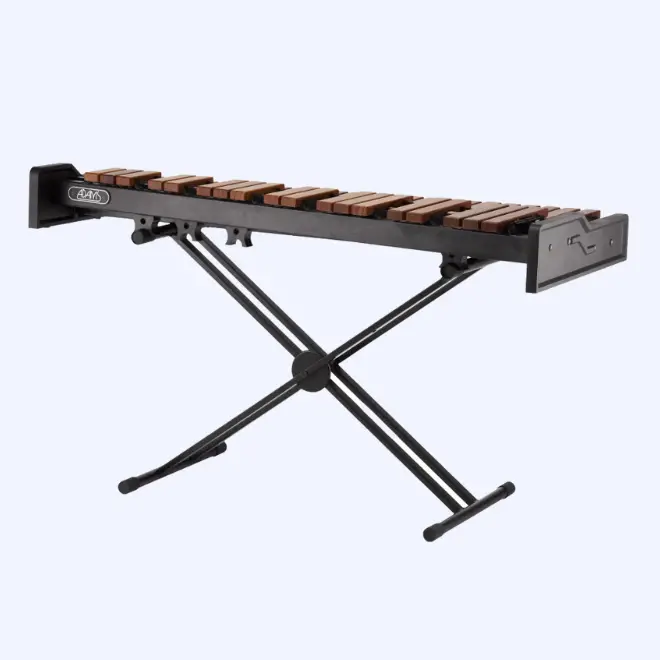 The frame of this Xylophone is made of aluminum which works to stabilize the entire instrument, so it won't tip over when the bars are struck.
The Adams 3.5-Octave Pau Rosa Xylophone weighs around 50 lbs and is recommended for students and beginner musicians. Along with the Xylophone, this instrument comes with a double-legged X-style stand that is height adjustable.
The Yamaha MXL-32AF Multi-Application Xylophone. 
This Xylophone is a great option if you want a Xylophone for concert and marching use. Yamaha's Multi-Application Xylophones can be attached to a stand with removable legs or attached to the Yamaha Aluminum Field-Corps Tubular Carrier for Multi-Application Bells or Xylophones.
Note: Because this Xylophone is considered to be a Multi-Application Xylophone, it can be moved from inside in a concert band directly outside for use in the marching band. If you want to use it as a marching xylophone you will need to purchase a harness.  
This Xylophone is capable of playing 2.5 octaves and is made with the brand's AcoustalonLite bars. Yamaha's AcoustalonLite bars are made of a super durable kind of Fiberglass Reinforced Plastic (FRP), which can withstand years of use.
Although it is not pictured, this Xylophone has removable brass resonators to project the sound if you are interested in testing the differences between a Xylophone with or without resonators attached. Yamaha instruments are high quality and a great investment for a student percussionist.
Bass Xylophones
A Bass Xylophone is smaller than a standard Xylophone and usually comes with 13 bars, along with three additional removable bars. This kind of Xylophone is smaller and easier to handle than standard Xylophones, which makes them ideal for elementary music education/young children. 
Bass Xylophones are so amazing that we have a complete article dedicated to comparing all the best bass xylophones.
The Suzuki Bass Xylophone Standard has 13 bars made of genuine rosewood, which enhances the timbre and the warm-sounding tone that xylophones are known for. This Bass Xylophone is equipped with chromatic bar storage on the side of the resonator box and comes with one Bb and two F# bars.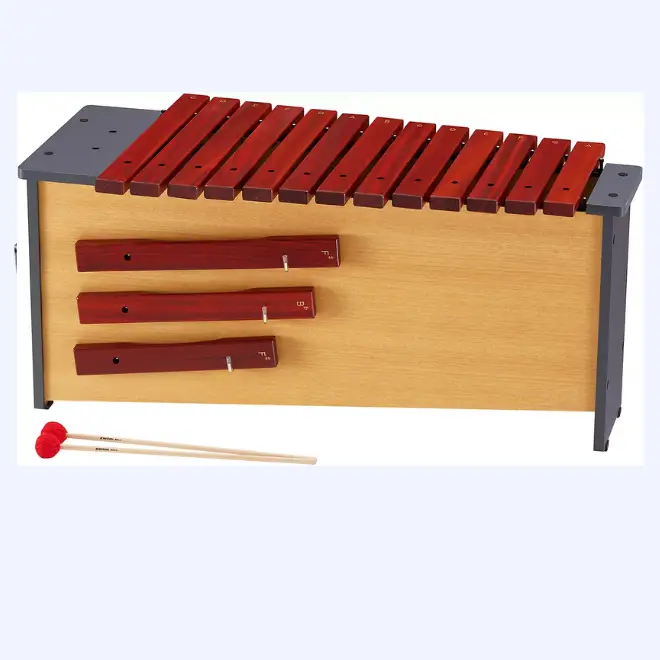 The bars have the note names engraved onto the top to help a musician learn notes without the pressure of memorizing the order of the bars.
The Suzuki Bass Xylophone Standard comes with a pair of mallets that are appropriate for this xylophone, and there is mallet storage built into the instrument.
The Sonor Orff GBX-GBF Global Beat Bass Xylophone is made with fiberglass bars that look like rosewood. The resonator box has six resonance chambers made of high-quality birch plywood that can withstand years of use with musicians of any age.
Each of the 16 bars has been stamped with the note name on them so players can better internalize the sound of the notes and associate them with their name. This Bass Xylophone comes with three additional bars, two F#, and one Bb bar to extend the range of the instrument. Also included with the purchase of this instrument is a pair of appropriate mallets.
Marching Xylophones (Worn on a Harness)
While Marching Xylophones that are worn with a harness exist, they are not super common. Not all Marching Xylophones come with a harness, so be sure to check the information about the instrument when purchasing online. 
The first Marching Xylophone is one we have already mentioned! The Yamaha MXL-32AF Multi-Application Xylophone. 
                                                        Yamaha MXL-32AF Multi-Application Xylophone
The best harness for this Marching Xylophone is the Yamaha RM-FC-BLXL Field-Corps Multi-Application Bell/Xylophone Carrier.  CARRIER PRICE: $246.95

                            Yamaha Xylophone Carrier for the Multi-Application Xylophone
Another excellent Marching Xylophone is the Yamaha MXL32SH Marching Xylophone. 

                                              Yamaha MXL32SH Marching Xylophone,
The Yamaha MXL32SH Marching Xylophone, can play 2.5 octaves that have been set by Yamaha's exclusive tuning service. The bars are made from Reinforced Fiberglass and are thinner than the standard Acoustalon bars Yamaha usually produces. These bars are designed to weigh less than a standard xylophone bar, which is nice for students carrying a Marching Xylophone on the field. The entire weight of this Marching Xylophone is a moderate 20 lbs. The resonator tubes are compact as well as lightweight, which makes them perfect for marching bands because the resonator tubes do not hang below the bars. If you need or want a marching harness, call Yamaha and ask what they recommend to make sure your harness works with this specific Marching Xylophone. PRICE: $1,359.00
The last Marching Xylophone is the Bergerault Performance Series Xylophone, 2.5 Octave with Cover.

               Bergerault Performance Series Xylophone, 2.5 Octave with Cover (Cover not pictured)
The Bergerault's Performance Series Xylophones are all made with Techlon bars made using synthetic wood and plastic. The Techlon bars produce a clear warm tone, allowing this Xylophone to add to the overall sound of the entire band. This Marching Xylophone has fixed charcoal-coated resonator tubes that enhance the projection of the Xylophone's sound. The Bergerault Performance Series Xylophone 2.5 Octave Marching Xylophone does not include a metal field frame or a harness. It is only able to be played attached to a marching harness. What does come with this instrument is a black fitted cover to protect the bars when they are not being used. PRICE: $1,629.99
Concert/Orchestral Xylophones
Concert/Orchestral Xylophones are the most expensive form of Xylophone one could purchase. These instruments are large and can play up to 4 octaves. They also come attached to a frame with wheels on the bottom in order to move the Xylophone from a rehearsal space into a theater. You will never be asked to buy a Concert/Orchestral Xylophone if you are a student. 
The first Concert/Orchestral Xylophone is the Adams 4.0 Octave Soloist Series Rosewood Bar Xylophone with Apex Frame. 

                                              Adams 4.0 Octave Soloist Series Rosewood Bar Xylophone
This Xylophone has beautifully hand-chosen Honduras Rosewood bars and has a range of four octaves. The frame and the supports for this Xylophone are 100% adjustable according to Adams' Height Adjustment System. The titanium-coated resonator tubes are slanted to further project the sound of notes played on the bars. The Adams' 4.0 Octave Soloist Series Rosewood Bar Xylophone comes with a drop cover and a pair of XB6 mallets. PRICE: $3,999.99
The next Concert/Orchestral Xylophone is the Musser M51 Portable 3.5-Octave Kelon Xylophone with Concert Frame.

    Musser M51 Portable 3.5-Octave Kelon Xylophone
The Musser M51 Portable 3.5-Octave Kelon Xylophone is a professional-grade instrument with synthetic Kelon bars that span across 3.5 octaves. The concert frame is made of sturdy wood, and the legs are foldable to help with transporting the Xylophone to concert locations. The resonator tubes are fully detachable and made of titanium. This Xylophone comes with a shallow drop cover and a pair of appropriate mallets. PRICE: $4,161.00
The last Concert/Orchestral Xylophone is the Malletech XA4.0 Orchestral Height Adjustable Xylophone. 

   Malletech XA4.0 Orchestral Height Adjustable Xylophone
The Malletech XA4.0 Orchestral Xylophone can play four octaves, and the bars are of dent-resistant Honduran rosewood. The frame is made from brass with rich oak-finished wood. The resonator bars for this Xylophone are brass, matching the brass bracing for a cohesive appearance. The wheels are multidirectional and can be locked when the Xylophone is not moving. PRICE: $6,209.99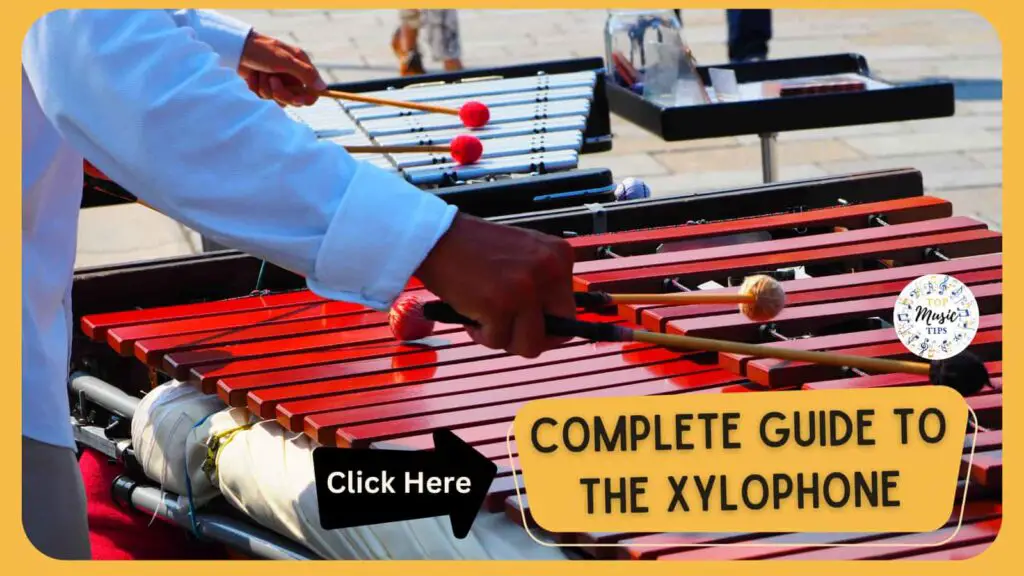 We hope this article has been helpful and informative for you in your musical journey. Please let us know if there is anything that we could add or change to make this article a better resource for our readers.
Please e-mail us at: [email protected] to let us know how we are doing!
Disclaimer: This post may contain affiliate links. We only recommend high-quality products that are used and recommended by real musicians. If you use these links to buy something we earn a small commission.