Every percussionist needs a simple way to organize and carry their tools.  A stick and mallet bag is used to protect all of your drumsticks and mallets and make it easy to access them during rehearsals and performances.  Which bag you choose depends on your needs and your style. 
In this article, we take a look at a sampling of stick and mallet bags and help you decide which type and size are best for your needs and budget.  
Best Used For
Brand
Pros
Cons
Basic Stick Holder
Donner
✔️ Best Price Point
✔️ High-Quality Materials
✔️ Well made
✔️ Great Customer Service
The clamp does not fit on all stands.
EDITORS CHOICE
Basic Stick Bag
Snigjat
✔️ Holds up to 8 pairs of mallets or sticks
✔️ Easy to carry with 2 handles
✔️ Very Durable and will last a long time
✔️ Lots of pockets with versatile storage
NONE! At least we couldn't find any.
Marching Snare Drummer
Vic Firth
✔️ Perfect for Marching Band
✔️ Small and Compact
✔️ Open on top for easy access to sticks
Too small to carry more than 2-3 pairs of sticks
AUTHORS CHOICE
Stand Alone Bag
(Large and Versatile)
Vic Firth
✔️ Stands upright
✔️ Large and versitle
✔️ Great for a professional
✔️ Built to last
Expensive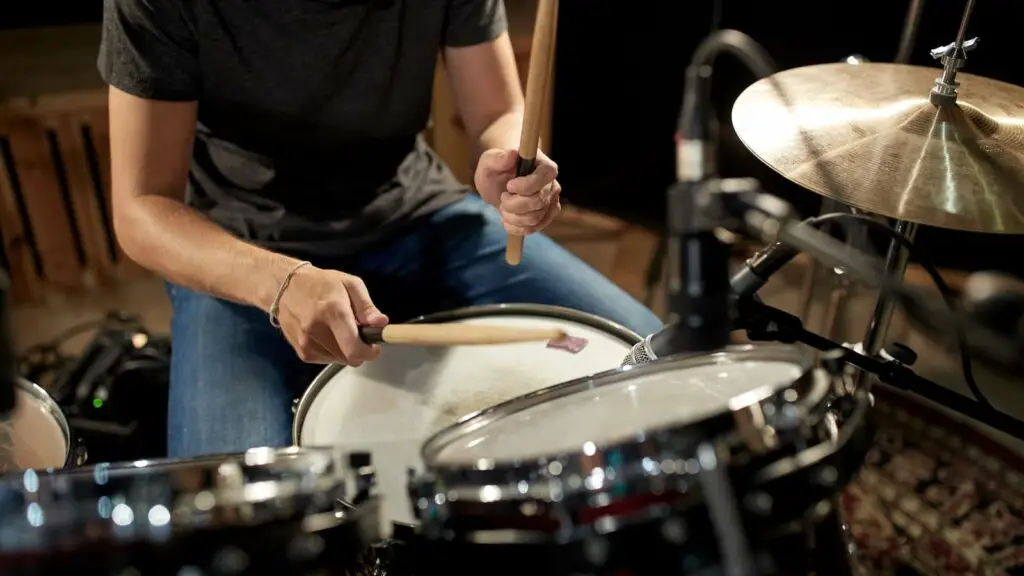 My Personal Experience as a Percussionist 
There are many types of stick and mallet bags. Your needs and preferences will determine what you choose and how you use it.
I've had multiple stick and mallet bags over the last four decades of learning and performing as a working drummer and percussionist. 
My first stick bag was hand sewn by my mother with three simple pockets and a shoulder strap.  
One of my later stick bags wrapped around my floor tom and held a small variety of drumsticks, wire brushes, and one pair of cymbal mallets.  
My favorite mallet bag was very large, camouflage colored, and stored two pairs of drumsticks, four pairs of timpani mallets, a large variety of xylophone, bell, and marimba mallets, and a strange assortment of useful tools like screwdrivers, Allen wrenches, drum keys, snare wires, gaff tape, cymbal felts, and wrenches. 
One unique stick bag I've used stands on its own next to my drum set and makes a small table on which I could lay a variety of sticks and brushes on while I perform.
It was rectangular with a zipped pocket large enough to store drum charts and a notebook.
How to Choose a mallet/drumstick bag that is right for you
Choosing a mallet/drumstick bag that is right for you depends on your situation and your setup. 
If you mainly play the drumset then your stick bag should be filled with the right tools for the job; drumsticks, brushes, and a sturdy set of cymbal mallets. 
If you're strictly a mallet player then your mallet bag will have a reasonable assortment of mallets for soft, medium and hard volumes and attacks.  You will need to have vibraphone, marimba, xylophone, bell mallets, and perhaps a chime mallet.
There are almost endless varieties of mallet bags, different shapes, sizes and designs because of the variety of mallets and situations drummers and percussionists find themselves in.
Begin by answering some questions about your needs
Is the bag being used for you or someone else?
How many pairs of sticks do you need to carry?
How many pairs of mallets do you need to carry?
Will you be playing drumset, timpani, mallets, or a combination of those?
Do you need to carry your music or a notebook?
How sturdy does the construction need to be, based on how often you'll be practicing and performing?
What to avoid when Buying a mallet/stick bag
Answering basic questions about what you need as a student or performer will help you avoid common mistakes when buying a mallet/stick bag.
4 things to avoid when buying a mallet/stick bag:
Buying too big.
Buying one bag when you need two or more.
Spending more than you need to.
Buying a bag that won't hold up after time, something that is not strong enough to last after heavy use (if that's what you need).
Best Overall Mallet and Drumstick Bags
Here is a deeper dive into the bags that we discussed in our chart above.  
Basic stick holder for drummers
Sometimes all you need is a sturdy stick holder for a few pairs of sticks during your gig or practice session. These are great because they clamp onto most stands for proper poisoning and flexibility.
This bag is very handy to have when you need multiple sticks close at hand. If you are a new drummer or one that has a loose grip you might need extra sticks within reach in case you drop one during a performance or show.
Basic stick bag for drummers (Editors Choice)
A basic two-pocket stick bag is perfect to hold a small variety of sticks or mallets.  This one comes with a shoulder strap and hooks to hook onto your floor tom or you can drape it on a music stand for easy access.
There is also a convenient handle at the top of the bag that will give you different carrying options.
Best Drumstick Bag for Marching Band
If you play the snare in the Marching band you likely don't need a huge drumstick bag that will carry more than a few pairs of sticks to practice.
As a marching snare drum or tenor player, it is still good advice to have an extra pair of sticks or mallets available.  This bag will hold just what you need and connects easily to any drum or stand with the attached Velcro straps.
This bag is resistant to the elements due to its water-resistant nylon construction.
Best Drumstick Bag for Professionals (or players with a lot of mallets!)
This bag has been one of my favorites over the years. A stand-alone stick bag creates a platform for you to lay out the sticks you're using or other, easy-to-grab, options.  This bag also has a large zipper pocket where you can store your music, charts, or a notepad.
A big bag is usually reserved for professionals, but if you are a student that needs a lot of different mallets and sticks available for classes it could also be a good choice for you.
It's an extra wide bag design with a variety of pocket sizes.  This bag has a sturdy body strap and floor tom hooks to let you place the bag in a convenient place during your performance or rehearsal.
FAQ (Mallet, Drumstick Bags)
Should I have more than one stick bag?
Yes. If you're a working drummer and a percussionist you'll probably not want to haul all your mallets to your show.  Having a separate mallet bag will also keep your drumsticks from shredding the yarn on your mallets and the fleece from your timpani mallets.  
What are the strings on the stick bag for?
The strings attached to your stick or mallet bag are there to help you attach your bag to your floor tom or any other piece of gear you choose.  Some bags have hooks or clamps attached to those strings to make attachments even easier.
What should be in my stick bag?
The contents of your stick bag should match what you play and what you need to do your job as a drummer or percussionist.
If you're strictly a drummer or drumset player, then you will have a variety of drumsticks, brushes, and cymbal mallets.
If you're a percussionist, your mallet bag may have a couple of pairs of drumsticks, however, most of your bag will be filled with mallets for timpani, bells, xylophone, marimba, and vibraphone.  You may also have a variety of other tools like triangle beaters, a chime mallet, a drum key,  or a pitch pipe.
Basic Contents of Your Stick/Mallet Bag
For Drummers: A Basic Stick Bag 
Drumsticks
You should always have at least two pairs of your favorite sticks, and a small variety of the sizes and materials of sticks you prefer.
Brushes
You should have at least one thickness of brushes for variety but you may use brushes more depending on the style of music you play.
Dowel Sticks
Dowel Sticks come in multiple thicknesses and are useful for different volumes and tones. I personally like to have at least three varieties 
Cymbal Mallets
One pair of soft mallets for cymbal rolls and effects are good to have should want to add that to your music.
Drum Key
You'll need to tune your snare drum and your toms and a drum key is the main tool for all of that.
Hex Wrenches/Screwdrivers/Other Tools
Various parts of your drumset, stands,and snare drum will need adjustment and repair. Being prepared, by having a variety of repair tools, will keep you performing without breakdowns.
Snare Wires
Your snare drum won't sound like a snare drum if something happens to break it or damage the snare wires so have an extra set just in case.  The best drummers are always prepared for surprise breakdowns by having an extra set of snare wires in their bag.
Bag of spare parts (cymbal felts, cymbal wing nuts, nylon snare strings, washers
Your drumset has a lot of small parts that can get lost or damaged. You need to have some spare parts tucked away in your stick bag so that you can replace anything that gets lost or damaged.
Dampening Material
Drums like to ring, being able to control that ring will help your sound. As a working drummer, you will play in different rooms with different acoustics. Tape, felt, and other dampening products are good pieces of equipment to have at your disposal to ensure the best-sounding drum(s) possible.
A Metronome
A drummer is a timekeeper. A metronome, used in rehearsal or performance, can be a drummer's best friend and keep him "on time."
Flashlight
If you drop a small part during setup you'll wish you had something to help you quickly find it. You'll be surprised how often you wish you had a flashlight.
Flexible Stand Light
Some performances will require a music stand but not provide a light. Bringing your own small stand light shows that you're prepared and ensures that you will always be able to see your music.
Bandages
Depending on the type of music you play as a drummer, you may want several of these.  You may develop blisters or knick your knuckles while playing. It's better to have what you need than to have to ask for something or bleed all over yourself.
Ear plugs/EARasers
Some drumset gigs can get loud. You should protect your hearing at every rehearsal and performance with proper ear protection. My personal favorites are EARasers because they are adjustable and block a considerable amount of noise without sacrificing clarity.
For Percussionists: A Basic Mallet Bag 
All the Contents of A Basic Stick Bag
The above list of contents of a drummers stick bag is just the beginning of things you'll need in your Mallet bag.
 Timpani Mallets
There is a wide assortment of timpani mallets depending on your preference and playing scenario.  For the beginner, you will need 3 sets of timpani mallets: Hard, Medium Hard, and Soft. The mallets come labeled with those distinctions.
Bell Mallets
The beginner will do well to have 2 sets of bell mallets. You'll want to have a set of brass bell mallets and a set of Lexan bell mallets.
Xylophone, Marimba, and Vibraphone Mallets
Rubber and plastic mallets are most commonly used on the xylophone to produce medium to staccato sounds without damaging the instrument. Rubber mallets can also be used on the vibraphone.  The marimba produces a more mellow sound and uses a more sensitive wood than the xylophone so yarn mallets are the preferred mallets for marimba. Yarn mallets are also used on the vibraphone.
To cover all three instruments, you should have 3 sets of rubber mallets, soft, medium, and hard.  Next you need three sets of yarn mallets, (you guessed it) soft, medium, and hard.
There is a wide variety of rubber, plastic, and yarn mallets on the market today. The level of your playing, and whether you use more than two mallets at a time, will ultimately determine your needs.
Triangle Beaters
This might surprise you but many schools do not have or have lost their triangle beater.  As a future professional percussionist, you should invest in a set of at least three varied-sized triangle Beaters so that you are prepared to make that triangle sing.
Chime mallet
If you have a chime mallet in your mallet bag, you will be prepared for your chime part and be assured of a quality sound.  Some parts require two mallets so you may want to have a pair of matching chime mallets just in case.
Pitch pipe.
The pitch pipe is a must-have for serious timpanists and percussionists. The pitch pipe is what you use to help you tune the timpani.
Cloth For Flat Stand or Table
Some musical pieces will require you to use a variety of sticks, mallets, or small auxiliary percussion instruments. If you have a cloth that you can spread out on a music stand or table, then accessing your sticks, mallets, or auxiliary instruments will be quiet and easy during the rehearsal and performance.
We hope this article has been helpful and informative for you in your musical journey. Please let us know if there is anything that we could add or change to make this article a better resource for our readers.
Please e-mail us at: [email protected] to let us know how we are doing!
Disclaimer: This post may contain affiliate links. We only recommend high-quality products that are used and recommended by real musicians. If you use these links to buy something we earn a small commission.