It may sound "nerdy," but band camps are some of the best summer camps you can attend. Some are day camps, some are at your high school, and others are overnight camps held at colleges across the country.
You spend your days playing music with other people from across the state or country who love being in band as much as you do.
Overview of the items you should pack and bring to band camp (See below for a printable PDF version)
1. Instrument
2. Mouthpiece / Reed
3. Music / Drill Charts
4. Stand or Lyre
5. Tuner
6. Pencil / Highlighter
7. Hat & Sunglasses
8. Chapstick & Sunscreen
9. Clothes
10. Supportive Shoes
11. Water Bottle
This article will cover the packing lists for 3 different types of band camps
Let's review what you should buy and bring to band camp!
🎵Note: This article is part of our Band Camp Series where you can learn all about how to prepare for camp and what to expect. You can check out these other articles in this series as well.
Typical Band Camp Schedule (What to Expect)
11 Things You Should Know About Band Camp
Band Camp Icebreakers and Team-Building Games
20 Marching Band Camp Meal Ideas (Feeding a Hungry Band)
Overnight Band Camps
Many overnight band camps are held at college campuses and require you to live in a dorm during your time at camp. Several overnight camps occur at performing arts schools, like the prestigious Interlochen Center for the Arts Boarding School in Traverse City, Michigan, where you will stay in cabins.
Overnight band camps accept campers from middle school, high school, orchestra, concert band, and other overnight camps offer instrument-specific programs/intensives.
Since you will be living at the camp for anywhere between one week to 6 weeks, you must pack more than just your instrument.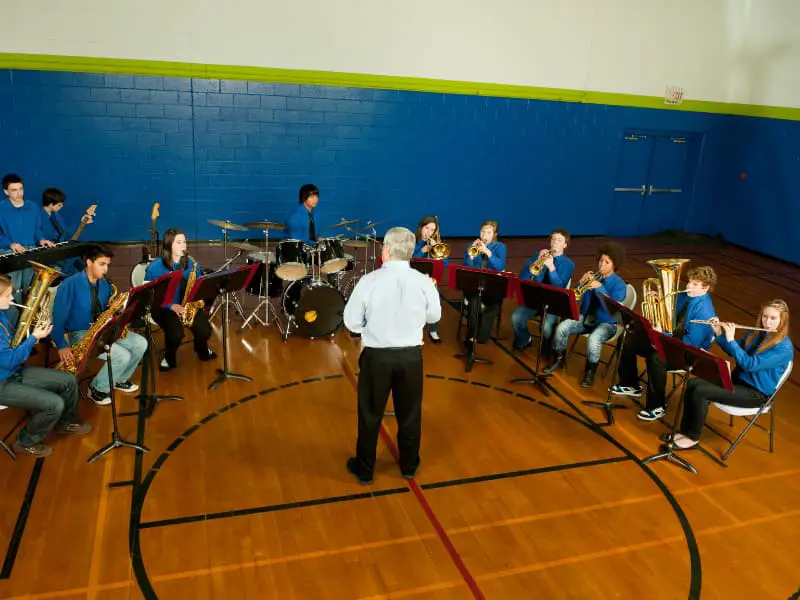 Music Items
Folding Music Stand – You will be in rehearsals or small ensembles in various rooms or theaters. Since most overnight camps allow you to take electives such as steel pan drumming, piano, or chamber choirs, you will need a stand you can take with you anywhere you go.

It is always a good idea to take a piece of tape, write your name on it, and stick it to the pieces of your folding music stand so you can get it back if you lose it.
We recommend this sturdy portable stand that will last you years throughout your music career. You can purchase one on Amazon or at any music supply store.
Instrument and accessories – This item is an important thing to pack. You will be playing music and must have an instrument while at camp. You can take one you own or rent an instrument from your local instrument store to bring with you.

If you play a woodwind instrument, it is essential that you get enough reeds (you can never have too many, and it's better to have them and not use them than to need them and not have them).

Other accessories include cork grease, mouthpiece covers, spit rags/cleaning brushes, instrument cases, and several pencils to write in your music during rehearsals. 
Pro Tip: bring a small eyeglass repair kit with you in your case. They have tiny screwdrivers with a flat head and a round head that fit your instrument screws perfectly in case you need to tighten them. This is also something to carry on a keychain or in your bag to marching practices and games. 
Bring slide grease/oil, a mute, instrument cases, pencils, and your horn for brass instruments!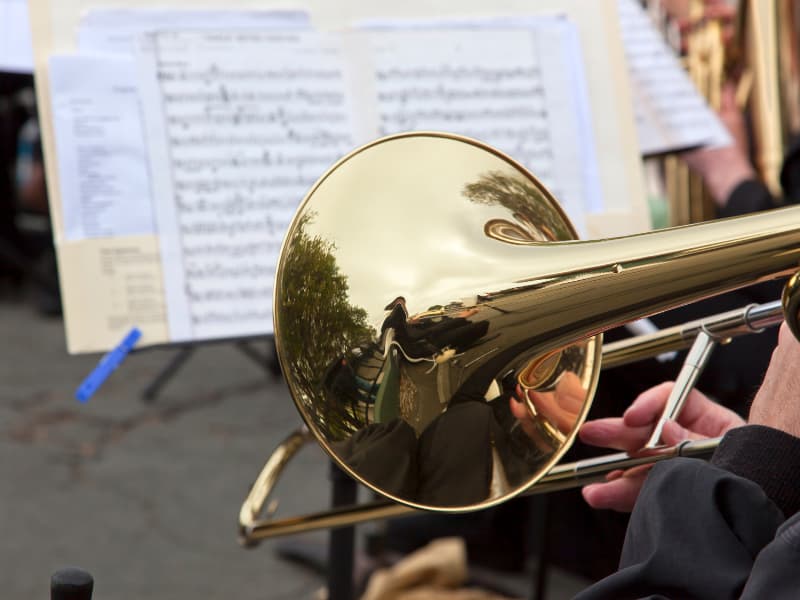 If you are a percussionist attending an overnight band camp, you must bring your own sticks, mallets, a stick bag, pencils, and a practice pad.
Unless your camp requires you to bring a drum, one will be provided for you.
Pianists should bring a pair of headphones with a ¼ inch stereo jack or standard 3.5mm headphones with a ¼ inch jack adaptor. 
Audition Music (if needed) – some overnight camps may require you to do a quick playing audition so they can place you in the proper band level for your skills.

For your audition, it is standard to play one slower and lyrical song and one faster and technical song. If you are asked to play a scale and don't know it or forget it because of nerves, don't be afraid to tell them you are nervous and forgot. 
Note: It doesn't matter if you are in the camp's lowest or top band; you are there to have fun and make music, and the staff takes the time to make sure you have fun and aren't struggling with the music or are not being challenged enough.
The point of attending a band camp is to grow as a musician and to enjoy making music. The placement auditions are not something to freak out over. Just practice and bring two pieces with you, just in case. Remember, it is just a summer camp. 
Tuner – It is always a good idea to bring an electronic tuner to band camps of all kinds. If you are new to your instrument and can't yet hear when you are out of tune from the other people in your section, a tuner is very helpful.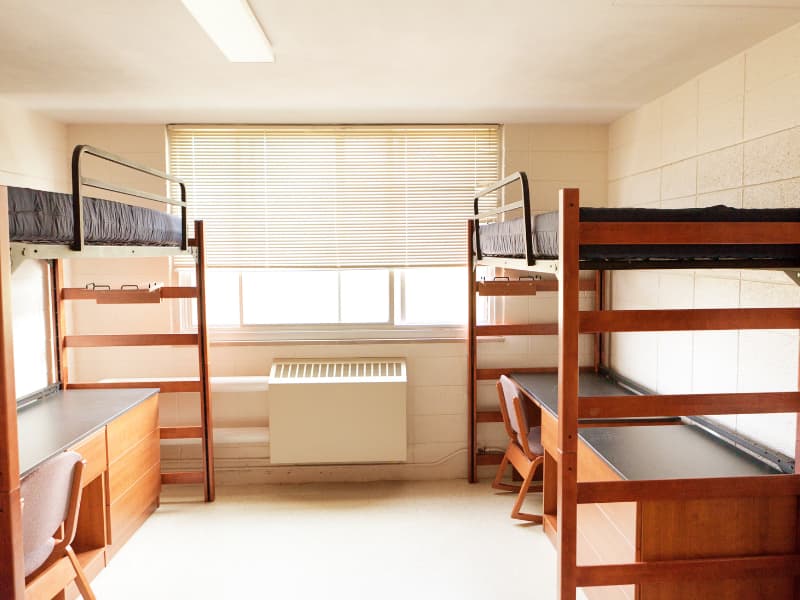 Dorm/Cabin Items
You must bring items for your dorm room or cabin at overnight band camps. Everything else must be bought or brought from home. Some of these items may seem obvious, but there will always be a camper who arrives without them. 
Sheets and blankets – you will only be provided a bed with a mattress, and that is it, so you need to bring your own sheets and blankets with you to camp.

You will usually be sent a packing list from the camp, which may specify what size sheets you need. Almost all college dorms require Twin XL sheets. Target stores "College Dorm Essentials" sections are the perfect place to find Twin XL sheets and blankets.
In some dorms, you can not control the air temperature, so a blanket or two of different levels of thickness is highly recommended.

If you are attending a multi-week or month band camp, you should bring at least one extra set of bedding in case you are not permitted to do laundry during your stay. You can bring a sleeping bag and place it on the bed provided to you, but it is more comfortable to sleep in the bed. 
Pillow with pillowcase – You MUST bring your own pillow and pillowcase to camp. The dorms/cabins do not provide pillows and pillowcases for sanitary reasons. Buy something new just for band camp, or bring your pillow from your bed at home. 
Towels – You need to bring your own bath towel, washcloth, and hand towel with you to camp. If you are attending a camp with recreational activities for campers, bring a beach towel because you may go to a lake, river, or beach. Here is a fun musical set you could get.

Toiletries – You will need to bring your toiletries to an overnight camp. Recommended products include shampoo/conditioner, body wash, soap (and hand soap for the room), lotions, razors, feminine products, tissues, contact solution, and a case if you wear contacts.
Pro Tip: Bring a few rolls of toilet paper to camp. Sometimes the TP in the dorms is what you can find in a public restroom. Having a few rolls from home is always a good idea. 
Shower Shoes/Flip-Flops – At overnight band camps, you will have access to a shower in your dorm room or a shared shower in your cabin.

Always bring shower shoes or flip-flops to wear in the shower at camp. There is no housekeeping to clean the bathroom like in a hotel, and shower shoes protect your feet from touching the tile in the bathroom.
Reading light/headlamp/ small flashlight – dorm rooms have one overhead light. Suppose your roommate goes to sleep and turns the light off. You are awake reading something before bed; you won't be able to see it unless you have a reading light/headlamp/ small flashlight. This is optional, but some campers like to bring these with them. 

All chargers for electronic devices – If you bring a phone, laptop, iPad, or any other electronic device to camp, please bring the chargers for these items as well. Camps do not provide campers with chargers; your device is your responsibility.
Pro Tip: if you bring multiple electronics with you, it is a good idea to pack a surge protector or charging strip like the one below.
Alarm Clock – You will have to wake up, get ready for the day, and eat breakfast before your first rehearsal or class. Alarm clocks or your phone's alarm clock are essential items to bring to camp.

Younger campers attending overnight middle school band camps may have a dorm counselor (usually a day or night counselor) who will bang on the dorm's door every morning to wake the campers up. High school students must wake up on their own.
Refillable water bottle – your camp may provide you with an official camp refillable water bottle, but not all do. So it is always a good idea to bring one with you. You can toss it in your bag for the day and stay hydrated, even if you aren't attending a marching band camp. 
Sunscreen – Even if your band camp is not a marching band camp, still pack sunscreen. Many camps have weekend activities that may be outside (a 4th of July picnic, for example), and you should always wear sunscreen outdoors.
Clothing Items
While what you choose to wear to band camp will depend on where your camp is and if it is a concert or marching camp, there are some items you will want to pack. 
Concert attire – If you are attending a concert or orchestra camp, you will have a concert for parents at the end of your camp session. Your camp will send you a packing list once you register that specifies what concert attire to bring, but here is the basic attire to bring.

Boys

Black trousers Long black socks
Black dress shoes
Black belt
Dark-colored or black long tie
White button-down dress shirt (short or long sleeves) 

Girls 

Black dress pants or black skirt that is below the knee
Black tights
Long black socks
Black dress shoes or small heels 
White blouse or white button-down dress shirt
Swimsuit – The camp may take its campers to the pool, a body of water, or any other situation when a swimsuit is required.
Sneakers – while you may be allowed to wear flip-flops, some camps and campuses require campers to wear sneakers. (Check out our article about the best shoes for Marching Band)
Any other clothes you want to bring.
Additional Items
These items are not required to attend a band camp, but they are things you may want to bring with you. 
Any prescribed medications in their original packaging – If you take medication, you will have to hand it over to the camp's nurse or the dorm staff.

You can go to the nurse or dorm manager in the morning or evening to be given your medication. If you take multiple medications, put them in a large clear bag with your name on it. 
Bandaids – Always good to have some on hand.
Umbrella/raincoat – It may rain when you are at camp, so tossing an umbrella or raincoat into your bag will keep you dry if it rains. 
Backpack/tote bag – You will have to carry your folding music stand, a large folder full of music, and your water bottle with you every day. Try to find one large enough to hold the folding music stand easily. 
Sunglasses – You will be out in the sun, and when marching, you must watch the drum major conducting, sometimes that puts the sun directly in your eyes.
Snacks – Many camps will have canteens where you can buy snacks if you want them. You are allowed to bring snacks, but it is best to leave snacks with nuts at home. Your roommate could be allergic to nuts. 
Music Day Camps 
A band camp where you live at home and come to the camp during the day is known as a day band camp. Because you can go home every night, you will have a small list of items to pack/bring with you each day. 
Instrument and accessories – As mentioned in the packing list for overnight camps, you must bring an instrument with you daily. You may be able to have a parent drop off items that you forget at home, but it is good performer etiquette to always bring everything you need. 
Folding music stand – Not all day camps have access to music stands for you to use, so bringing your own folding music stand may be required. 
Pencils – Always bring a pencil to rehearsals to make notes in your music. 
Backpack/tote bag – You will need something to carry your things with you while at camp.
Sweater – Some band rooms or theaters can be chilly and if you get cold easily, bringing a sweater to rehearsals is a great thing to pack if you get cold easily. 
Lunchbox – Unless the camp provides lunch for you, you will need to bring your lunch each day. 
Refillable water bottle – Your camp may provide an official camp refillable water bottle, but not all do. So it is always a good idea to bring one with you.
You will be able to learn more about what items to pack for day camps when you register for the session.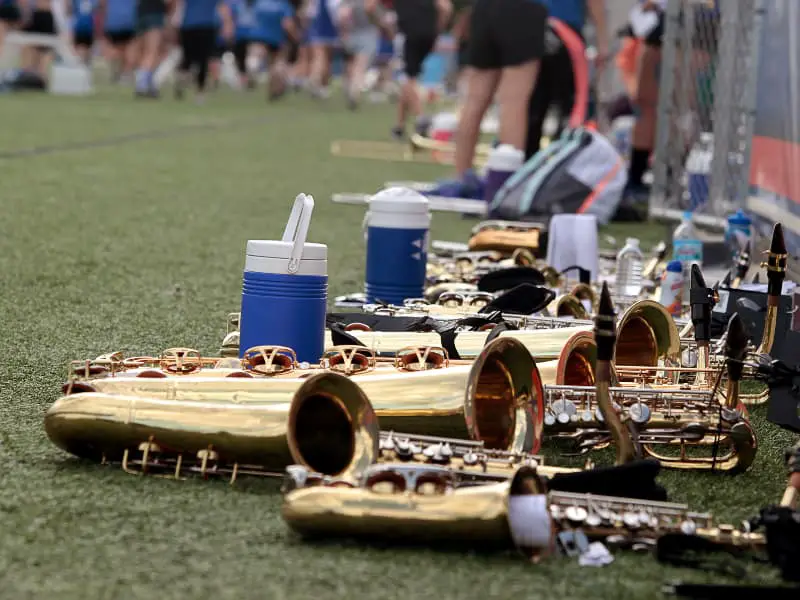 Marching Band Camp Packing List
Marching band camps require specific things because they may be overnight or, for example, a week-long "Marching Band Leadership" camp.
The most common marching band camp is your high school's standard week or two-week pre-season training camp.
Marching band camp is where freshmen will learn how to march, and upper-class students will review marching fundamentals. The show music and stand tunes are rehearsed, and the band begins to learn the show's drill so your band can perform at the first football game of the season. Here is what you need to attend a marching band camp.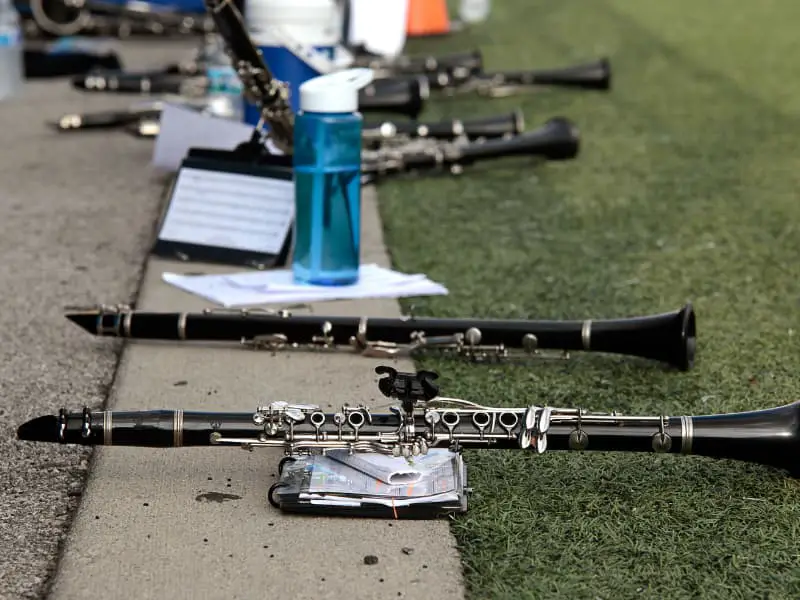 Music Items
Instrument and accessories – You will need your instrument for any band camp you attend. Regarding accessories, you will not need to bring a mute, but a tuner is a good idea to have on hand. 

Lyre and flip book – You need to use a lyre to hold a flip book with your music in it on your instrument. Unless you memorize your music, you will need to use a lyre.
Pro Tip: When learning drill, bring a pencil to the field to mark your music for each set. You can get lyres and flip books from amazon or any music supply store (you may want to buy extra sleeves for the flip book because you will have more music than sleeves to hold it in. 
Clothing 
When attending marching band camp, you will spend several hours outside, and it can be very hot (if you are marching on an astroturf field, it will be hotter than the temperature outside). Wearing the proper clothing is a must for marching band camps and practice during the school year. 
Sneakers – A good pair of running or athletic shoes are what you need to wear to marching band camp. You are on a field and moving sharply to change directions flip-flops or sandals are dangerous and unfit for these activities. Your shoes will get dirty; if you are a sneakerhead, don't wear your prized shoes. (Check out our article about the best shoes for Marching Band)
Light-colored t-shirt – Your body will be less hot while outside marching if you wear light-colored shirts. Black and other dark color shirts absorb heat from the sun, making you hotter. If your band camps permit wearing tank tops, they can be a good option for both girls and boys. 
Sports bra – If you have breasts, you will need a good supportive sports bra while at marching band camp. You will be more comfortable and will prevent unnecessary back or shoulder pain. 
Athletic shorts – You will be moving a lot at marching band camps. You will be stretching, doing things like jumping jacks and pushups, running, and possibly dancing. You want to wear clothes that you can move around in freely. 

Socks – This one is a no-brainer, but you will want to wear socks with shoes while at marching band camp. Your feet will get sweaty, and without socks, the fabric of your shoes will rub against your foot which can lead to blisters.

We recommend you bring EXTRA socks. Feet get very hot and sweaty and it can be nice to have an extra pair of dry socks to change into. Also, extra socks if it rains.
Pro Tip: Toss some bandaids in your bag that you bring to camp or in your instrument case. 
Sunglasses – Remember that you will be outside for hours in the morning and afternoon while at marching band camp. Sunglasses are a must!
Hat – If you like to wear ball caps to shield your head and eyes from the sun, feel free to wear a hat to camp. 
Other Items 
These items are not required but are good to bring with you daily. 
Insulated water jug – This will be your marching band camp best friend. These large insulated jugs can be filled with ice and water, and they will stay cold all day. These are some of the jugs you want to look for when buying your own. 
Examples of the kind of water jug that are strongly recommended to buy.
You can use a large hydro flask, but the igloo water jugs can hold up to a gallon of water; the body is virtually indestructible, and it is common to march from freshman year in high school to senior year in college using this same jug.    
Sunscreen – You will be outside all day, and wearing sunscreen helps prevent sunburn. Bring sunscreen with you in your bag to re-apply after lunch.
Small Umbrella – It may live in your backpack the entire time you are at marching band camp, but when it rains, you will want an umbrella. If you play a woodwind instrument and have never been in a marching band before, your horn should not get wet.

This hands-free option is very nice to have when you need it!
Brass instruments can play in the rain, but for woodwinds, the moisture will make your pads and cork fall off. 
Overnight Marching Band Camps
Some marching band camps are overnight camps as well. For these camps, you will need everything listed in the Overnight Band Camp section (minus concert attire) and everything from the Marching Band Camp section above. 
How To Stay Cool at Band Camp?
Ah, the age-old question of "How do I stay cool in band camp?" Unfortunately, you will learn that there is no good answer to this.
It will be very hot out when attending a marching band camp; that is the nature of the beast. You should go into camp prepared to be sweaty and hot. Unless you feel faint, sick, or stop sweating, you will be fine and can make it to the next water break.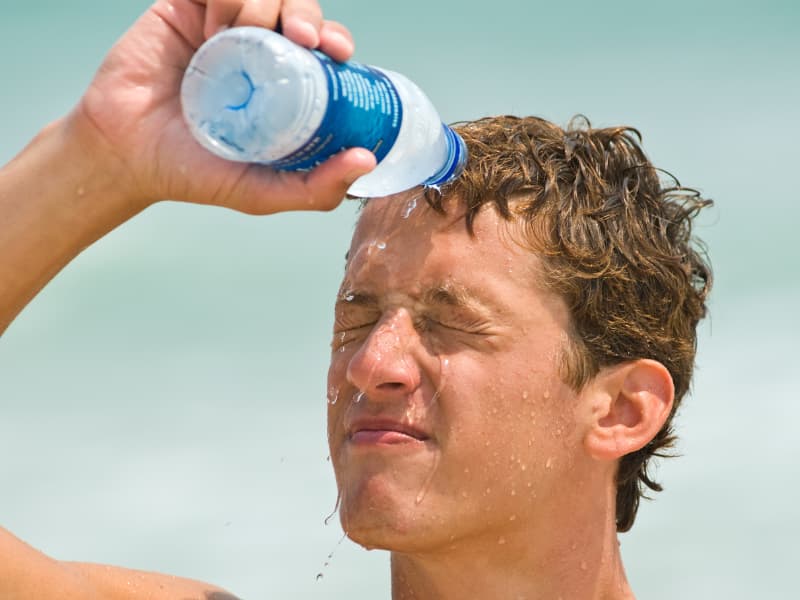 Don't let the heat stop you from joining the marching band; there are always opportunities to cool down. 
You will return to the air-conditioned band room at marching band camp for lunch. Lunchtime is the hottest part of the day, so you will be spared from the heat while you refuel.
It is typical for a marching band camp to come in for lunch, then practice stands music or the show music as a band inside, followed by sectionals. Unless it rains, you will go back outside again during the last hour or hour and a half of camp when it is slightly cooler. 
Remember those big insulated water jugs we mentioned earlier? They are a great way to keep cool. You can fill the jugs with ice and water to get a refreshing cold drink during water breaks.
During the water break, you can pour some ice water on the back of your neck/head to help cool off if you need to. We also mentioned wearing light-colored clothing to band camp, which is the easiest way to keep cool while out on the field.
You can also try some high-tech cooling towels to wipe yourself down during breaks. Or a portable handheld fan.
Some directors will give out ice pops or cold orange slices if they have any, do not expect this, as all camps are different. 
What Can I Not Bring To Band Camp?
Schools often hold band camps, so treat camp just like you would school.
That means no weapons, drugs, alcohol, large electronic devices, etc. If you ask yourself, "Would I be allowed to bring this to or use it in my history or math class?" and the answer is, "No," don't bring it to band camp.
You will be allowed to bring electronic devices for overnight band camps, but you will only be back in the dorms to sleep, and there isn't that much free time to use a computer or watch Netflix. If you choose to bring electronic devices besides a cell phone or alarm clock, you must look after them. The camp is not responsible for any damaged, lost, or stolen items.
We hope this article has been helpful and informative for you in your musical journey. Please let us know if there is anything that we could add or change to make this article a better resource for our readers.
Please e-mail us at: [email protected] to let us know how we are doing!
Disclaimer: This post may contain affiliate links. We only recommend high-quality products that are used and recommended by real musicians. If you use these links to buy something we earn a small commission.